The original Hired Guns was a First Person sci-fi tactical RPG developed by DMA Design (the team that created GTA and later became Rockstar North) and published in 1993 by Psygnosis for Amiga and PC. Hired Guns was quite ambitious for its time, players were able to use 4 different characters at the same time, each one had their own view and the game was played using a 4 windows split screen, also allowing up to 4 players to play together in coop.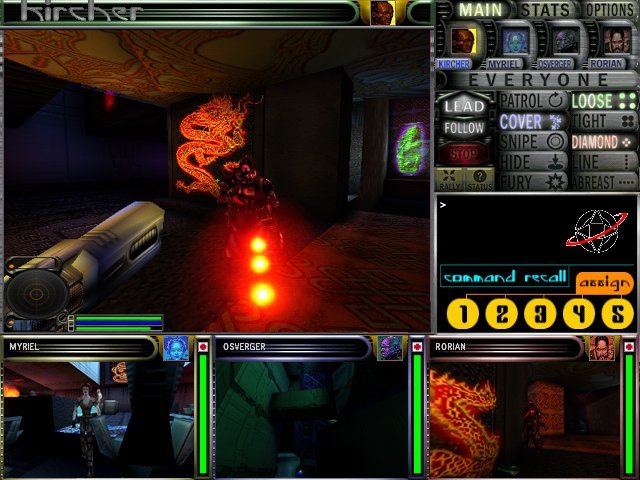 The team behind this "reboot" of Hired Guns was Devil's Thumb Entertainment, a small DMA division started in 1995 by David Jones and led by Tony Harman. Only a year later Devil's Thumb was cut off from DMA and became an independent studio, working on Mike Piazza's Strike Zone (released in 1998 for Nintendo 64) and Tides of War (released on PC in 1999). Sometime between the release of these two games, Devil's Thumb also pitched this new Hired Guns to Psygnosis, that soon greenlighted the project to be developed using Unreal engine.
As recalled by a former Devil's Thumb member who worked on the game:
"All of our levels had a maximum on-screen limit of 80 polygons using the old Unreal 1 engine.  Our art direction was to use a lot of color, since the first person shooter at the time was Quake and it was very brown.  Our marketing was going to include:  "There are millions of colors, we used them all…. except brown."
A few previews for Hired Guns were published back in the day by Gamestop and IGN:
"Whereas most shooters are pretty simple run and gun affairs, Hired Guns is a complex game of tactics and teammates, more along the lines of X-COM Alliance or System Shock 2 than a Quake or Unreal. "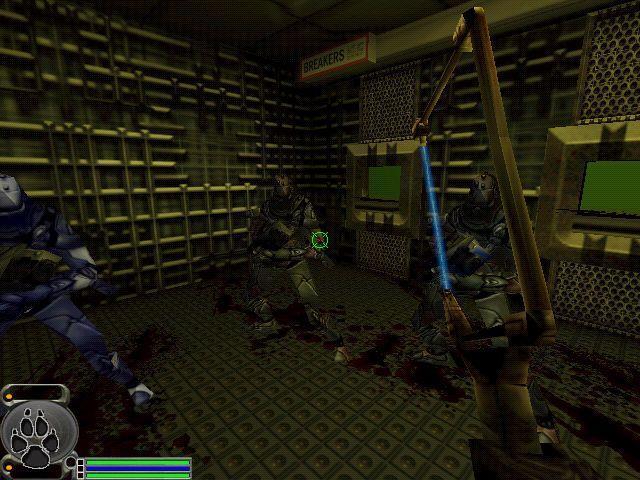 "Here's the basic story. In the not so distant future, those who could afford it left the now poisoned Earth to travel to different off-world colonies that had been established by three different corporations. The first colony was in the Luyten system 10.8 light years from Earth and was reached by the mammoth Tesseract Corporation using a brand-new interstellar drive. Later colonies were started not only by Tesseract, but by the Betelov and Grenworld Corporations as well. With these new colonies in place, humans began to flourish again with huge new stores of resources to tap and trade. Sadly, human nature began to kick in and the three companies began fighting over consumer wealth and loyalty."

"In the beginning of these battles, war was fought more or less in the conventional fashion, with huge armies taking each other on in space and on the colonies, wiping each other (and often the colonies) out in the process. As colonies wised up and began to create their own militias and as the corporations began to loose the ability to fund huge armies, they started to hire small mercenary groups to commit acts of espionage and sabotage for them. It was during this time that the Hired Guns, a crack team led by a man named Kircher appeared. Considered by some to be the finest data espionage agents ever assembled and by others to be absolutely insane, this ruthless group started to play each of the companies against the others in an attempt to bring themselves massive profit and power."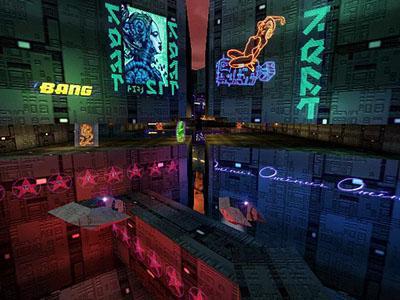 "Using the Unreal engine, Hired Guns will allow gamers to control a four person mercenary squad as they go off on a series of missions. What pushes Hired Guns outside the genre is that you actually control all four members of team in a multi-windowed interface. One large window accommodates the character you're currently controlling with three smaller windows that depict what your other team members are seeing. When you're not controlling them directly, a control panel allows you to tweak their AI for the task at hand. If you need to clear room quickly, you could turn up their aggression and see what ensues. Or you could have one soldier run into a room to battle several enemies and retreat when its health goes below 50 percent. During gameplay, you can take control of any of the players as they combat evil corporations."

"Missions bring more strategy to the 3D shooter by forcing you to figure out which mercenary is best suited to a particular task in a mission. Kircher is a Rasta male with spiritual self-healing capabilities, Myriel is a 200-year-old who is mostly cyborg and has an advantage of being able to understand electronics, Rorian is a ex-soldier with zoom lens-like optical implants, and Osverger is the berzerker of the crew with a large soldier body and massive strength."
In 2000 VR-1 Entertainment acquired Devil's Thumb, while at the same time Psygnosis decided to leave the PC market to focus their resources on Playstation games. It's not clear which company owned the Hired Guns IP, but unfortunately without its original publisher and with a new studio management the game had to be canned.
It seems Hired Guns was almost finished when cancelled, there's even a leaked beta that you can download and play to check out what it could have been.This beta is labeled as a "pre-production version" and it includes all the levels, characters and weapons planned for the final game.
Thanks to Harri for the contribution!
Images:
Videos:

What do you think about this unseen game? Give your vote!
Would you like to add more info, screens or videos to this page? Add a comment below!
(your first comment will be moderated before to be published)