E-Ticket was a prototype pitch for a cancelled interactive tour game developed by Los Angeles-based Heavy Iron Studios Inc., which was commissioned by The Walt Disney Company in 2010. The corporation was looking to create a new game using Microsoft's Kinect peripheral for the Xbox 360 that would allow players to explore a virtual interpretation of Disney World in Orlando, Florida. Although a completed version of this concept would later be developed by Frontier Developments and released under the name of 'Kinect Disneyland Adventures' in late 2011, E-Ticket represents an early, alternative iteration of the project that took different creative liberties with the setting.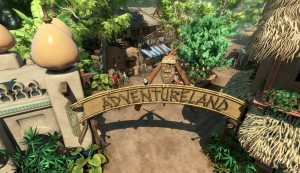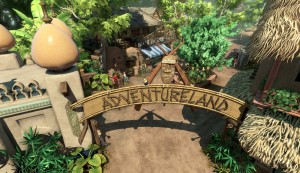 According to three former Heavy Iron Studios employees we spoke with, E-Ticket was conceived when Disney funded the development of a number of prototypes for a Disney World Kinect game at several different studios. Each team was assigned to work on a separate section of the Disney World park. The project, as a whole, was both a technical experiment, as well as a test to see which developer would perform best and be rewarded with a contract to work on the full game.
"The original premise was to build a virtual Disneyland that kids could walk through from the comfort of their own living room."
E-Ticket took place in the 'Adventureland' segment of the resort. Players could create their own avatar and freely explore the environment through a Kinect interface, interacting with various famous Disney characters, like Winnie The Pooh. The main bulk of the prototype was a mini-game called 'Safari Cruise' (loosely based on Disney World's Jungle Cruise), in which the player accompanies Donald Duck, clad in safari gear, on a boat trip through the middle of a jungle.
A reworked Safari Cruise ride made it into the released Kinect: Disneyland Land Adventures, although it is very unlike the one seen here. E-Ticket's version saw the player at the helm of the boat, steering it with physical kinect gestures as Donald. Whereas in the final build, a nameless, generic captain is in control of the ship and the player commands a water cannon, tasked with shooting various barrels and enemy wildlife.
The DLA (Disney Land Adventures) version is almost completely linear, fixed on a set course with no variants to it at all; as opposed to Heavy Iron's game, which included a variety of hidden paths and shortcuts. E-Ticket's offering was comparatively more detailed and substantial, as evidenced by this top-down concept art render of the ride's map: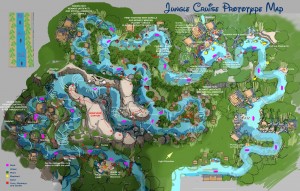 Graphically speaking, the prototype was objectively superior to the finished Disneyland Adventures game by a noticeable margin. It ran in Unreal Engine 3 and sported environments with more detailed textures, as well as more sophisticated lighting features. One of the developers who we spoke to speculated this change was the result of "time and budget constraints". We can also speculate that it was an off-shoot of the direction of DLA, which included much bigger crowds of park-goers roaming the hub world. It's very possible that the team sacrificed some potential visual flair in order to allow themselves the processing power needed to render these models without compromising the game's performance.
The E-Ticket prototype was never picked up by Disney, who instead chose Frontier Developments to create the full game; the developer behind such titles as LostWinds and Kinectimals. The specific reasoning behind this decision was never given, but a former Heavy Iron employee suggested to us that the company may have been discounted due to a lack of manpower in comparison with Frontier:
 "A lot of people at Heavy Iron were pretty excited to work on it, but it was too big of a project for that studio to handle on its own."

"I get the impression that Disney had hired several studios as a sort of test giving each one, one level. I thought we did a really good job but unfortunately we didn't get the project." – Two former Heavy Iron artists on the E-Ticket project.
The assets used to create E-Ticket were never released or re-used in Frontier's title, but we were able to obtain a plethora of concept art and in-game images, thanks to an anonymous contributor with close ties to the project. Heavy Iron Studios' work with Disney didn't end with the prototype and the company went on to develop the Wii versions of Epic Mickey 2 and Disney Infinity.
Special thanks to Refurs for his contribution towards this article.
 Images:
What do you think about this unseen game? Give your vote!
Would you like to add more info, screens or videos to this page? Add a comment below!
(your first comment will be moderated before to be published)

Latest posts by Liam Robertson
(see all)