Articolo di Alexander Powell
Banjo-Kazooie: Nuts & Bolts – Stop 'N' Swop I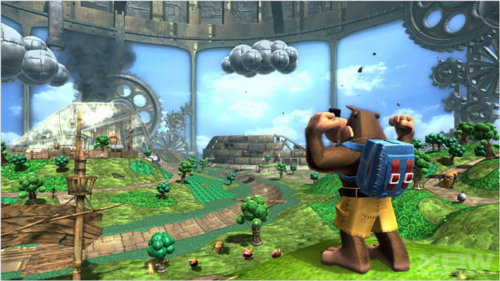 Dopo otto anni dall'uscita di Banjo-Tooie su Nintendo 64, e tre dal rilascio dello spin-off Banjo-Pilot su GameBoy Advance, nel novembre 2008 l'orso e l'uccello tornano in una nuova avventura su Xbox 360, in seguito all'acquisto della Rare da parte di Microsoft.
Il gioco presenta vari riferimenti allo Stop 'N' Swop, oltre che lo Stop 'N' Swop funzionante, di cui parlerò però nel prossimo paragrafo.
Il gioco si svolge principalmente nel nuovo Hub World, il Borgo Showdown, dove è possibile incontrarsi con Bottles all'ufficio informazioni. Una delle domande che è possibile fargli, al prezzo di seimila note (più di quante ce ne siano nell'intero gioco) è la soluzione della Stop 'N' Swop. Tramite degli hack è stato possibile pagare Bottles, il quale risponde che potrebbe anche rispondere, ma poi dovrebbe ucciderci, e ciò sarebbe impossibile in un gioco per bambini (nonostante i forti dubbi sul pubblico cui sarebbe destinato Banjo-Kazooie, a causa di molte allusioni volgari nascoste nella serie).
Nel terzo mondo di gioco, Banjoland, è possibile trovare la Ice Key, ovvero la chiave di ghiaccio, sotto la neve del pupazzo, insieme ad un uovo rosso. Nello stesso livello sono sparse due uova rosse con un punto interrogativo, simili a quelle dello Stop 'N' Swop, che se distrutti rivelano contenere dei gruntbot, robot costruiti da Gruntilda in persona.
Banjo-Kazooie (XBLA) – Stop 'N' Swop I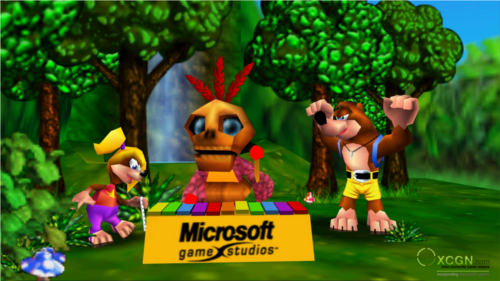 In concomitanza con Viti & Bulloni viene rilasciato su Xbox Live Arcade il gioco originale, il primo Banjo-Kazooie apparso dieci anni prima nel Nintendo 64, questa volta quasi identico all'originale, fatta eccezione per alcuni cambiamenti minimi come la grafica, ma soprattutto la Stop 'N' Swop.
Se sull'hard disk è presente un salvataggio di Nuts & Bolts o di Banjo-Tooie (rilasciato nei mesi successivi), sono accessibili le uova segrete e la famosa chiave di ghiaccio di cui si era parlato nell'articolo principale di Santo Reska. Apparentemente, questi sette oggetti, se raccolti, non portano a nulla, ma se il giocatore avvia Nuts & Bolts o Banjo-Tooie potrà sbloccare elementi extra.
L'uso dello Stop 'N' Swop I
In Nuts & Bolts saranno disponibili nuovi pezzi per personalizzare i veicoli, recuperando sette casse vicine ad altrettanti disegni delle uova o della chiave.
*La bandiera del Regno Unito
*Roysten, il pesce rosso di Banjo
*Degli occhi animati
*Una sirena
*Una sfera
*Talpa su barra
*Dadi morbidosi
In Banjo-Tooie il giocatore potrà portare le uova da Heggy come era effettivamente possibile nel gioco originale, sbloccando una nuova mossa, un trucco e un personaggio per il multiplayer. Questa volta, però, essendo presenti altre tre uova, sarà possibile sbloccare uno sfondo per la Xbox Dashboard, un'immagine del giocatore e un altro premio, di cui parleremo più avanti. Anche l'uso della chiave di ghiaccio rimarrà quello originale.
Banjo-Tooie (XBLA) – Stop 'N' Swop II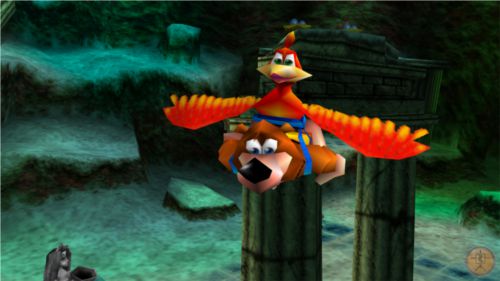 Come già accennato sopra, anche il secondo episodio della saga videoludica dell'orso e dell'uccellino è stata trasportata su Xbox Live Arcade, anch'esso al prezzo di 1200 Microsoft Points.
Giocando a Banjo-Tooie, è possibile imbattersi in alcune scritte, visibili poi dal menù principale. Le scritte appaiono per pochi secondi, proprio come gli obiettivi della Xbox 360, dopo aver compiuto una determinata azione, per un totale di sette. Tutte recano la scritta "sbloccato Stop 'N' Swop II", più un nome per ciascuna.
Chi è il boss adesso?: Sconfiggi tutti i boss in modalità replay in meno di 15 minuti.
Oh no, non un'altra volta: Porta tutte le uova dello Stop 'N' Swop originale da Heggy.
Perdente fortunato: Colleziona l'uovo di bronzo.
Meglio di uno schiaffo: Colleziona l'uovo d'argento.
E il vincitore è: Colleziona l'uovo d'oro.
Calmo camaleonte: Cambia in tutte le trasformazioni almeno una volta.
Eroico fallimento: Muori quaranta volte nelle battaglie boss in modalità replay.
Le tre nuove uova, di bronzo, d'argento e d'oro, appaiono dopo aver distrutto le tre cartucce di BK, due delle quali si trovano a Spiral Mountain (conosciuto anche come Monte Spirale o Monte Spira nella versione italiana) e la terza a Jinjo Village.
Inoltre, giocando all'espansione Le sfide perdute di LOG, una volta utilizzati gli oggetti originali della Stop 'N' Swop in Banjo-Tooie si sbloccheranno sette nuovi veicoli.
L'uso dello Stop 'N' Swop II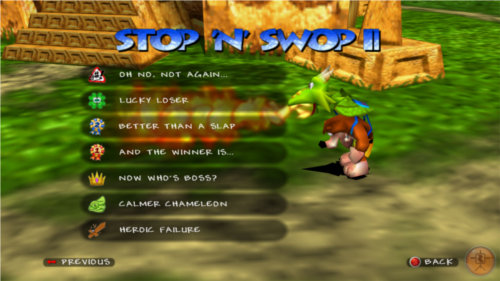 Dunque, sbloccati tutti e sette gli strumenti Stop 'N' Swop II, potrete ammirarli nel menù, ma per il resto non vi serviranno a nulla. Come evincerà da un dialogo con Heggy, potrebbero sbloccare qualcosa di segreto nel prossimo gioco della serie, cui Rare starebbe lavorando, e che, secondo Banjo, dovrebbe arrivare prima del 2018. Secondo altre teorie, lo Stop 'N' Swop II sbloccherebbe dei progetti in "Le sfide perdute di LOG", espansione a pagamento di Nuts & Bolts, di cui abbiamo parlato nel paragrafo precedente. Niente di più falso, in quanto è stato dimostrato che per sbloccare tali progetti è sufficiente utilizzare tutti gli oggetti Stop 'N' Swop I in Banjo-Tooie; oltretutto, gente che non ha collezionato gli oggetti Stop 'N' Swop II ha sbloccato comunque i suddetti progetti. Quindi, possiamo fare tre ipotesi:
1) Lo Stop 'N' Swop II era solo uno scherzo.
2) Lo Stop 'N' Swop II sbloccherà nuovi contenuti nel prossimo gioco.
3) Le intenzioni di Rare erano quelle del punto due, ma sono sfumate a causa della cancellazione del successivo gioco (chi ha seguito Rare negli ultimi mesi sa di cosa parlo), non confermata, ma che potrebbe essere avvenuta assieme a quella di Conker's Other Bad Day, Perfect Dark 2 e Kameo 2, titoli annullati in favore del Kinect.
"Il piano originale"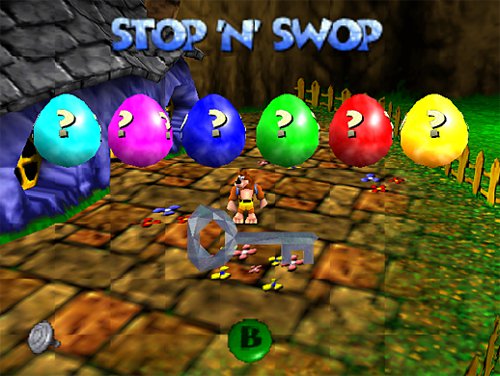 Tra pubblicità e interviste, Rare ha più volte affermato che quello dei remake XBox Live Arcade, è il "piano originale" dello Stop 'N' Swop che dovettero cancellare tra il 1998 e il 2000. Certo, il collegamento c'è stato, ma le cose non tornano. Possibile che Rare nel lontano 1998, durante la quinta generazione di videogiochi, stesse progettando un immagine del giocatore e uno sfondo per la dashboard?
Secondo il rinomato YouTuber Thumbsupmaster, come lui ha dichiarato nel suo video "Stop 'N' Swop Theory", ci sono almeno sei cose "inutili" (cioè non necessarie per completare il gioco) in Banjo-Tooie (N64), di cui quattro sono usate con la Stop 'N' Swop.
Le altre due sono Bottles diavolo e le bolle extra in Spiral Mountain, sbloccate aiutando il pesce rosso Roysten.
Devil Bottles sarebbe la versione malvagia della talpa morta all'inizio del secondo gioco; si trattava di una modalità aggiuntiva disponibile nel gioco per Nintendo 64, poi rimossa per mancanza di tempo. Conosciuta come Bottles' Revenge, questa modalità prevedeva che Bottles, con tanto di corna, coda e forcone, accompagnasse Banjo e Kazooie nel gioco prendendo possesso dei nemici. La modalità è tutt'ora giocabile tramite hack, anche semplicemente inserendo un codice di Gameshark.
Thumbsupmaster crede che i due oggetti potessero essere inizialmente sbloccabili in Banjo-Tooie tramite lo Stop 'N' Swop. Nonostante ciò, all'appello mancherebbe ancora un uovo (facendo i conti, infatti, si arriva solo a sei extra, nel gioco, mentre gli "item" sono sette).
What do you think about this unseen game? Give your vote!
Would you like to add more info, screens or videos to this page? Add a comment below!
(your first comment will be moderated before to be published)