Mega Man X4 (aka Rockman X4 in Japan) is the fourth game in the Mega Man X series, released for the Sega Saturn and PlayStation in July 1997. Kei was able to find an old preview/trailer of the game from an equally old April 1997 Multiple Option CFC (Capcom Friendly Club) Style videotape from Japan. As Kei has wrote in the U64 Forum:
While this preview may not include much immediate beta/pre-release differences, there is one particularly noticeable element that can be heard in this video. For one, X sounds completely different as you see him jump and shooting out charged buster shots in the video; we're talking about a pre-release video of the Japanese version here. Apparently, he had a different voice actor, as he sounds like a girl, much like he does in the English final version of RMX4. Zero also sounds slightly different as well, his Saber slashes are odd too.
Also, Bowserenemy and Protodude noticed some more differences in the same beta trailer:
Enemies are in different spots; Zero's missing a few frames in his mid-air slar, and the hit detection is a bit off here and there. […] it's the same as the third slash in his 3 hit combo, so just compare the two.
Hidden in the game's code, Ace Spark from The Mechanical Maniacs has found some unused animation frames for Double, that could be from removed dialogue sequences [UPDATE: The running animation for Double is actually used in the game, but you only see it for a split second after you select a stage in the game. Thanks to OKei!]. An unused mugshot is in there too.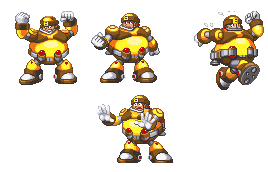 Some beta screenshots are available too, in which we can notice that the intro stage had a drill enemy in the beta, that was removed from the final game. When the place starts blowing up there are even more drill enemies. You can read more info on the beta at The Mechanical Maniacs!
Images:
Video:
An even later beta build than the one above with many more differences can be seen below:

What do you think about this unseen game? Give your vote!
Would you like to add more info, screens or videos to this page? Add a comment below!
(your first comment will be moderated before to be published)