On Wikipedia they say that "GameTek was a computer game and video game publisher based out of North Miami Beach, Florida well known for publishing video game adaptations for game shows, during the early 1990s. GameTek was a trade name for IJE, the owner of electronic publishing rights to Jeopardy! and Wheel of Fortune. Originally IJE licensed these titles to ShareData of Chandler, Arizona; but when IJE saw ShareData's success with the titles, IJE decided to publish the titles themselves and GameTek was born. GameTek filed for bankruptcy in 1997, but closed down for good in July 1998. Some of the company's assets were acquired by Take 2 Interactive in 1997. They also produced Robotech: Crystal Dreams for the Nintendo 64. It was never released and was thought to be the reason for the closure."
I was looking through an old Nintendo Power, when i found another screen for that cool Robotech Ultra 64 tech demo: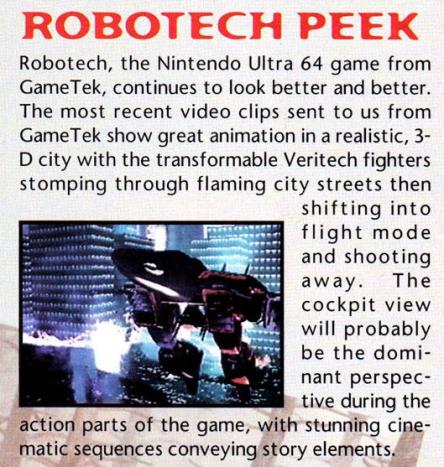 So i wonder.. did any of you work at GameTek and maybe still have this video they talk about in the magazine? There are some Robotech 64 videos out there (and even a leaked proto) but i think that we have never seen this 3D City demo in motion.. from the few screens we have, it looked a lot better than the other ones.
What do you think about this unseen game? Give your vote!
Would you like to add more info, screens or videos to this page? Add a comment below!
(your first comment will be moderated before to be published)