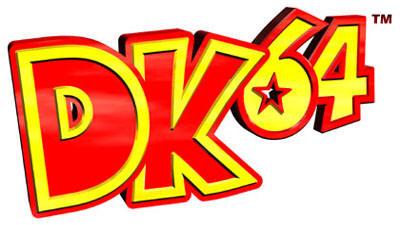 Torniamo al 1999: molti fans del N64 attendono Banjo-Tooie, nel frattempo la Rareware, dopo aver realizzato la trilogia di Donkey Kong Country per Super Nintendo, ultima i lavori su Donkey Kong 64 (conosciuto nelle fasi beta come Donkey Kong Country 64 o Donkey Kong World). Il progetto iniziale parlava di un gioco per il 64dd, come lo conosciamo noi invece è un titolo per N64, la cui grande necessità di spazio è stata saziata dall' espansione di memoria di 4mb. Rilasciato nel 1999, ottiene un forte successo di critica e pubblico, ironicamente il gioco presenta tantissimi punti di somiglianza con Banjo-Kazooie (gameplay, sistema di controllo, motore grafico, comparto audiovisivo). Qual è il punto della situazione? Dobbiamo ritornare un po' indietro nel tempo, prima dell' uscita di Donkey Kong 64, più o meno un paio di anni prima, le immagini seguenti infatti sono delle versioni beta di Donkey Kong 64 e Banjo-Kazooie: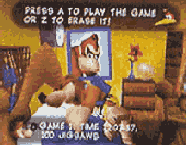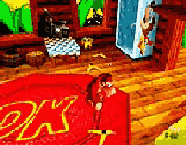 Come si può notare presentano degli strani riferimenti: in Donkey Kong 64 vediamo nella casa di Donkey Kong uno strano oggetto (si ipotizza che fosse una doccia, altri un armadio, altri ancora un frigorifero) con Banjo e Kazooie disegnati su un lato, mentre in Banjo-Kazooie nel menù di selezione del file di gioco (cioè la casa di Banjo) troviamo un quadro con l' immagine di Donkey Kong; questi elementi sono stati completamente rimossi dalle versioni finali di entrambi i giochi. Ora, perché nelle beta troviamo questi oggetti? I ragazzi di RareWitchProject hanno portato avanti con molta decisione una teoria particolare, che spiegherebbe la questione, cioè che Donkey Kong 64 farebbe parte dello Stop 'n' Swop. In particolare, sempre secondo loro, lo S'n'S inizialmente non doveva riguardare BK e BT come si è soliti pensare, bensì solo BK e DK64; difatti il collegare le due cartucce (in qualunque modo fosse possibile) avrebbe permesso lo scambio di informazioni tra i due giochi, i due oggetti "fuori posto" che si possono vedere nelle due immagini beta qui sopra sarebbero quindi frutto di questo scambio di informazioni.

Ma queste non sono delle spiegazioni sufficienti per il RareWitchProject team, uno dei loro ultimi progetti è stato quello di studiare a fondo la rom di DK64 attraverso varie sezioni di hacking, in modo da poter esaminare ogni aspetto del gioco, ogni testo contenuto, immagine 2d o 3d, texture e traccia musicale. I ragazzi del team hanno scoperto all' interno della rom un testo inutilizzato ma sicuramente fuori posto, le parole ICE KEY! Da questo la crew di RareWitchProject ha dedotto che una volta in DK64 ci sarebbe stato posto nel gioco anche per una chiave di ghiaccio, e che probabilmente si trattava della stessa di BK.

Si è anche detto quindi che lo S'n'S riguardante questi due giochi doveva riferirsi principalmente (o esclusivamente) allo scambio della chiave di ghiaccio (ice key), per esempio la stanza dove quest'ultima è riposta in Banjo-Kazooie ricorda un livello di Donkey Kong 64, Crystal Caves. Un possibile collegamento fra i due giochi? Tra l' altro, la musichetta che troviamo in BK nelle stanza dove vi sono le uova e la chiave di ghiaccio è molto simile alla traccia che è possibile sentire nelle stanze di Scoff N Troff (attraverso le quali si raggiunge il boss di fine livello) in DK64, un altro elemento abbastanza curioso sempre secondo i ragazzi di RWP. In tutti i casi, la verità è che tutti i platform Rareware per N64 sono simili tra loro, e non c' è bisogno di hackarli per rendersi conto delle somiglianze.
Continua >> Discussioni varie sullo Stop 'n' Swop
Sezioni:
Stop 'n' Swop in Donkey Kong 64
Avete commenti, contributi, correzioni o domande su questo articolo? La nostra email ed il nostro Forum sono a disposizione per ogni evenienza!
What do you think about this unseen game? Give your vote!
Would you like to add more info, screens or videos to this page? Add a comment below!
(your first comment will be moderated before to be published)