In Banjo-Kazooie quando si parla di uova, si fanno dei riferimenti precisi al collegamento con Banjo-Tooie, ma in quest' ultimo gioco invece, quando recuperi un uovo, per quanto ci possano essere dei riferimenti a Banjo-Kazooie, sono sempre molto generali. In BT non c' è un collegamento diretto quale doveva essere lo Stop 'n' Swop, quindi gli oggetti segreti di BT sono fini a BT stesso.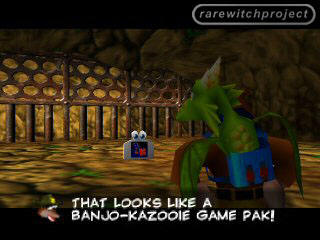 Possiamo dire che BK sembra più "idoneo" rispetto al suo seguito per quanto riguarda lo S'n'S. Ciò potrebbe essere dato dal fatto, che durante la realizzazione di Banjo-Kazooie la Rareware vuole veramente portare a termine lo S'n'S; per questo inserisce sei uova e una chiave di ghiaccio! tutto però rimane però segreto e ben nascosto, in modo che ciò si possa sbloccare solo attraverso il seguito, Banjo-Tooie!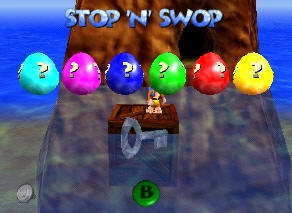 Purtroppo durante il suo sviluppo, vengono riscontrati dei problemi nel realizzare la seconda parte dello Stop 'n' Swop (quella appunto all' interno di BT). RARE decide di eliminare il link tra i due giochi. In Banjo-Kazooie si parla di un collegamento con il sequel. In Banjo-Tooie ci sono dei riferimenti riguardanti lo Stop 'n' Swop (dopotutto il 90% degli elementi presenti in BT proviene da BK), ma non si parla mai del primo Banjo in ambito di Stop 'n' Swop vero e proprio
Non viene spiegato col quale intendo si volevano linkare le due cartucce. I riferimenti allo S'n'S in Banjo-Tooie, non hanno una motivazione come quella di Banjo-Kazooie. Nel primo titolo, si voleva creare un collegamento fra i due giochi. In Banjo-Tooie, le intenzioni del collegamento non esistono.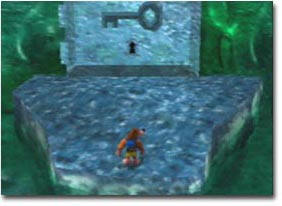 Vi sono solamente alcuni elementi presi dallo Stop 'n' Swop, insieme ad altri mille oggetti importati dal primo capitolo. Per quanto curiosa, questa presenza non giustifica lo S'n'S. In un certo senso la Rareware ha mantenuto la promessa fatta da Mumbo Jumbo alla fine di Banjo-Kazooie: le uova segrete viola e blu, sono presenti insieme alla chiave di ghiaccio nel seguito. L'unico problema è che non si sbloccano linkando i due giochi!
Oltre a questi tre oggetti troviamo in BT anche l'uovo giallo, ma nessun riferimento alle restanti tre uova, rossa, celeste e verde. In BK erano presenti sei uova, perché in BT ne ritroviamo solo tre?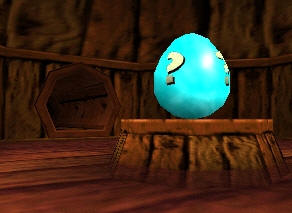 Parlando di Stop 'n' Swop ed introducendo nel discorso anche Donkey Kong 64, la situazione cambia. Non vi sono prove precise, che i due Banjo si potessero collegare tra di loro. Alcuni sostengono che si sarebbe trattato di linkare insieme tutti e tre i giochi! BK, DK64 e BT. Proprio la troppa complessità del progetto, lo avrebbe portato al collasso.
Continua >> Quali livelli beta & segreti?
Sezioni:
Discussioni varie sullo Stop 'n' Swop
Avete commenti, contributi, correzioni o domande su questo articolo? La nostra email ed il nostro Forum sono a disposizione per ogni evenienza!
What do you think about this unseen game? Give your vote!
Would you like to add more info, screens or videos to this page? Add a comment below!
(your first comment will be moderated before to be published)