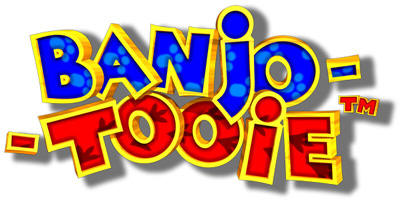 Anno 2000: dopo un' attesa di due anni finalmente la Rareware pubblica uno dei suoi ultimi giochi per N64, nonché uno dei suoi migliore, cioè Banjo-Tooie, il tanto atteso seguito di Banjo-Kazooie. Il gioco risulta un capolavoro sotto tutti i punti di vista: la stessa struttura di BK e molti elementi e personaggi già visti qui vengono riportati in BT aumentando la qualità generale, creando situazioni molto varie, rielaborando vecchi concetti con nuove idee e una maggiore libertà di movimento. Il gioco comunque non ha il successo meritato, fatto causato principalmente dal Nintendo 64 nei suoi ultimi anni di vita. Ma non siamo interessati a parlare del gioco in sé, la questione ora è un'altra, che fine ha fatto lo Stop 'n' Swop in Banjo-Tooie?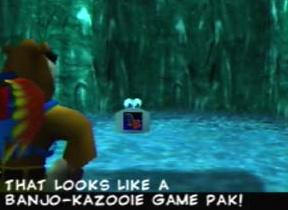 I giocatori più accaniti credono ancora nelle parole "profetiche" di Mumbo Jumbo alla fine di Banjo-Kazooie, il quale, come già detto, afferma che solo nel seguito avremmo potuto risolvere questo mistero, ebbene, per chi aspetta l' uscita di Banjo-Tooie a questo fine, non trova nessun collegamento allo Stop 'n' Swop.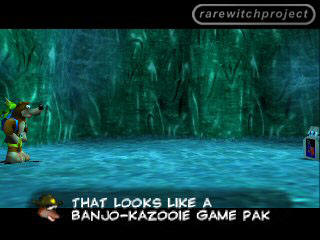 Mi spiego meglio: all' interno di BT nessun messaggio, nessun Mumbo Jumbo o qualunque altro personaggio o quello che sia accenna alla possibilità di collegare i due giochi o comunque a un collegamento diretto tra di essi, nessun testo in BT presenta le parole Stop 'n' Swop. In BT comunque troviamo alcuni riferimenti allo S'n'S: tre cartucce con la sigla BK possono essere trovate e distrutte all' interno appunto di BT.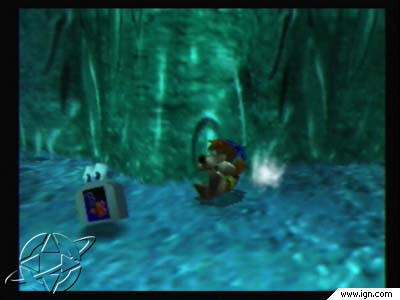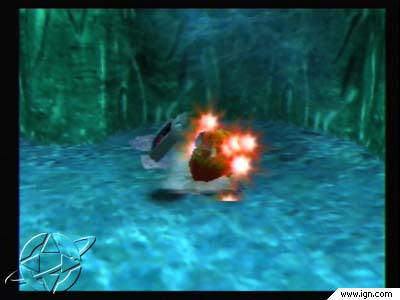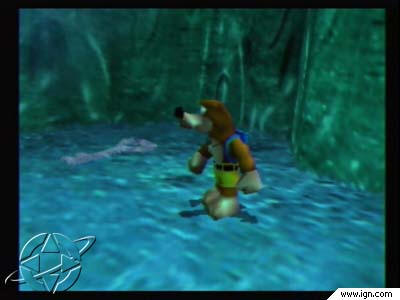 Esse contengono due uova segrete, già viste nel prequel e la famosa chiave di ghiaccio, in più troviamo un altro uovo a parte sempre in BT; molti, come me, non considerano questi oggetti il vero Stop 'n' Swop, ma dei riferimenti, per il semplice fatto che raccogliendo queste tre uova e la chiave di ghiaccio si sbloccano dei segreti come nuove abilità, che sono utili all' interno del gioco solo per superare alcuni passaggi difficili in BT, in poche parole nessun riferimento allo Stop 'n' Swop.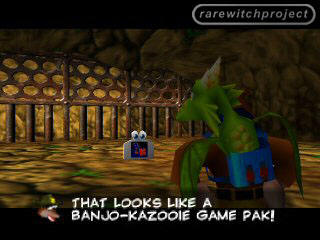 Il mistero più grande di Banjo-Tooie (e quello che fa venire più dubbi sul fatto che qualcosa è stato rimosso dal gioco), rimane senza dubbio Captain Blackeye, nel livello Jolly Roger's Lagoon e precisamente nel locale di Jolly.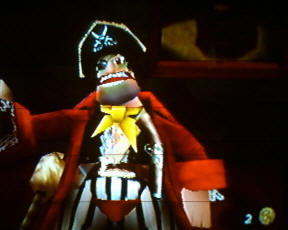 Come intuibile, si tratta di un pirata, la sua figura è molto ambigua, lo troviamo in una stanza a parte seduto ad un tavolo, ubriaco, bevendo qualcosa, riceviamo da lui due monete appunto per portargli da bere e ci dice: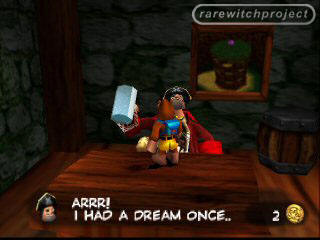 "I had DREAM once… That I were in this fine game. But then a bear stole me glory. Looked a bit like you did…" La stanza in cui si trova è piena di riferimenti allo Stop 'n' Swop di BK: appena alle spalle di Blackeye vi è un' immagine dell' uovo viola all' interno della Sharkfood Island, alla sua destra invece la già nominata Sharkfood Island ma questa volta vista dall' esterno (l' isola è completamente emersa, come se il codice fosse già stato immesso), infine un' immagine della panoramica totale del livello TTC e più precisamente la foto mostra l' enorme arco di roccia al centro del livello… che significato hanno tutti questi elementi?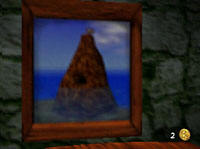 Le parole di Captain Blackeye sono criptate, nascondono un secondo significato: traducendo non troppo letteralmente, lui dice che ha fatto un sogno.. lui era in questo gioco.. ma poi un orso gli aveva rubato la gloria, il quale (orso) assomigliava un po' a Banjo (riferendosi a lui in seconda persona, e non in terza come ho scritto io). Bene, ho tradotto dall' inglese all' italiano, ma questa frase non ha ancora senso! In realtà un rumor molto famoso e accreditabile dice che la frase "I had DREAM once" non è che un riferimento al primo titolo del gioco che noi tutto oggi conosciamo come Banjo-Kazooie, che appunto durante i primi periodi di sviluppo era stato chiamato Project Dream.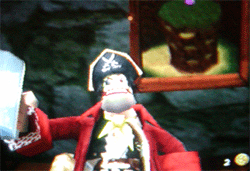 Per spiegare il resto della frase dobbiamo fare chiarezza su chi sia veramente Captain Blackeye: si crede infatti che in Project Dream lui fosse nient' altro che il protagonista del gioco, in seguito poi fu rimpiazzato da Banjo, in giro esiste la voce che a questo punto avrebbe dovuto rivestire il ruolo di antagonista (poi rimpiazzato da Gruntilda), qualcuno ha detto che sarebbe dovuto essere poi un gigante, quindi sarebbe sempre esistito nel gioco, in tutti i casi rimane un personaggio beta; interessante è il fatto che in Banjo-Kazooie in alcune stanze vi sono dei riferimenti alla sua figura, per esempio nella Mad Monster Mansion troviamo un suo ritratto: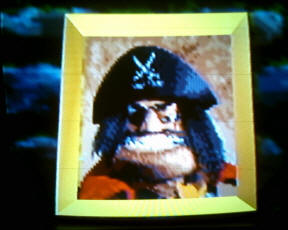 La somiglianza è palese, sono identici, non vi sono dubbi, in altri punti del gioco invece su alcuni muri è disegnata la faccia molto stilizzata di un pirata, che sia Captain Blackeye?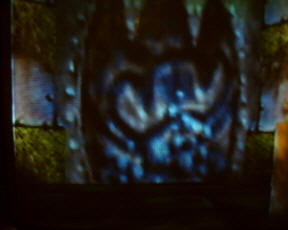 La frase "But then a bear stole me glory" è molto ambigua (come tutta la situazione dopotutto), e in relazione a vari elementi, tra i quali le immagini presenti nella stanza in cui vi è Blackeye, sono state formulate alcune ipotesi per la presenza di questo strano personaggio:
1) Captain Blackeye doveva essere inizialmente il protagonista di Project Dream, poi arrivò Banjo rubandogli il ruolo e lui fu eliminato dal gioco, per questo ora dice che la sua gloria è stata rubata da un orso (Banjo come saprete è appunto un orso), così che, in Banjo-Tooie, lo ritroviamo ad ubriacarsi perché completamente sconfitto sul piano morale.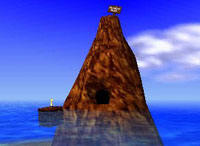 2) La seconda ipotesi sicuramente è la più interessante, Captain Blackeye farebbe parte del mal riuscito Stop 'n' Swop, nonché quindi un collegamento tra Banjo-Kazooie e Banjo-Tooie. Infatti nella stanza dove troviamo Blackeye sono presenti, come già specificato, tre immagini del livello Treasure Trove Cove, la prima è la panoramica completa del livello, fino a qui tutto relativamente normale, le altre due invece sono quelle davvero curiose, nella seconda infatti vi è la Sharkfood Island completamente emersa, nella terza addirittura è raffigurato l' uovo viola che è appunto all' interno dell' isola appena nominata. Riepilogata questa situazione, visti questi riferimenti così espliciti, ci sarebbe da pensare che il Captain Blackeye faccia parte dello Stop 'n' Swop, e in particolar modo sembrerebbe legato all' uovo viola di Banjo-Kazooie che si trova nel livello TTC (guarda caso al centro dell' area del TTC vi è un galeone, più altri diversi riferimenti al mondo piratesco). Cosa sarebbe successo se, dopo averci dato due dobloni, avessimo potuto dargli da bere (questo è ciò che lui ci chiede di fare, ma allo stesso tempo in BT non vi è alcuna possibilità di portare a termine la sua richiesta)? Secondo questa mia teoria, quando Captain Blackeye dice che un orso gli ha rubato la gloria, parla del fatto che Banjo attraverso lo Stop 'n' Swop sia riuscito a sottrargli l'uovo viola, o qualcosa di simile.
3) La terza ipotesi invece è l' unione delle prime due.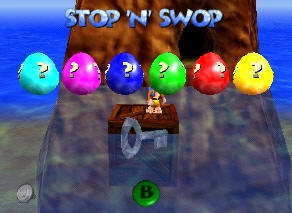 In tutti i casi non prendete alla lettera queste ipotesi (non esistono prove vere che le confermano al 100%). Concludendo questa sezione, qualunque cosa voglia significare la presenza di Captain Blackeye sicuramente è molto strano; non c' è motivo per cui si trova nel gioco ora come ora, per quello che sappiamo con sicurezza, è fine a se stesso infatti. A mio parere quindi, e secondo quello di molti altri, Captain Blackeye non è nient' altro la dimostrazione che la Rareware stesse veramente progettando un collegamento fra BK e BT, rivelatosi però fallimentare, ciò che non si capisce è perché la Rareware, resasi conto del naufragio del progetto, abbia mantenuto così tanti riferimenti all' interno dei due giochi, è un mistero che non tende a dissolversi, approfondirò comunque la questione più avanti.
Continua >> Stop 'n' Swop in Donkey Kong 64
Sezioni:
Stop 'n' Swop in Banjo-Tooie
Avete commenti, contributi, correzioni o domande su questo articolo? La nostra email ed il nostro Forum sono a disposizione per ogni evenienza!
What do you think about this unseen game? Give your vote!
Would you like to add more info, screens or videos to this page? Add a comment below!
(your first comment will be moderated before to be published)