Avvertenza: è possibile la presenza di spoiler nel seguente articolo. Twilight Princess è un gioco vasto e lungo, è possibile che alcune scene, da me considerate beta, siano solamente sezioni dimenticate o tralasciate. Per ogni errore, potete contattarmi tramite e-mail.
[A cura di monokoma]
Villaggi e Dungeons Beta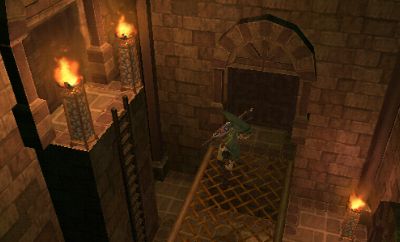 Questo sarebbe dovuto essere uno dei primi dungeons del gioco, ma dopo la sua apparizione nel 2004, è stato probabilmente cancellato oppure modificato in quello che oggi conosciamo come Arbiter's Grounds. E' possibile che questa zona, non era altro che una serie di piccole stanze e corridoi, messi assieme senza uno scopo preciso, se non quello di mostrare come sarebbero stati i templi nel nuovo Zelda. In questo caso, è quindi possibile che questa area non fosse stata ancora sviluppata a dovere, e venisse utilizzata solamente come tech demo delle strutture e dei nemici.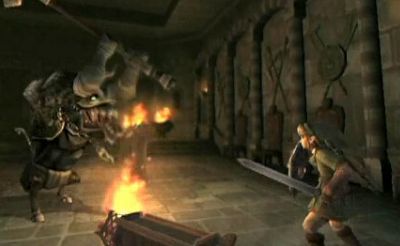 Durante il video del 2004, vediamo chiaramente Link mentre lotta contro un Moblin (di cui parleremo meglio in seguito), all'interno di una stanza di questo fantomatico dungeon beta. Sui muri sono appesi scudi ed armi, ma il pavimento sembra identico a quello delle foto precedenti. La parte interessante è la torcia ribaltata a terra, forse a causa dello scontro. Nella versione Beta di TP, era possibile interagire maggiormente con gli oggetti dello scenario?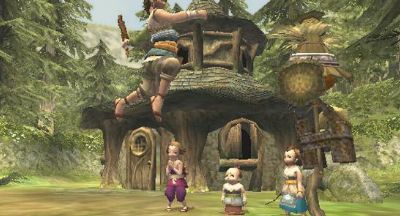 Un'immagine molto interessante, è questa scena, in cui vediamo la vecchia versione beta della casa di Link. In origine, l'abitazione era situata a terra, rendendola molto più simile alle altre case di Ordon. In seguito è stata invece riposizionata sopra ad un albero, potendola raggiungere solamente attraverso una scala. La mia teoria è che Nintendo abbia voluto rendere la casa di Link, più simile a quella di Ocarina of Time, cosi da richiamare direttamente i ricordi dal primo villaggio della versione Nintendo 64.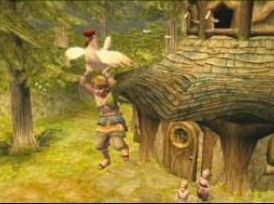 Sempre nella casa beta di Link, da questo screenshot sembra che fosse possibile uscire sul tetto, dove afferrare una gallina per planare dolcemente a terra, o forse per raggiungere qualche zona segreta poi rimossa.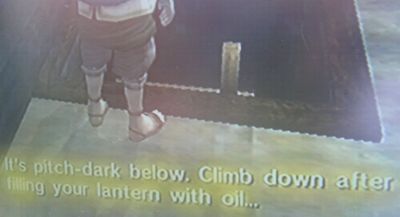 Passando all'interno della casa di Link, in uno dei demo mostrati al pubblico, l'accesso alla buia cantina era impedito fino a quando non si fosse raccolta la lanterna ad olio. Nella versione finale invece, è possibile scendere da subito, anche se senza luce è difficile riuscire a guardarsi attorno.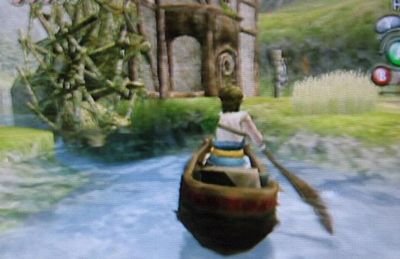 Al villaggio Ordon, in Zelda TP Beta era possibile utilizzare una canoa per spostarsi nel piccolo corso d'acqua che attraversa il paese. Probabilmente era stata inserita nei demo del gioco, solamente per lasciare provare ai giocatori questa caratteristica, poi sviluppata meglio in altre zone del mondo, come nel laghetto della pesca o nel tiro al bersaglio sulle rapide. Effettivamente, il ruscello di Ordon è piccolo e lo si esplora anche a nuoto senza problemi, ma non avrebbe fatto certo male mantenere la canoa.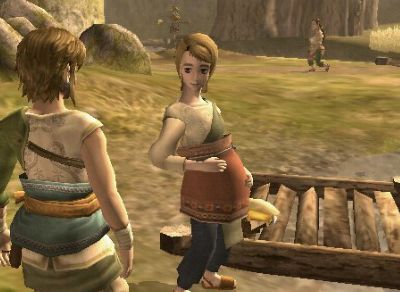 In questa altra immagine del'Ordon Village, non possiamo che notare alcune incongruenze e stranezze, rispetto alla versione finale. Subito vediamo uno spaventapasseri sullo sfondo, oggetto che in Twilight Princess è invece presente solamente nel giardino della casa di Link. In secondo luogo, sembra mancare la ruota del mulino ad acqua, sulla casa di Jaggle & Pergie!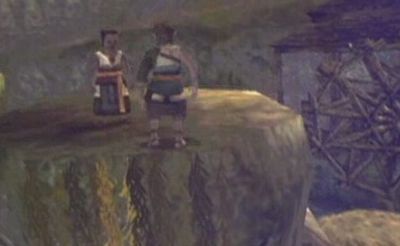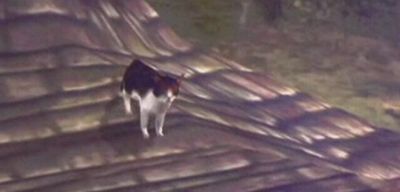 Nel demo dell'E3 2005, sulla piattaforma in mezzo al villaggio, i giocatori potevano trovare Jaggle, che indicava a Link un gatto, sul tetto dello shop. Quello dovrebbe essere lo stesso micio, scappato dal negozio, che la proprietaria cerca disperatamente. Nella versione completa di Twilight Princess, questa piccola quest è differente, ed il gatto non viene avvistato sul tetto della casa, ma nelle prossimità del fiume.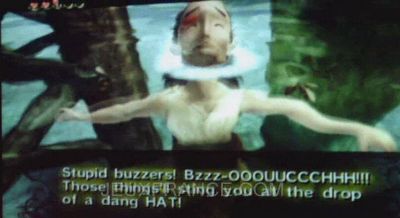 In un'altra versione demo, era stata inserita una scena in cui Fado, l'uomo che cerca di recuperare l'alveare sull'albero, viene inseguito dalle api, dopo aver colpito il loro nido con un sasso. Fado scappa in acqua per salvarsi, ma ormai il danno è fatto. Nel gioco finale, questa scena sembra scomparsa (o non la ricordo?)! è possibile che in origine, Nintendo avesse deciso di inserirla, per spiegare al giocatore come salvarsi dalla puntura delle api, ovvero lanciandosi in acqua velocemente. In seguito è stata rimossa, forse per lasciare alla nostra inventiva, la soluzione per il pericolo. Update: grazie a Drew abbiamo scoperto che questa scena è davvero presente nel gioco finale: se non colpiamo mai l'alveare ed aspettiamo l'ultimo giorno  al villaggio, partirà in automatico questa scena con Fado!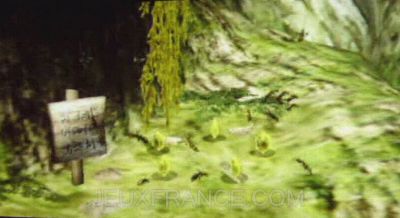 Un particolare interessante dell'alveare beta, caduto a causa di Fado, è la fuoriuscita di alcune rupie gialle, al suo impatto a terra. In TP invece, una volta caduto, il nido non regala soldi al giocatore, ma solamente la possibilità di raccogliere larve da utilizzare come esche per la pesca.
Un altra piccola differenza nel villaggio Ordon, è la presenza nella beta di un alveare sull'albero della casa del capo villaggio, mentre nel gioco completo le api le troviamo solamente al di sopra della pianta della casa di Fado.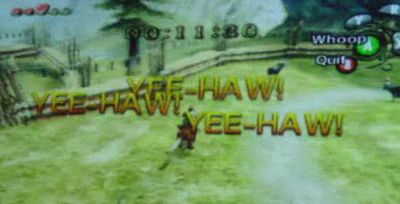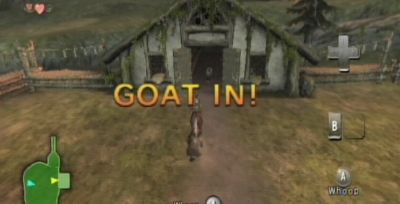 Un piccolo cambiamento nell'Ordon Ranch: nel minigame in cui Link deve riuscire a fare rientrare le capre nella fattoria, i demo beta annunciavano il successo con il messaggio "Yee-Haw!". Nella versione finale, invece possiamo leggere "Goat In!", un simpatico gioco di parole in inglese, in cui "Goat" significa "Capra" appunto, utilizzato al posto di "Got".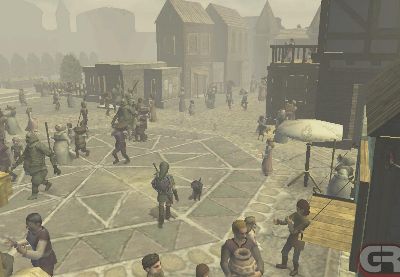 Passiamo ora alla beta della città del castello di Hyrule, dove sono chiare le differenze della piazza principale. La struttura delle case era molto differente ed anche i personaggi che popolavano la zona non sono gli stessi del gioco finale. La Castle Town ha senz'altro subito varie sistemazioni, per arrivare alla versione finale, in cui Nintendo ha migliorato l'aspetto grafico ed organizzato meglio gli spazi. Non abbiamo però motivo di pensare che siano state cancellati particolari interessanti dell'area, sembra piuttosto un immagine ancora in fase iniziale, senza importanti caratteristiche.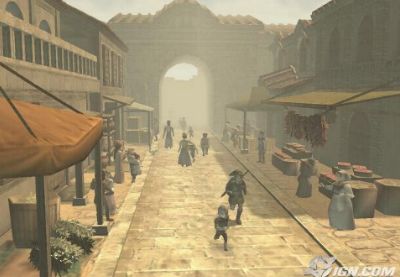 Possiamo fare lo stesso discorso per la parte sud della città, in cui l'organizzazione sembra essere identica a quella finale, mentre la qualità dei particolari e delle bancarelle è senz'altro migliorata. Vedendo questa immagine, pensiamo che la suddivisione della Castle Town fosse già decisa a questo stadio di sviluppo, con gli archi della piazza che delimitavano le zone di caricamento e cambio scena.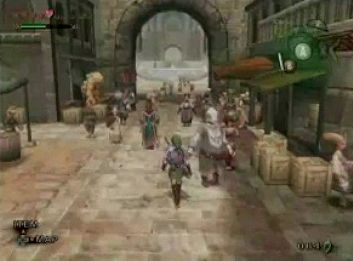 Nel video diffuso all'E3 2006, troviamo invece una beta più recente dello stesso vicolo, a metà strada rispetto alla qualità della sua versione finale. Notiamo però alcuni particolare interessanti; il Goron che vende l'acqua termale era posizionato più a nord, sulla sinistra della strada, verso l'arco per accedere alla piazza. Inoltre la svolta a sinistra per raggiungere la via laterale della città, è posizionata più in alto, a differenza del gioco completo.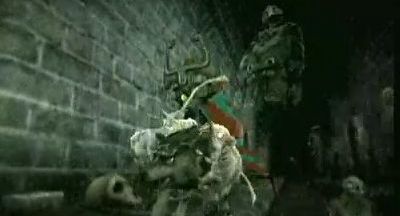 Scendiamo ora nelle fogne della Castle Town! all'E3 2005, vennero mostrati i passaggi sotterranei che portano all'Hyrule Castle, infestati da fantasmi, sia umani che animali. Nel gioco completo però, sono presenti solamente una minima parte di questi spiriti, alcuni cavalieri sparsi; mancano del tutto le anime dei topi, che compaiono invece molto più avanti nella trama. L'enorme quantità di fantasmi umani, ben visibile anche nel trailer del CDG 2005, era stata inserita probabilmente per soli fini estetici.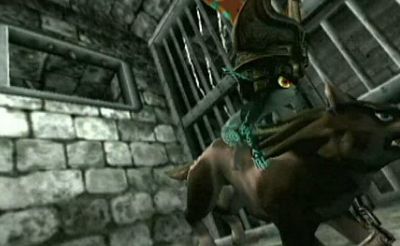 Nel trailer dell'E3 2005, Link sembra fuggire dalla prigione attraverso una grata, posta nel muro. Nel gioco finale invece, Midna consiglia al Lupo di scavare sotto alle sbarre, per trovare l'uscita.
Continua >> Personaggi e Item Beta
What do you think about this unseen game? Give your vote!
Would you like to add more info, screens or videos to this page? Add a comment below!
(your first comment will be moderated before to be published)