Cult County is a cancelled psychological horror game that was in development by Renegade Kid around 2013, originally announced for Nintendo 3DS at PAX 2013 and later also planned for PS4, PS3, PSVita, Wii U, PC, and Xbox One when they unsuccessfully tried to fund the game on Kickstarter. Their plan for the project was to create an episodic horror tale, something like "The Walking Dead meets Silent Hill 2 from a first-person perspective".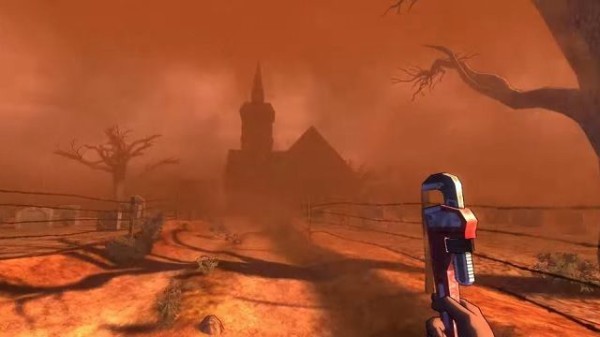 The team is mostly known for cult-classic Nintendo DS horror titles such as Dementium: The Ward and Moon, plus fun platforming adventures such as Mutant Mudds and Xeodrifter. While they always showed skills and love for Nintendo consoles, their games never sold much unfortunately.
Some details about Cult County can still be read on their Kickstarter campaign page, which raised just  $ 46.736 of their $ 580.000 goal:
"Cult County is an all-new first-person survival horror game that blends the episodic story-telling of The Walking Dead with the classic tension-filled exploration and action of Silent Hill and Resident Evil, presenting an opportunity for fans to help a veteran team produce a new experience that is fresh, exciting, and scary!

Rebirth of the survival horror FPS genre, crafted with fan input.
Story-driven gameplay, featuring memorable character interactions.
Small West Texas town filled with tension, mystery, and scares.
Vulnerable and personalized melee and firearm combat.
Varied cast of creepy enemy encounters and devious boss battles.

You assume the role of Gavin Mellick, whose mother has fallen deathly ill. Unable to reach your older sister, Alissa, by phone you drive the 6 hours across Texas to visit her in person and share the sad news. You return to the small town where you spent your summers as a child with Alissa, at your late aunt's house. There is a particularly savage dust storm rolling in when you arrive.

Unable to locate your sister, you ask some of the locals for help. You quickly learn about their suspicions of a cultish group that recently moved into town, and the unexpected suicide of Father Pearce. The locals offer very little help finding your sister, and it isn't long before your search takes an unexpected dark turn, leading you down a road of no return.

You are alone. You are unarmed. You see strange "people" linger on the edge of the dust storm, who seem to be watching your every move. But, as soon as you turn your head to face them, they disappear. Who are they? Where do they go? What do they want?

As you explore deeper into the town, searching for any clues that might lead to your sister, you meet various town folk who offer their own anecdotes on what the "people" might be. Some claim they are just your imagination, and some say they are part of the new cultish group who recently moved into town. One person even goes as far to name them "Dust Devils"!"
With no support on Kickstarter, Renegade Kid possibly tried to find a publisher for Cult County, but without success. After releasing Moon Chronicles and Dementium Remastered on Nintendo 3DS, in August 2016 Renegade Kid announced that it was shutting down. It's currently unknown if Cult County could be resurrected in the future, but if so we could see it from Infitizmo, the new team created by former Renegade Kid cofounder Gregg Hargrove.
Images:
Videos: