BioSwarm (initially conceived as "BattleSport II" and later also known as N.R.G. and Groundwave) is a cancelled sci-fi vehicle combat game that was in development in 1997 / 1998 by Cyclone Studios, planned to be released on Playstation and possibly on Nintendo 64 (as noted by IGN in 1998).
At the time Cyclone Studios was mostly known for BattleSport, a "futuristic sports game" published by 3DO in 1997 for their 3DO console, Playstation, Sega Saturn and PC. In BattleSport players battle in small arenas controlling armored hovercraft. The main objective is to shoot an energy ball into a target to score points, while killing your opponents. You could somehow imagine it like a mix between "Rocket League" and "Quake 3 Arena".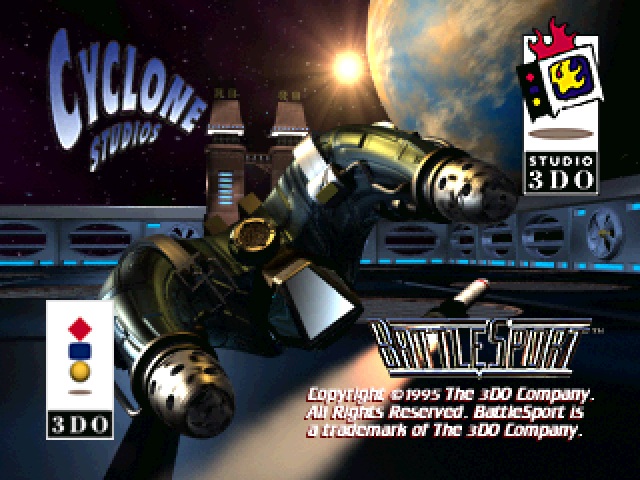 BattleSport was popular enough to deserve a sequel and soon Cyclone Studios started working on BattleSport 2 which was officially announced by 3DO at the time, originally planned for the ill-fated 3DO / Panasonic M2. As wrote by Gamespot:
"Battlesport II (working title) Another former M2 title, Battlesport II is a futuristic sports game planned as a PlayStation-only title due spring of '98. The first Battlesport game was originally released on the 3DO console system, and it is due for the PlayStation soon through Acclaim."
In May 1997 IGN also reported:
"3DO has secured approval from Sony to develop a sequel to BattleSport, one of the better titles for the original 3DO hardware. The game is currently under the working title of BattleSport 2 (no big surprise there) but it may end up as BattleSport Extreme among other possibilities. It has not yet been decided whether the game will focus more on combat or sports, but, "It will be drastically different than the first," according to a 3DO spokesperson. BattleSport 2 is slated for an early 1998 release."
Some more details about the game were shared by former Cyclone Studios President Helmut Kobler, in a short interview posted in 1997 on the n64.com website (now closed):
"N64.com spoke with Cyclone Studios President Helmut Kobler, who gave us an idea what the game will be like. "We definitely want to bring a version of BattleSport to N64," said Kobler, the 28-year-old former University of California at Berkeley student. "We've spoken with Nintendo, they've given us the OK to make it, but right now we're focusing on bringing a little more order here in-house before we move on to anything else."

Cyclone will orchestrate a Nintendo 64-specific title, with loads of changes, abilities no other system will have, and has yet to decide which system the game will be developed for, 64DD or N64 cartridge. "Battlesport is born to be on a system like N64," Said Kobler. "And there is a possibility of the game going four-player, if two systems could be hooked up. As far as I know, a link up is a possibility, but I can't speak for Nintendo. […] But we'll only do the game when we feel it's right. We're a small company, and we like it like that, so we need to be ready, and need to manage our resources properly."

Kobler's plans to make a version of BattleSport for Nintendo 64 include alterations like improving the graphics so that tanks and arenas will contain a quantifiable leap in polygons, and special effects that will include smoke and exhaust, and an altogether far more detailed world. "You wouldn't just see a flat wall area, crowds, color, and much more would be seeable. And tanks could destroy certain parts of the arenas," Kobler says.

[…] Lastly, explained Kobler, the game will have new parts to it, which add to the strategy. "Some of the new elements will include underground and above-ground tunnels to hide from the enemy, and pits as well," he added."
In the end BattleSport 2 was still primarily in development for Playstation, but unfortunately it seems that Sony, 3DO and Cyclone Studios were not exactly sure how to enhance this sequel. As we can read in an interview with Lance Lewis (former Cyclone developer):
"MT: What is the current status of 3DO's BioSwarm for the Playstation?

LL: We actually finished a playable level to demo at E3 in 1998, although it was never shown there. In defense of the game, I think it had really begun to take shape, and it was quite unique. However, this was one of those projects that just had too many "red flags" around it from day one. It was originally a sequel to the 3DO Multiplayer game BattleSport. I believe Sony wasn't too keen on the idea, so it was redesigned and called N.R.G. (energy… get it?). Again, it wasn't received too warmly so it was redesigned again to become BioSwarm. All of this was going on while the game retained that same engine, presenting a problem for the design team. I feel technology should be built to house a game, a game shouldn't have to be restricted by pre-built technology. Now, there was nothing wrong with the technology, it was great in fact… but… it was built to do a particular style of game, so every design after that was obviously going to be limited. Upper management really didn't care about details like this and so once again the 3DO theme: "Re-use, re-use, re-use…"
Unfortunately Lance Lewis passed away in January 2018; family and friends organized a "celebration of life" ceremony for him in San Jose.
To learn more about this lost game we got in contact with James Hampton, former Lead Game Designer at Cyclone Studios on BioSwarm, who recall when he started working on the project:
"Eddie Ruvinsky and Rob Adams were the lead programmer and artist on the team, and together they put together a playable level that featured these articulated hover ships that Rob had designed. When I started at Cyclone Studios, I was tasked with building a game design based on this prototype.

I agreed that the ships were fun to zoom around the arena they built, and wanted to add some unique mechanics that could help the game stand out in the vehicle combat genre. As a group we brainstormed and came up with a bunch of pop-culture inspired enemies and arenas.

The core idea for BioSwarm (as seen in the storyboards for the intro movie) was that a pair of intergalactic garbage men come across Earth, and when they see how polluted Earth is,  they saw as the perfect landfill to dump their toxic waste on. This space trash turns out to be these energy based creatures that travel in swarms which defended itself by bringing stuff to life to fight for them.  Each of the arena would be set in different kinds of trash themed locales such as 'Silicon Slums' (where old computers parts and monitors go to die), a nuclear power plant, and even a Vegas like level that focused on 'trashy pop culture'. Example: in the Automobile wrecking yard level, the swarm summons a boss monster whose body is made up of automobiles and car parts (this is the enemy creature seen in the BioSwarm poster and video). This initial build included a subtle easter egg in that a lot of the cars used in the boss monsters body were based on the vehicles the dev team drove to work every day.

The amazing art duo of Rob Adams and Mark Dixon came up with some excellent concept art to show what these new kind of enemies could be."
BioSwarm's gameplay was quite different from its early conception as BattleSport 2. Sports' mechanics of scoring points by shooting balls in a target were dropped in favor of a more combat-focused gameplay, merging cult classics vehicle combat games such as Twisted Metal and Vigilante 8 with an interesting "flocking Artificial Intelligence".
As told us by James:
"The goal for the BioSwarm player was to round up these alien energy creatures that defended itself by bringing inanimate objects to life to act as their protectors. Sort of a science fiction take on rodeo lasso-ing using these Hoverships to chase down, lasso and capture the 'swarm' of creatures. The Swarm used a "flocking" AI algorithm which resulted in these dynamic movement patterns of the swarm moving as one."
The team worked hard on BioSwarm until April 1998, when Cyclone Studios were fully merged into 3DO and the project was cancelled so that they could instead focus on titles based on their "Army Men" franchise. They developed "Army Men: Air Attack", published in 1999 for Playstation, Nintendo 64 and PC.
Before BioSwarm got canned the team was able to develop a "pre-alpha" version, which offered a taste of what the moment to moment gameplay was like. While not everything was implemented, you could control a hover ship in an environment inspired by Three Mile Island / nuclear plants and chase down the swarming creatures and zap them. This early demo was presented to the executives at Cyclone and 3DO, as well as a handful of journalists from some of the game magazines publishing at the time (such as EGM). We hope one day someone could rediscover BioSwarm's playable demo to share and preserve it online.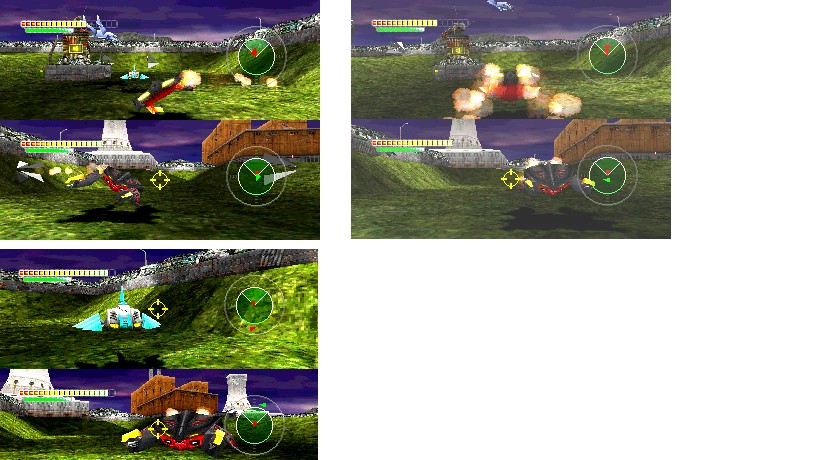 On a curious note, years later after Cyclone Studios merged with 3DO their former office space was used by Thomas Dolby's company Beatnik to work on audio software solutions and games for Macromedia and shockwave.com. James remembers Dolby shown him a demo of Beatnik's software remixing "She Blinded me with Science" in the same conference room they used to pitch game ideas while at Cyclone.
Huge thanks to James Hampton for helping us preserving more details to remember this promising lost game. All BioSwarm art was developed by lead artist Rob Adams and Mark Dixon. Also thanks to Ross Sillifant for the contribution!
Images:
Videos: