If you had a Nintendo 64 in the late '90 you probably remember one of the most interesting games announced but never released for the console: Freak Boy.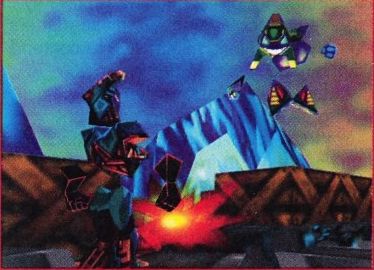 Here's a short snippet from the original press release:
IRVINE, CALIF., May 16, 1996 — Enter the world of FREAK BOY in Virgin Interactive Entertainment's (VIE) first NINTENDO 64 (N64) game. Three-dimensional graphics, addicting play mechanics and cutting-edge technology that uses morphing special effects define the world in which FREAK BOY lives – an alien world N64 players won't ever want to leave. Created by Burst, VIE's in-house development team, FREAK BOY is scheduled to be in stores in early 1997.
Unfortunately the game never seen the light of day, cancelled after its publisher decided to made the team to rework the project multiple times because of marketing decisions. While many cancelled games risk to be lost forever, deleted by the same developers or forgotten in some dusty archives, we could have more luck with Freak Boy.
In september 2015 a reader of Unseen64 randomly found a working early prototype of Freak Boy at a carboot sale in Guildford, UK. It seems that the seller at this flea market did not know much about the historical importance of the strange cart that he was selling, along with other old games, probably in a dusty cardbox. Luckily our friend recognized the title written with a marker on the dev-cart and quickly bought it before other retrogamers. It seems that along with Freak Boy the same seller had 2 other prototype carts, one had written "casinò" and the second one "mario 2". Unfortunately a the moment we don't know what was the content of the other 2 carts (if the new owners of those protos are reading this article, please send us an email!).
The Unseen64 reader that found this Freak Boy prototype would like to remain anonymous, but if you are interested you can contact him at [email protected]
Untill now the only available video from Freak Boy was an ugly, pixellated footage from E3 1996, finally we are able to see more from the project, even if in its incomplete alpha. Take a look at the short playlist below with the all the new Freak Boy videos, we hope to be able to have some longer ones soon. Enjoy!