The first Wet was a third person hack n' slash shooter inspired by grindhouse / exploitation movies, developed by Artificial Mind & Movement (later renamed to Behaviour Interactive) and published by Bethesda Softworks for PlayStation 3 and Xbox 360 in 2009. As described on Wikipedia:
"Wet is an action game that combines shooting and swordplay with acrobatics and gore. The main character, Rubi, carries twin pistols and a sword (she can also carry dual shotguns, submachine guns, or crossbows), and can fire while jumping, sliding on her knees, and running on walls. In some sections of the game, Rubi's face will get covered in blood and she will go into a murderous, berserker-like rage. These sections are presented in noir style, with bold red, black and white visuals."
While the game received average reviews and sales, it became a cult-classic for fans of fun action games and grindhouse stories.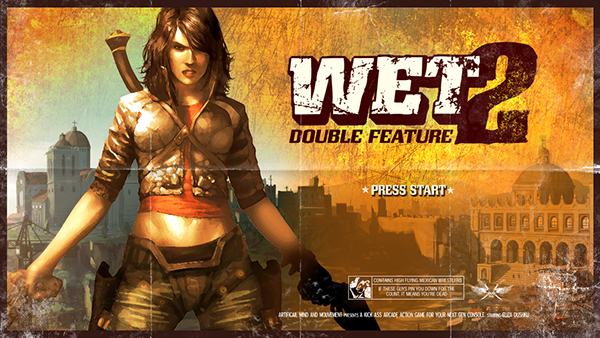 In late 2010 Behaviour Interactive officially announced Wet 2 during an interview:
"As part of today's announcement that the developers of last year's WET, Artificial Mind & Movement (A2M), would be changing their name to Behaviour, the independent studio has revealed plans to continue the story of Rubi Malone. No formats were discussed, but it is likely that the sequel will follow the original release onto the PlayStation 3 and Xbox 360 consoles.  When discussing the future of 'triple-A' productions from the studio in an interview with Develop Online, CEO Remi Racine stated; "I think the triple-A market has become very difficult for independents. I'm not saying we're avoiding it – of course we're making a triple-A game with WET 2. But it is a very difficult market. It's very difficult to be successful with those kinds of games."
Wet 2 would have follow the same gameplay and grindhouse style of the first game, with new missions and enemies to defeat. The team was able to create some concept art (using placeholder images and photos from popular movies), design documents and an early prototype for Wet 2, but after about a year of development the project was canned.
As noted by Behaviour Interactive's CEO, around 2010 / 2011 the gaming market was quite difficult for small / medium developers. Many great companies had to closed down during those years and lots of promising games had to be cancelled. Wet 2 was one of these failed ideas: we can speculate it was cancelled for lack of funds or because they thought it would have not sold enough copies to justify its completion
Some images and early HUD tests created for Wet 2 were found online by fans of the original game, and are preserved in the gallery below to remind the existence of this lost project.
After some years working on tien-in games and less successful projects, in the last few years Behaviour Interactive were able to work on such popular games as Fallout Shelter, Dead by Daylight and Star Citizen.
Images: