In 1997 RARE made their first appearance in American stores with a FPS that revolutionized multiplayer on consoles. 007 Goldeneye, released for the Nintendo 64, made use of the 4 controller ports to let gamers to waste hours and hours of their free time in front of a TV screen, playing the addicting multiplayer mode. It was probably the first time that it felt so much fun to play a multiplayer FPS on a console.
When RARE decided to work on a sequel, having lost the rights to make another James Bond game, they had to create a new character and a brand new scenario from scratch: the end result was Perfect Dark, still one of the best multiplayer games ever.
Perfect Dark had a long development cycle and it changed a lot before being finally released in 2000. Nobody, except Rare of course, really know how the game evolved, but thanks to all the early images released online, we can try to get an idea of what has changed over PD's development. In each of these beta screens we can notice what has been changed, added or cut.
Original article written in italian by monokoma in December 2001, english translation by DCodes7 in 2010. Please let us know if you notice some english errors!
Perfect Dark Beta Missions
Beta Missions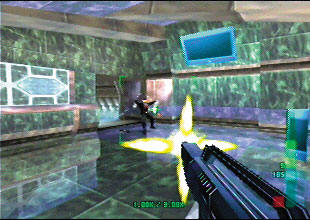 This first image is very strange. The color of the walls are different from what we know today, but looking carefully, it may be from the "Air Base: Espionage" mission. The corridor that we can see in in this screen remained the same in the final game, but the walls of the room were initially of a "greeny" color. Also there are 2 computer screens (one at the top and a second on the left of the picture), which if I'm not mistaken are not in there in the final version.