Kaiju is a cancelled real-time strategy game that was in development by DigiFX Interactive around 1996 / 1997, planned to be released on PC and Mac. Players could choose between 2 factions: kaijus (those giant monsters from classic Japanese movies) and humans. Depending on which faction you would play as your objective would be to protect or destroy cities.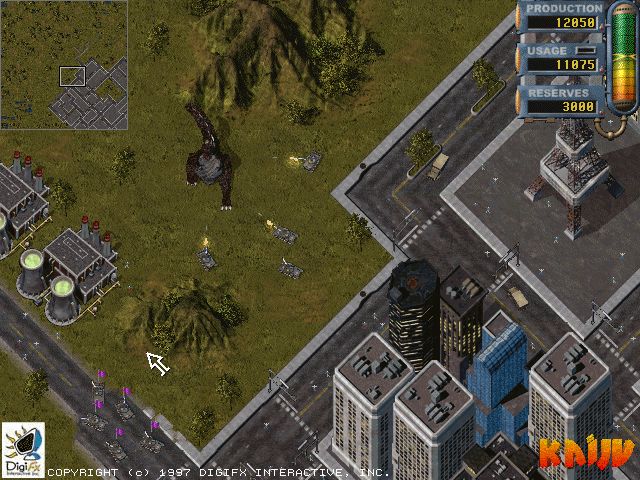 As we can read from their official press-release:
"The city is under attack! Giant monsters breathing fire are leveling every building in sight. It is up to you to mobilize your forces and develop new technologies in order to stop these giant creatures, or choose to command a cadre' of crazed dinosaurs, giant lizards, sea monsters, radioactive space monsters, "King Congo" (the biggest ape you ever saw) and other huge destructive creatures whose sole purpose is to obliterate mankind! No this isn't just a "kill the bad guy" strategy game…it's total destruction!

KAIJU is a Windows 95 and Macintosh "real time" strategy game with an entirely new twist! KAIJU contains one of the most unique and highly playable battle and economic systems in existence. Players can choose either the humans or the monsters! As the humans, the player must defend the cities from the creatures by using all the resources available. As monsters, the player must crush, stomp and obliterate every human (and everything) in sight! We're not kidding, this game allows total destruction of everything!"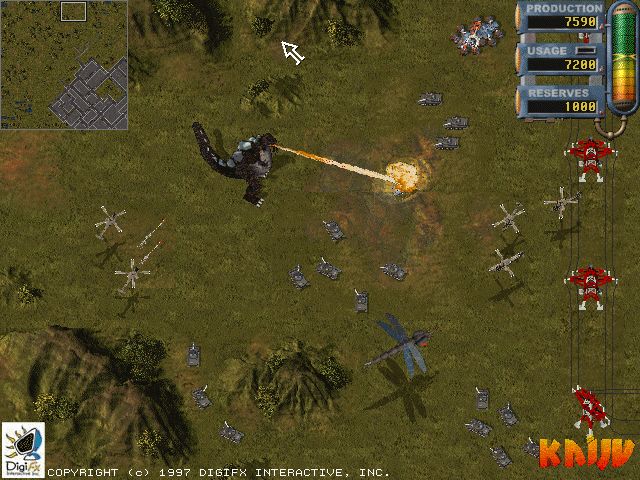 Game features:
Over 40 new units unique to KAIJU, including aircraft carriers, super attack planes, phase cannons, plasma mines, and artificial lightning generators, and "special" characters such as the "PSI", the "Hero", the "Brainy guy", and the "Military guy",
Create special characters that affect 'normal' units and structures. Just one example includes a unique character called a "PSI" that uses a sixth sense to battle the monsters. If the "PSI" enters a Radar Station, it becomes a "Monster Control Tower", with the ability to 'take control' of any monster for a period of time.
Unfortunately DigiFX Interactive closed down in late 1997 due to financial issues. When the team was disbanded they were also working on other canned titles such as DigiFX Mission to Nexus Prime and Mythos.
Thanks to Celine for the contribution!
What do you think about this unseen game? Give your vote!
Would you like to add more info, screens or videos to this page? Add a comment below!
(your first comment will be moderated before to be published)