Under Pressure is a cancelled underwater shooter adventure that was in development by Rage Software Newcastle around 1997, planned to be released on PC and the original Playstation. By looking at the few screenshots available it seems you would have been able to play in first and third person, exploring a 3D sea filled with fishes and robotic enemies.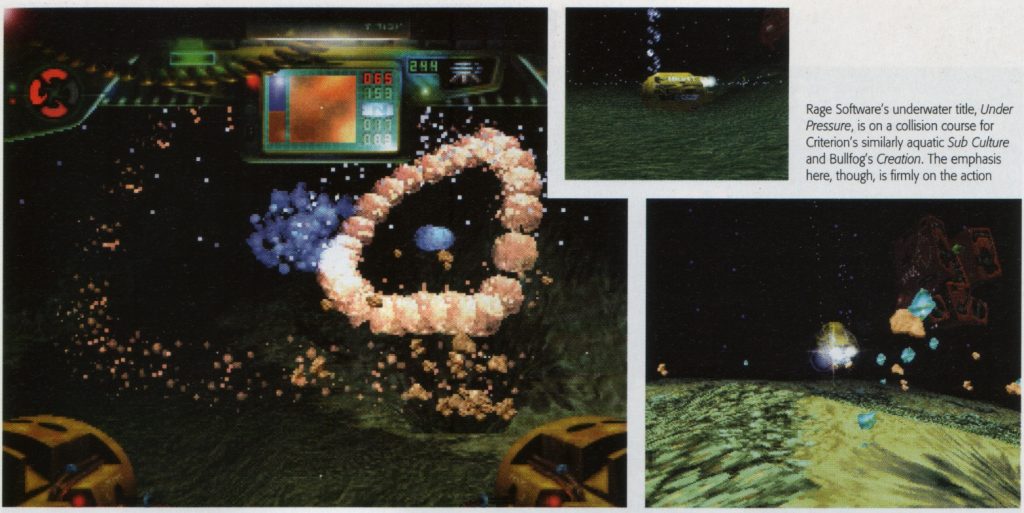 As it happens for many other cancelled games, today not much can still be found online about Under Pressure. Screenshots were published on Edge magazine in February 1997 and a former developer mentioned the title in an interview with Arcade Attack:
"Have you ever worked on any games that were never released, and if so, which unreleased games do you feel would have been the most successful?

After Power Drive Rally, I designed and helped create 'Under Pressure' running on PC for Rage Newcastle, an underwater submersible/action adventure game in 3D. EA were funding the game development at the time, but unfortunately they pulled the plug mere months away from release. The next game we made was the co-op space shooter Expendable, also known as Millennium Soldier on the Dreamcast/PC."
What do you think about this unseen game? Give your vote!
Would you like to add more info, screens or videos to this page? Add a comment below!
(your first comment will be moderated before to be published)