Dwarfs (also known as "Seven Dwarves") is a canceled action adventure game from Obsidian Entertainment, once planned for the PS3 and Xbox 360. The game was intended to be a tie-in to a Snow White and the Seven Dwarfs prequel that was in development at the time. Both the game and the movie were planned to be cornerstones to a new franchise aimed at boys to go alongside its other properties.
This wasn't Disney's first attempt at expanding the Snow White story. Walt Disney himself had considered it due to public and internal popularity of the characters despite his own dislike of sequels. However nothing ever came of them until the mid 2000s when Disney's home video department DisneyToon Studios decided to work with the story. Their idea was a prequel with a darker tone intended to explain the origins of the cast, taking inspiration from The Lord of the Rings. The plot would have been about the seven dwarves journeying together with a young girl to stop an evil wizard finding an ancient dwarven power. However, things are not what they seem as it is revealed that the dwarves have been manipulated by the young girl who is the daughter of the wizard. She betrays the dwarves and curses her father, proceeding to take over the kingdom and thus setting up the original movie.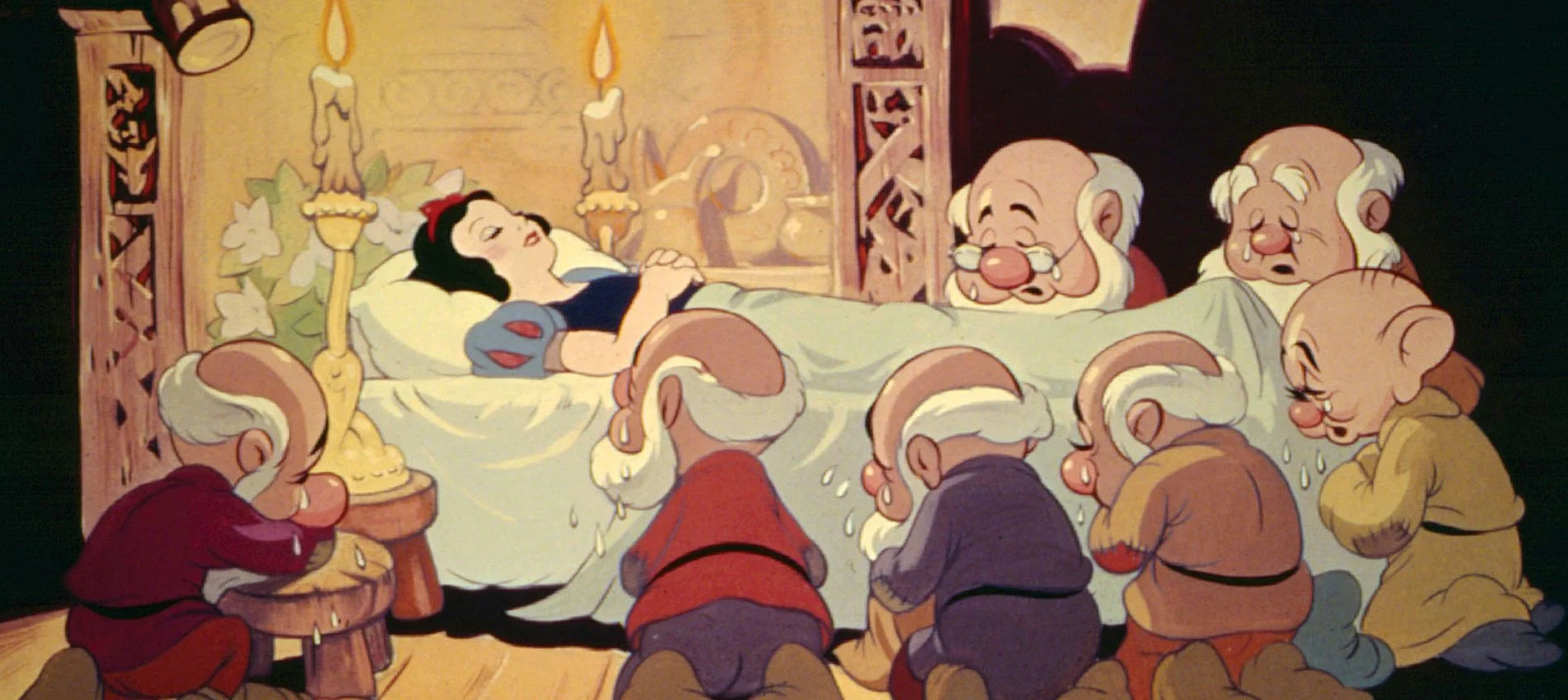 Soon after the project started, it began to develop an internal following. Many saw Dwarfs as the seeds to a new franchise to go alongside Disney's Fairies and Princess lines. In order to get the fledgling franchise off to a good start, a video game was proposed. Obsidian was approached due to their history and skills developing deep RPGs, such as Star Wars: Knights of the Old Republic II and Neverwinter Nights 2. The game, known as "Project New Jersey" internally, was intended to be a third person action adventure with a much darker tone than even the prequel movie. Kevin Saunders (game designer at Obsidian for such titles as KotOR2 and NN2) was the Lead Designer on Dwarfs, and he gave a short description of the opening of the game on his Formspring account:
"This wasn't a happy-go-lucky Disney game. Disney's Buena Vista Games wanted dark and I gave them dark. In the opening sequence, for example, you, as a teenage prince, awake in your bed to haunting sounds. Exploring the dark castle, you come across a terrifying shadowy creature that you kill in a desperate struggle – its cries shifting from a supernatural shriek to that of a human woman's bloodcurdling cry of death. The illusion is then dispelled, and your mother, the Queen, lays dead before you, the bloody knife that killed her in your hand. This wasn't a cinematic – it was all a gameplay sequence that you'd actually play out"
Saunders's Formspring post also names some of the proposed team. Obsidian built a team of veterans for this project. Josh Sawyer (who was the lead designer for Icewind Dale 2 and later director for Fallout: New Vegas) was picked as the systems / combat lead. Brian Menze, a longtime artist for both Black Isle Studios and Obsidian, was doing the concept art for Dwarfs. Saunders described Menze work as "So much personality and character, reminiscent of Disney's classic characters, but weathered by the grim realities of a dark fantasy world". Brian Mitsoda, known for being a Writer for Vampire: The Masquerade – Bloodlines, worked as the creative lead on the project and along with Kevin Saunders on the story. When asked about Dwarfs, he said:
"If I could resurrect any project that I worked on, it would be this one. This was essentially our action-RPG version of a Pixar movie crossed with a first-party Nintendo game. I don't know how much is still covered by NDA, but it was obviously inspired by Disney's classic movies artistically, although script-wise we definitely wanted to capture the characterization and emotion of Pixar films. Conceptually, it was a darker fairytale type of story, but it was mostly focused on the journey of the teenage protagonists as they journeyed around the land meeting up with these eccentric little men and using their unique powers to advance through the plot. It had a lot of heart, great monster and character concepts by Brian Menze, and very interesting level potential."
With an enthusiastic and experienced team coming together and a plan set in place, things looked set for work to begin on a great new game. However, things weren't looking so good for the movie, with difficulty for Studio Executives and their desire to add their own touches to the film. Having to constantly fight to keep the movie true to its original vision, director Mike Disa (who previously worked on such titles as Pocahontas, Fantasia 2000, Atlantis: The Lost Empire and The Origin Of Stitch) felt burnt out with the project.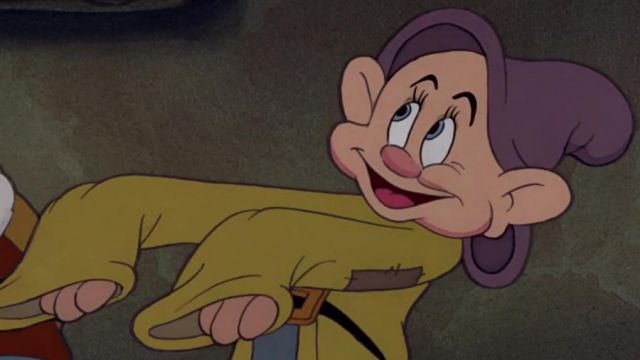 In particular, a repeated insistence by studio executives of having the character of Dopey to talk in the movie and then to explain his mutism in the original movie as trauma from watching his mother die. As Mike told during an interview with Integratedcatholiclife:
"Essentially the studio executive wanted Dopey to talk! [Laughs in disbelief.]  It just comes down to my respect for great films.  Snow White is today still the best animated film ever made. Those characters are spectacular.  It's a sad statement on our industry that the best film was 80 years ago, but it's still the best film.  I would never walk into a sequel and do anything to disrespect the core of the characters like making Dopey talk."
Around this time, Pixar's creative director John Lasseter took over Disney's animation departments and was reviewing the current projects. At first it seemed like Dwarfs would be safe but as the executives pushed for more influence, Disa's confidence on his project dropped. Not wanting to pitch an idea that he didn't believe in, Disa left the project and Dwarfs was canceled as soon as Lasseter got a look at the new script. This was also the end for Obsidian's game.

Many of the team who worked on Dwarfs were sad to see it go. Brian Mitsoda described his feeling as: "I think if it had come out, it would be considered a classic today. It still hurts to know we'll never finish it. If DoubleBear (Mitsoda's own company) ever gets big enough, I would totally do something similar to it". His wife, Annie Mitsoda, described the game as her "One that got away".  Feargus Urquhart, Ceo of Obsidian, talked about the game in an interview with Kotaku: "It was a lot of fun, we feel we turned in a really cool prototype. We worked on it for about a year. It's one of the games here that the team just loved working on. And unfortunately – which, it happens in this industry – you have changes of focus at a publisher."
Since Dwarfs' cancellation, Obsidian has moved on to other high profile projects like Fallout: New Vegas, and other licensed games like South Park: The Stick of Truth. However this wasn't the last time Obsidian had a licensed game canceled on them: you can check out the article on Aliens: Crucible. Other lost projects conceived by the team were Futureblight, a post-apocalyptic RPG for Take-Two Interactive, a couple of pitches for EA and Ubisoft, and "Project North Carolina", an open world adventure to be published by Microsoft for their Xbox One.
After so many canned games Obsidian's future could have been bleak, but in 2015 they finally released Pillars of Eternity thanks to a successful Kickstarter campaign, and it was welcomed by gamers as one of the best RPGs of the last decade.
Article by Philip Dempsey, originally published in 2016 in our book "Video Games You Will Never Play"
What do you think about this unseen game? Give your vote!
Would you like to add more info, screens or videos to this page? Add a comment below!
(your first comment will be moderated before to be published)

Latest posts by U64 Staff & Contributors
(see all)