Denshi Maid Techou: Koi no Iroha (Electronic Maid Notebook: Iroha's Love) is a cancelled day organizer – life simulation game that was in development by SNK Playmore around 2006, planned to be published on Nintendo DS. The project was officially announced at the Tokyo Game Show 2006, with many other titles that SNK were publishing for DS (such as Doki Doki Majo, Metal Slug 7 and SNK vs. Capcom: Card Fighters Clash).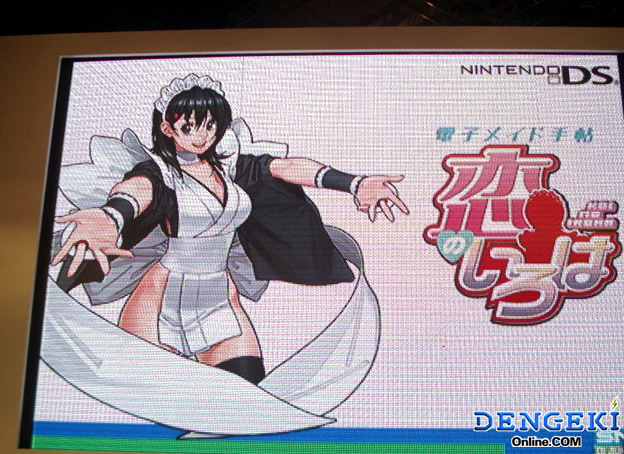 In Denshi Maid Techou players would raise a digital version of Iroha from the Samurai Showdown series, somehow like a Tamagotchi. By doing this she would start learning more about the world and help you in your daily-schedule, similar to an organizer App. Nice idea to gamify boring "do my homework, do my laundry, do my shopping" checklist, isn't it? Some details about this strange software can still be found online in Japanese forums:
"In addition to the daily schedule function, elements of training, communication, and changing clothes are also included. There are about 100 costumes for Iroha. Mr. Takkun (Denshi Maid Techou character designer) commented: "Please put it on your desk at home or at work and enjoy one maid in the family".

The traditional Japanese girl Iroha who looks out of a fairy tale suddenly appears in front of the protagonist: serving players at home, school and outside with the gentleness of a traditional Japanese geisha. But because Iroha doesn't know the real world, players must also take some time educating her.

The game provides 5 kinds of "educational activities" every day, plus mini games to play against Iroha. Dialogues with Iroha and her personality depend on how players educate her. By playing every day you can also unlock new costumes for Iroha, with more than 100 types in total."
A similar simulation game featuring Iroha was later released for smartphones, but it sees they removed the life organizer features. As we can read on the SNK Wiki, "a character named Tsunami was originally created for this game. However, she later appeared in Days of Memories series and Koi no Iroha games for mobile phones".
Images:
Videos:
What do you think about this unseen game? Give your vote!
Would you like to add more info, screens or videos to this page? Add a comment below!
(your first comment will be moderated before to be published)