Dungeon Hero is a cancelled hack & slash / dungeon simulator that was in development around 2006 – 2008 by Firefly Studios, the team mostly known for their Stronghold series. The game would have been published by Gamecock Media on PC and Xbox 360, but in October 2008 the publisher was bought by SouthPeak Games and the new managers abandoned the project.
As we can read on Softpedia:
"Their latest project is called Dungeon Hero and features as the main character a human mercenary with some combat experience and little left in the way of a moral compass. To make matters even worse, said mercenary is now employed by a pack of goblins, those little charming creatures everyone remembers from any old generic role playing game with a fantasy setting. These goblins are rather upset with another goblin tribe and the mercenary player is there to get the job of leveling goblin cities done."
It seems Dungeon Hero would have had an comical approach to the genre, with funny situations, unexpected moments and a pinch of goblin-life simulator. As described by Wired and Destructoid (E3 2008):
"Firefly Studios' upcoming Dungeon Hero, for the PC and the 360, will be different from other dungeon crawlers because, they say, it's the "first dungeon-based game to realistically depict underground life." Players will prowl through a remarkably realistic subterranean community, complete with goblin cheese merchants and troll miners."

"Firefly Studio's Simon Bradbury wants you to know that like all of us, goblins sometimes have to take a leak.  – We wanted to create a world where the enemies wouldn't just stand around. Why is there a chest of gold there, and why is this goblin waiting for you to kill him? It doesn't make any sense."  This is the peculiar premise behind Dungeon Hero – a believable world, where believable goblins and trolls do believable goblin and troll-like things. The game shuns the hack-and-slash genre's clichéd dungeons populated by groups of enemies who live for nothing more than to get slaughtered at the end of a hero's blade. In Dungeon Hero, everything has a purpose; it's a game set in a completely fictional world that attempts to be grounded in reality."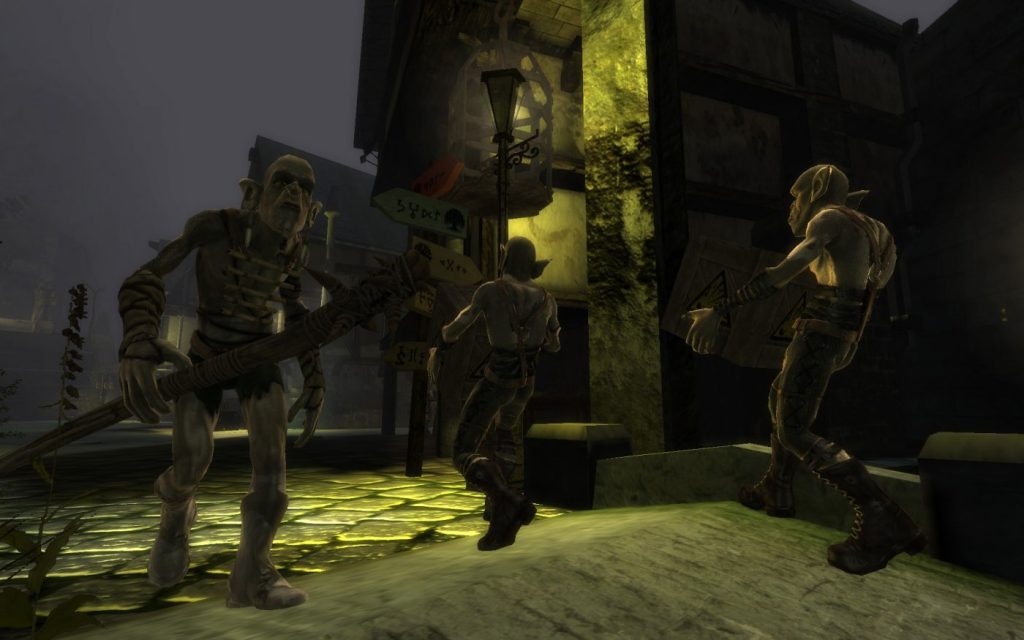 "The area we see at first appears to be a goblin hospital, with wounded goblins lying on cots, and others crying out in pain. Goblin doctors stitch up wounded goblin soldiers and goblin citizens. One goblin looks like he's preparing for surgery as he readies a crude looking drill. Deeper in the trenches, we see more goblins engaging in other, more leisurely activities; one is sitting relaxing on a bench and playing a guitar."

"As the boat moved through the canals of the city's underground, goblins on either side went about their daily business. Firefly are trying to convince gamers that goblins (in a sense) are people, too; they're not simply waiting in dungeons to be hacked and slashed to pieces.  Based on what I saw, I'm sold — some were doing laundry, others were dumping buckets of water from the top floor of their goblin homes."

"In the demo, we only saw what looked like a handful of moves (mostly different types of slashes), but we were told that there are over 300 different types of upgradeable moves. The skill chart we were shown looked like a map of the human nervous system; it was ridiculous enormous, with dozens of paths breaking off from dozens of paths."
Unfortunately when the team remained without a publisher during the global financial crisis of 2008, they had to put Dungeon Hero on hold and cut their staff. As we can read on Firefly Studios' official website:
"Seven years and seven games later Firefly, having felt the effects of the 2008 credit crunch which caused funding to disappear for their ambitious hack-and-slash RPG Dungeon Hero, decided a change was needed. Working with a skeleton team of four the developer quickly prototyped, iterated and released a closed Alpha for Stronghold Kingdoms, Firefly's first foray into free-to-play, without a publisher. Over the course of the next two years the Kingdoms player base grew from tens to hundreds of thousands. The game entered open beta in 2010 and launched on Steam in early 2012. It would remain in the Top 10 Most Popular free-to-play games on Steam for two years"
Images:
Videos:
What do you think about this unseen game? Give your vote!
Would you like to add more info, screens or videos to this page? Add a comment below!
(your first comment will be moderated before to be published)