The original NinjaBread Man was a low-budget action game developed by Data Design Interactive and released for Playstation 2, PC and Wii. While the game was received with low scores, somehow it gained a cult-following of fans and the team officially announced a Wii sequel in 2008, titled "NinjaBread Man 2: Blades of Fury".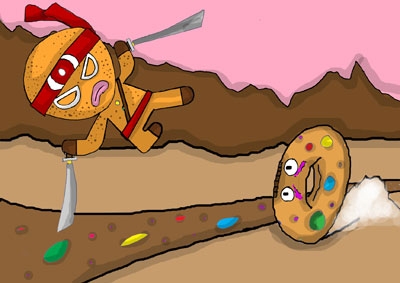 As we can read on the original press-release:
"Guide Ninjabread man through Candy Land on his mission to rescue his girlfriend 'Treacle Tart' from the evil clutches of 'Emperor Sly' Fox and his three Fox Cub Overlords. NinjaBread Man: Blades of Fury will be a combat and exploration based adventure utilizing the Wii remotes unique control method to create an intuitive, fun and involving game experience with plenty of exciting game features.

Fight your way through Emperor Sly's armies of Wasp Warriors, Rat Thugs and Jelly Ninjas as you explore the Sweet and Tasty worlds of Candy land. Use Ninjabread Mans Grapple Hook to Swing over chasms, disarm enemies and pull down objects to create bridges to new areas. Buy new weapons and stock up on useful items at the many Candy land 'Weapon outposts'.

Learn amazing combat skills and new moves by entering the Training Dojo and find out how to take out your enemies quicker by using combination attacks. Take on Emperor Sly and his three maniacal Fox Cub Overlords in this stunning action packed Ninja adventure.

Storyline: after ridding Candy Land of the Hordes of evil Cupcakes Ninjabread Man found himself a nice girlfriend called 'Treacle Tart' and settled down for a quiet life in the lush Candy Fields estate. One misty moon lit night an elite band of Jelly Baby Ninja's sneak into Ninjabread Man's home, knock him out and kidnap Treacle Tart. They take her away to their secret base deep within the 'Sugarcane Wastes' of Candy Lands northern territory.

Outraged by this unnerving turn of events Ninjabread Man sets out in search of his beloved Treacle Tart and the despicable individuals responsible for her kidnap. Little does he know that an evil presence more powerful than he could have imagined is plotting his downfall and that the adventure he is about to embark on will be the most challenging he has ever encountered."
An archived version of the official NinjaBread Man website is still accessible via the Wayback Machine from the Internet Archive. On this site fans were asked to send in ideas for the sequel in the form of artwork or descriptions of challenges. The designs would've been published on a forum where other users could comment on them, and the best designs would be put into the game, with the creator getting a place in the credits.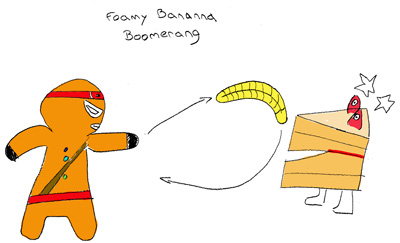 In the end Data Design Interactive went quiet after NinjaBread Man 2 announcement and soon closed down. Back in 2016 Zander Shepherd contacted Stewart Green (the founder and CEO of Data Design Interactive) to ask about the state of the game. His reply was:
"Sorry Ninjabread Man 2 was never started above design work, we have no plans to release it at this time."
Unfortunately it seems not much remains from this cancelled sequel, but the fan-designs published online by the team and now preserved below. If you know someone who worked at Data Design Interactive and could have saved more documents from Ninjabread Man 2, please let us know in the comments below or by email.
Thanks to Zander Shepherd for the contribution!
Images:
What do you think about this unseen game? Give your vote!
Would you like to add more info, screens or videos to this page? Add a comment below!
(your first comment will be moderated before to be published)