Orcs Revenge of the Ancient is a cancelled real-time strategy / action game that was in development by Berkeley Systems around 1998 / 1999, planned to be published for PC by Sierra Entertainment. It was going to use J.R.R Tolkien's Lord of the Rings / Middle-earth settings and gaming magazines and websites at the time were quite hyped for the project and was described by IGN as being "somewhere between Pokemon, Die by the Sword, and Master of Magic".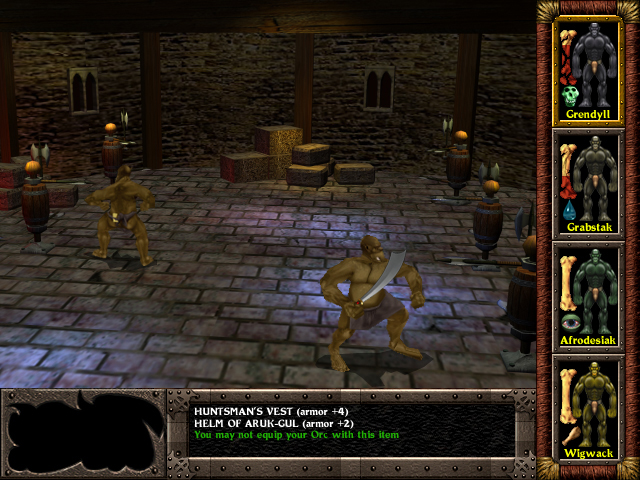 As we can read from its original press release:
"Sierra Studios proudly announces Orcs Revenge of the Ancient, a fantasy strategy game developed by Berkeley Systems set in the world of Middle-earth from J.R.R Tolkien's internationally acclaimed trilogy The Lord of the Rings. Cast as an Orc chieftain who has been assigned command of an elite group of fighting Orcs by Sauron, the Dark power, your group is charged with keeping the peace between the many evil factions of his army using whatever brutal means necessary. However, two other evil powers have emerged from the past to vie with Sauron for your aid in their respective quests and you must choose your alliances carefully to survive.

Orcs Select up to four common Orcs and transform them into brutal fighting machines, each with a unique fighting style created by you. Customize your Orcs' fighting skills through intense training in which you build the best combination of killing moves suited to your Orc. Each Orc has its own specific personality and characteristics. For example, an Orc who is prone to violent outbursts may be difficult to train but ferocious in battle. Develop your Orcs' Statistics such as intelligence, strength and dexterity in arena and field combat and sustain these skills with training exercises.

You will command your Orcs in real time 3-D combat, choosing their armor and weapons and suggesting fighting moves. Pit the Orcs under your command against over 30 enemies before taking them online to match skills with other Orcs in multiplayer mayhem.

As the original story of Orcs Revenge of the Ancient pulls you deeper into Tolkien's Middle-earth, you will find yourself trapped in a deadly conflict of interests between the three dark powers. Your Orcs' survival within this violent power struggle will determine whether they are capable of self-determination or merely servants of the Darkness.

Product Features
+ Original and rich storyline based in J.R.R. Tolkien's Middle-earth
+ Open-ended gameplay
+ Customizable training and fighting
+ RPG-based skill system
+ Combo builder to create custom moves
+ Multiplayer online component"
Unfortunately the game was canned in late 1999 due to an internal reorganization, as we can read on IGN:
"What we do care about is the fact that due to this reorganization, Sierra has cancelled four of their upcoming titles including Desert Fighters and Pro Pilot Paradise (for which we shed no tears), and, more seriously, Babylon 5 and Orcs: Revenge of the Ancients. Worse news still is that the company has laid off more than 100 people who were working on those titles."
Images:
What do you think about this unseen game? Give your vote!
Would you like to add more info, screens or videos to this page? Add a comment below!
(your first comment will be moderated before to be published)