As we can read in the Kunio-Kun Wiki, Downtown Nekketsu Monogatari for the NES / Famicom is the third entry in the Kunio-kun series, published in the west as River City Ransom / Street Gangs. The game is more RPGish and open-ended than other beat 'em ups, with a non-linear city to freely explore while fighting against enemies to level-up your characters. In the main Kunio series you take the role of Kunio, a japanese high-school delinquent (bancho) with a good heart, punching and kicking other gangs to free the streets of your city.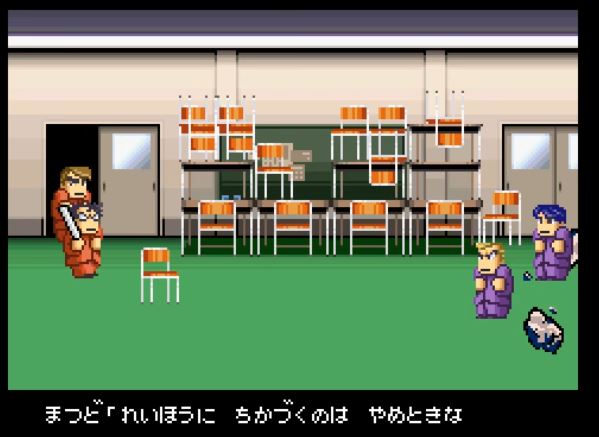 The game was released for the Wii Virtual Console in 2007 and a sequel titled "Downtown Nekketsu Monogatari 2" was announced in 2011 by Miracle Kidz (a team of former Technos developers), planned to be released for Wii and PC. Unfortunately the team decided to officially cancel the project in 2012, to switch resources on different projects.
As noticed by Arc Hound on Twitter:
"Miracle Kidz's teaser site for Downtown Nekketsu Monogatari 2 (the canceled Wiiware sequel to River City Ransom) is still up after all these years, although it only contains character bios and a link to purchase the planning document from their site.

Sueshiro and Okita, the two planned protagonists from DNM2, actually appeared in a fan-video from 2008 by AC-Promenade supporting the launch of Miracle Kidz's website. Shame that the game become vaporware and Miracle Kidz has since been disbanded."
If you can do a translation / summary of the details found in those japanese Downtown Nekketsu Monogatari 2 design doc pages (saved in the gallery below), please leave a message below!
Images:
What do you think about this unseen game? Give your vote!
Would you like to add more info, screens or videos to this page? Add a comment below!
(your first comment will be moderated before to be published)

Editor in Chief, UX & SE Optimization
at
Unseen64
I'm an
Italian gamer
with
not enough free time
to play as much as i'd like to and
sadly not enough time
to write about cancelled and beta games.
Founder of Unseen64 in 2001
, i'd like to sleep more than 5 hours a day, but i have to pay the bills. I'm currently working for various italian & international websites for a better
User Experience & Search Engine Optimization
, you can add me on
Twitter
,
Last FM
or contact me by
email
.