The original Joust is a 1982 arcade game developed by Williams Electronics, that became quite popular at the time. As we can read on Wikipedia, "The player uses a button and joystick to control a knight riding a flying ostrich. The objective is to progress through levels by defeating groups of enemy knights riding buzzards".
The game boosted a fun 2-players coop mode, that probably contributed to its popularity in arcades, where friends could play together to survive against dozens of enemies.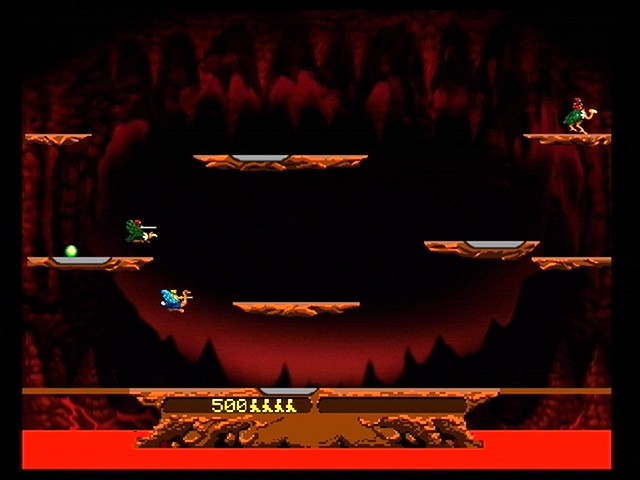 Midway tried many times to resurrect their Joust franchise in 3D, but with no luck. Dactyl Joust for the Atari Jaguar and Joust 3D for Xbox & PS2 were soon cancelled and forgotten. Adding to this list of canned Joust reboot, there's the lost Nintendo 64 version, titled Joust X or Joust 64.
The game was officially announced by Midway / Atari Games and was featured in many N64 release lists in gaming magazines and online, as this one by IGN from 1998. In the end the game quietly vanished, and Midway never released any official screenshots of the project.
We can assume Joust X would have been a fully 3D game, set in arenas where to fight against hordes of enemies, riding your 3D ostrich and possibly playing it in coop with one or more friends. Imagine it as a mix between 007 GoldenEye and the Battle Mode from Mario Kart 64. The Nintendo 64 was a great multiplayer console thanks to its 4 controllers ports and many great multiplayer titles. Joust 64 could have been another fun game to play with friends, but unfortunately it never seen the light of day.
In the end Midway did release other remakes / reboots of their old catalogue on the N64, such as Gauntlet Legends and Paperboy 64. If you know someone who worked on Joust 64, please let us know!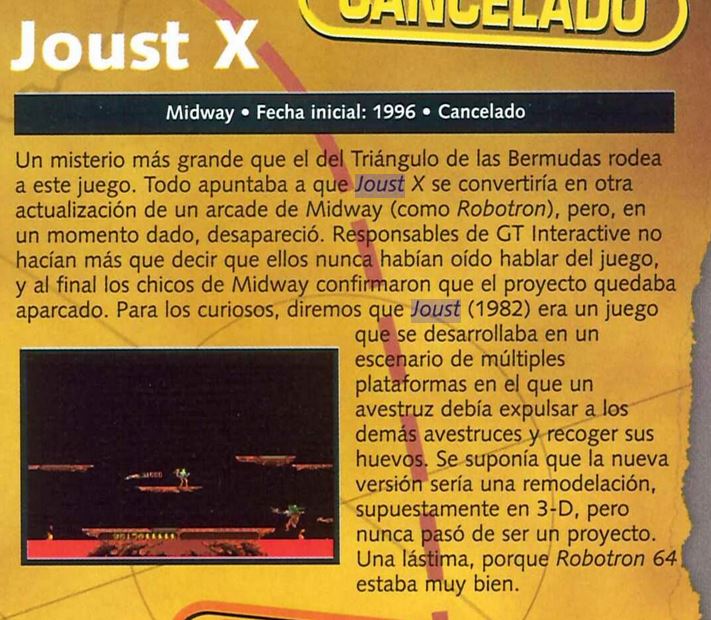 Scan from 64 Magazine, issue 5.
What do you think about this unseen game? Give your vote!
Would you like to add more info, screens or videos to this page? Add a comment below!
(your first comment will be moderated before to be published)