You might remember a game called Rogue Ops that was released on Xbox, Gamecube and Playstation 2 way back in 2003. Well, this game wasn't always called that way. When the developper Bits Studios started the project during the Nintendo 64 era, this was called Thieves World. We are lucky enough to have a gameplay video of how the game would have looked like, right down here:
As written in the video description:
"Thieves World was a n64 game developed by bits studios in 1999. When the n64 life cycle ended development was moved to the ps2. This is a prototype of the game running on the ps2. It's basically a mix of the n64 assets with a new main character, added "nextGen" special FX and such… the game will keep transform and later be released under the title Rogue Ops. This video was recently unearthed by a ex bits employee. The n64 rom or early ps2, gamecube or xbox build are still lost to this day."
As the video suggests when it starts, Thieves World was a working title so it is possible that it would have had a different name had it been released on the Nintendo 64 back then. During the video, we see the female main character infiltrating what seems to be a well guarded bank. There are guards with guns, she shoots darts from afar to put them to sleep and she can also ambush them in close quarters. Thieves World had a more stealth approach to its design than Rogue Ops and this is confirmed by one of the programmers who worked at the company Bits Studios at the time.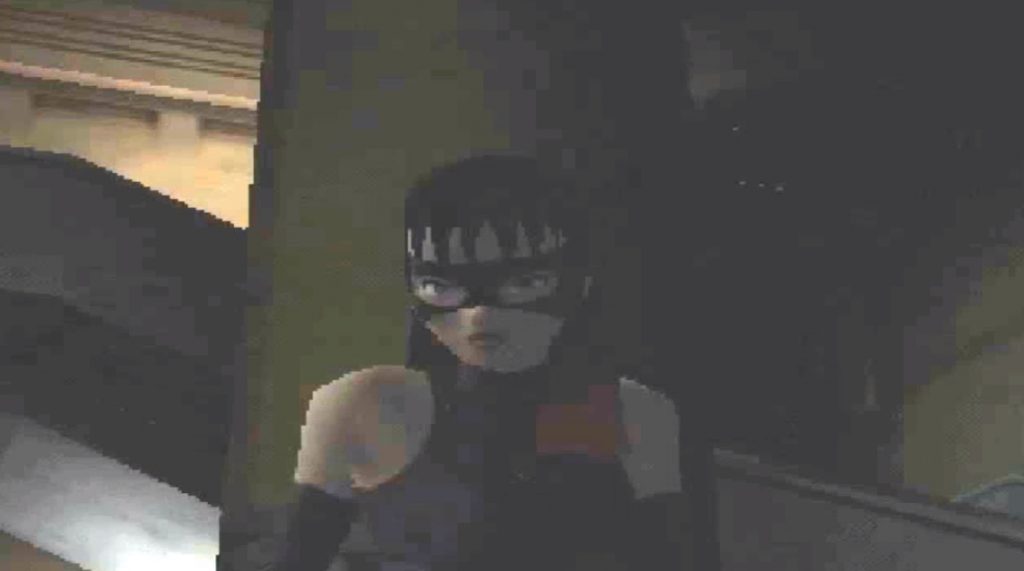 Please read below part of a very interesting interview we had with Mr. Frederic Villain about what it was like to work for this company and the projects Bits Studios had at the time like RiQa, Muzzle Velocity (Die Hard Vendetta) and Thieves World. The full interview was published in our Unseen64 book "Video Games You Will Never Play".
Unseen64: What happened to RiQa and Thieves World? There is a lot of confusion about these two unreleased N64 games and we'd like to finally find out the truth. We know that they were two different projects but it seems that the released Rogue Ops took some elements from both. Is this true? Why were they cancelled and how much was done on the Nintendo 64?
Fred: "When I joined Bits Studios with other ex-employees/friends from Haiku Studios, the main focus of the studio was RiQa for N64. A very ambitious third person game with a main female character called RiQa. As far as I can remember the team had already been working on the game for a couple years. I was assigned to the project and worked on various gameplay and VFX tasks as well as the support of the infamous 64DD as the content of the game was supposed to be huge. The project had a lot of difficulties on the tech side and the team was fighting between the ambitions and the hardware/software limitations.

At the same time Nathanael Presson which I knew from Haiku, was working on creating a new multiplatform engine for the company. I was working on and off with him to add support for the N64 to the engine. After 6 months at Bits we presented the tech to Foo Katan (the boss of the studio) and he was sold. While the RiQa engine iteration cycle was very slow (level made in Max and long building times to get it on console), we had an Editor/Engine that allowed LDs to create levels in the Editor (using Booleans and Portals inspired from the original Unreal Editor) and allowed them to play directly on the console by a press of a button. This was the beginning of the "Thieves World" project, another third person game with a female lead (at the time Tomb Raider was an inspiration for everybody and female leads were very popular!).

Thieves World, in turn, had a lot of ups and downs. After a few more months the RiQa project was cancelled and the focus of the studio became "Thieves World". We continued working on the engine and the gameplay of the game for several years. At some point another team in the Studio started developing Muzzle Velocity, which later on became Die Hard: Vendetta, using the same Editor/Engine and we contributed to support this team. We had some problems on the creative side on TW and we spent a lot of time iterating on the design. As the N64 life cycle reached its end the decision was made to move on to next gen and we had to upgrade the engine significantly to push the tech to benefit from next gen consoles hardware.

A lot of people left the team in the years after this reboot and at some point I was the only original member of the team left. The game was almost canned but we signed a deal with Kemco and the game was ultimately rebooted to become "Rogue Ops". The original TW project was supposed to be a stealth, no weapon game, which created a lot of issues on gameplay side. Kemco decided to introduce more shooting and we finally got a game. TW was not inspired by other titles at the time like MGS or Splinter Cell, it was actually imagined before or at the same time as those games. But the development cycle was so long that at release time those games had long been released."
Unseen64: Jas Austin (another former Bits Studios developer) told us that Thieves World almost became a Rare game: is true that they wanted to move development from Bits  Studios to Rare? We wonder if Thieves World could have became a Perfect Dark spin- off. After Rare and Nintendo published the original Perfect Dark on the Nintendo 64,  they also wanted to release a quick sequel called "Velvet Dark" that would have been a third person action / stealth game.. maybe the two projects are related.
Fred: "Yes as far as I can remember Jason is right! While the TW game had design difficulties, Bits Studios was audited by Rare. A presentation of the game and the tech was done to Rare after several months of audit and while the tech was recognized on N64, Rare did not decide to acquire the game or the studio. They were already working on Perfect Dark at the time and some concepts in both games are similar, but this is as far as it goes regarding the history between those two games."
As mentioned in the written interview, the reason why Thieves World didn't happen is because the N64 had reached the end of its lifecycle and a decision was made by Bits Studios to move this project to the next generation. This meant rebuilding the game and transfer as much as possible to their new project. Thieves World was in production for a few years after RiQa was cancelled, so we can assume it got quite far in development. They did, however, experience creative hardships and spent a lot of time on the design side of the project.
During that transition, sadly most people left Bits Studios. Mr. Villain was the only member of the project who stayed until the end and saw this Thieves World come alive as Rogue Ops when finally released on the new generation of consoles in 2003.
"But I am still proud to that day, it got finally released as Rogue Ops, even if it was not a massive commercial success"
The company Bits Studios has worked on quite a good list of games before it went under in 2008. As mentioned on Wikipedia, unfortunately the parent company 'Playwize' sold off all assets and technologies Bits Studio had due to overall poor sales.
Article by Alex (Brub)
Images:
On a last note, see below a Rogue Ops retro video commercial for comparison purposes. One wonders how different Thieves World would have been compared to Rogue Ops, but at least something came out of this cancellation.
What do you think about this unseen game? Give your vote!
Would you like to add more info, screens or videos to this page? Add a comment below!
(your first comment will be moderated before to be published)

Latest posts by U64 Staff & Contributors
(see all)