Aero the Acrobat 3 (also known as A3RO or Aero 3D) is the cancelled third chapter in the action platformer series composed by Aero the Acrobat, Aero the Acro-Bat 2 and Zero the Kamikaze Squirrel. Aero 3D was conceived at Universal Interactive Studios in the mid '90s, while they were also working with Naughty Dog to create the first Crash Bandicoot for Playstation.
David Siller was the original creator of the Aero the Acrobat series and he later bought back his Aero IP and sold it to Universal Interactive Studios, when he was hired to produce two new 3D platformers: Crash Bandicoot and Aero the Acrobat 3D. In the mid nineties 3D platformers where one of the most successful genres and Universal Studios wanted to to take advantage of the profitable Playstation market to make some money.
As wrote by David in his (now deleted) Facebook page "Crash Bandicoot Untold Story" (archived by Crash Mania):
"Tension was heighten at Universal as they bought from me an IP that I had created at SUNSOFT called "Aero the Acrobat". I had just bought it from Sunsoft as I departed there for the Universal lot!  Rubin and Gavin again went on the extreme offensive believing that Universal's new acquisition would become more important than Crash or Willy. I began also designing the new AERO 3D polygonal video game to be added to the line-up."
In 2016 David shared a few pages from the Aero the Acrobat 3 design doc in his Twitter account (now deleted):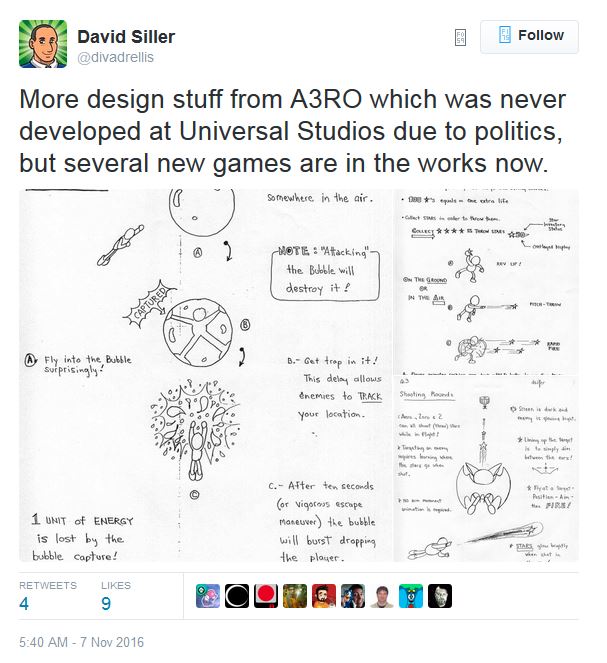 From these documents it seems the game would have had multiple playable protagonists and 3D flying levels.
From what we know the game was still in early conceptual phase when it was canned. We can speculate that the success of Crash Bandicoot and the internal issues between David, Universal Interactive Studios and Naughty Dog put and end to the project. As we can read from the same archive at Crash Mania:
"Back in Rubin's office, he was angry at me about "this letter" and then threaten my life! He said I was going to be sorry! I did NOT report this to management or anyone one else at that time. I was a mature adult who could take this and I wasn't afraid of Rubin as I came from a tough neighborhood and had loads of associates myself. Rubin's father was a lawyer and I suppose told him to always act tough or people will shit on you. Those tactics do NOT work, but that was the final straw. Mark Cerny then used this severed relationship to get involved as Sony had just arrived. He said quote "They don't like you!"…."

"When I was hired to join Universal Interactive Studios, it was owned by Matsushita Electric, the largest Electronics manufacturer in the World located in Japan. It was run by the longest in place Management team in all of Hollywood, Lew Wasserman and Sid Sheinberg! It was utopia as far as I was concerned. Everything was so damn cool, everything the Studio did was classy and first rate. Soon as Crash Bandicoot was approaching completion, Matsushita sold their majority interest to the Canadian distillery Seagrams! Everything then became chaotic and all the top tier managers were fired. Sony then came into the picture and that caused even more chaos. This of course played into Rubin and Gavin's agenda and the s*** hit the fan!"
It's currently unknown what happened to David after he deleted all his online profiles and if he's still working on video games.
Videos:
What do you think about this unseen game? Give your vote!
Would you like to add more info, screens or videos to this page? Add a comment below!
(your first comment will be moderated before to be published)