Maximo: the Dark Knight is a cancelled "Adults Only" (AO) game pitch that was considered by Capcom USA to develop as a spiritual sequel to the Ghosts 'n Goblins series. After Capcom of Japan shown their Ghosts 'n Goblins N64 prototype to the press in 1996 (a game that was never released), a year later Capcom USA conceived their own pitch for Maximo on the Nintendo 64. As revealed by William (Bill) Anderson (Senior Game Designer for Maximo) in an interview published in our book "Video Games You Will Never Play":
"Bill: When I came to Capcom to develop Maximo the N64 was still the hot market, but Capcom USA only had one development team at the time and they were all working on Final Fight Revenge, which I was told would wrap up soon. Well soon doesn't mean the same thing in Japan I guess for FFR had a producer over here from Japan and he wasn't in any great hurry to finish the game. So it took a really long time to finally get a start date for the production and by then the N64 wasn't king anymore and I was asked to change all of my designs to Playstation."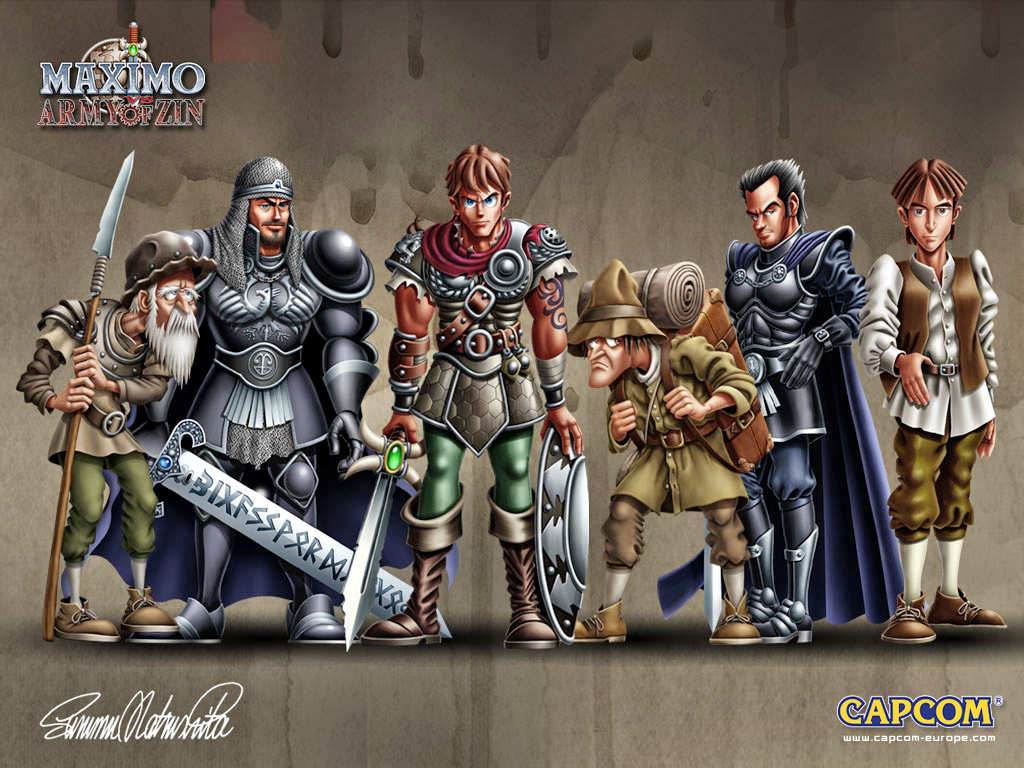 Final Fight Revenge was available in the arcades in mid 1999, but Capcom USA already started their new Playstation 2 pitch for Maximo: the Dark Knight in late 1998, to be able to start development before Sony's second console would be released in March 2000. Their idea was to create an action game for adult gamers, with violent gameplay, realistic visuals and a mature storyline. To conceive a dark medieval fantasy setting suitable for their new game, David Siller (Creative Concept and Studio Director for Maximo) got in contact with Joe Pearson, writer and producer for such series as Roswell Conspiracies and Kong: The Animated Series. As written by Joe to Ross Sillifant:
"It all took place in 1998. This was a paid gig from Capcom who approached me through a contact via David Siller whom I had worked with on the first Crash game. At the time, Capcom was seriously considering doing a hard R-rated for violence and sex dark Maximo medieval fantasy game and they wanted me to write up a concept Bible and opening game cinematic/introduction.

This was a dream come true as I was a big fan of Michael Moorcock's brilliant Elric book series and a real opportunity to delve into my own dark side and cut loose with some edgy over-the-top world building and scenarios. The result you can read for yourself. I think it's pretty, horrifically successful in a dark fantasy way.

It wasn't easy as I was in full production as the Show Runner on the 40 episode animated Roswell Conspiracies series, but it was such a rare opportunity to cut loose, I made the time over a long weekend to write it up. Well, Capcom paid me for it, and then shifted over to the G-rated mode for the game itself so I never got to write out the script scenarios for the sexed up "Princess reward levels".  Oh well, that's entertainment."
In this opening scene written by Joe for the undeveloped Maximo: the Dark Knight pitch we can read:
"FADE IN on a tortured landscape of jutting rocks and twisted trees. Flames burn from crevices torn in the barren earth. Smoke and fumes fill the screen. Distant, giant shapes can be dimly seen dwarfing the stunted trees. As the narrator speaks we slowly PUSH IN. The shapes emerge from the smoke—a deformed, one eyed cyclops with huge, misshapen hands and a second, tusked face embedded in its chest, a dead white giant worm, with the multiple legs and clawed tail of an earwig and the face of a baby, a jet black female Centaur with red burning eyes and hair, a sickly green, multi-limbed octopus with the face of a beatific, painted geisha (each tentacle ends in a lamprey toothed mouth), and a hairy, spider-like creature with the head of a ravening wolf, etc. (go wild, use your imagination)

We move past the monsters to reveal Lilith on her titanic obsidian throne. She is supremely beautiful and terrifying. A giant, red skinned demoness, with black bat shaped wings and huge bull like horns (I'm picturing a beautiful female version of the Tim Curry character from "Legend". Her lower legs and feet are goat-like. She caresses the head of a massive catlike creature with the spiked tail and armor of a stegosaurus. Piles of thousands of human skulls form pyramids on either side of her throne."
The original draft script for Maximo: The Dark Knight's prologue is preserved in here.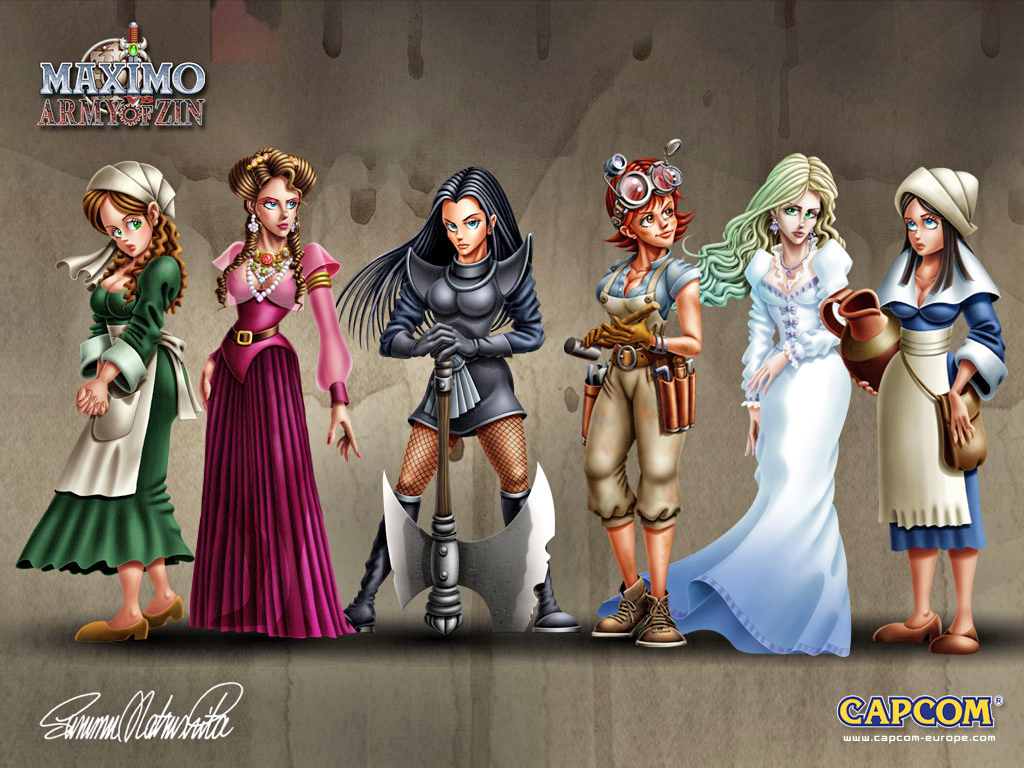 In the end Capcom USA sent their pitch for this adult-only Maximo to Capcom of Japan, that unfortunately rejected their idea. As told us by William:
"No, no prototype of a realistic Maximo was ever produced. Once we submitted the full game design document to Capcom Japan, along with the concept art we produced they pushed back and said that they wanted all of the realistic looking games to come out of Capcom Japan, so that's when we had to change the look and feel of the game. It was our intent to make a gritty and dark game from the start, so we were a bit ticked off when our producer rep from Japan showed up with a first playable demo of Devil May Cry, for it had the look and feel of what we had originally proposed. Oh well, nonetheless we ended up with a game more successful than even Capcom Japan had expected, so much so that they asked us to convert the game to Japanese first, so they could do a big launch of the game in Japan, before here in the US.
Their second concept for a Ghosts 'n Goblins' spiritual sequel was Maximo: Ghosts to Glory, later released for Playstation 2 in December 2001. Maximo became a cult-classic for the console, but unfortunately the second episode "Maximo vs. Army of Zin" sold poorly and the third Maximo game had to be cancelled.
Thanks to Ross Sillifant for the contribution!
What do you think about this unseen game? Give your vote!
Would you like to add more info, screens or videos to this page? Add a comment below!
(your first comment will be moderated before to be published)