Citizen Siege: Wage Wars is a cancelled action adventure that was in early planning by Oddworld Inhabitants in 2004, to be released for Xbox 360, Playstation 3 and PC. After the project was canned in late 2005, it resurrected a year later as an online arena combat game, to be the first of a series of new games related to their multimedia IP "Citizen Siege" (with a CG movie being their focus at the time). In the end neither the game nor the movie were ever completed.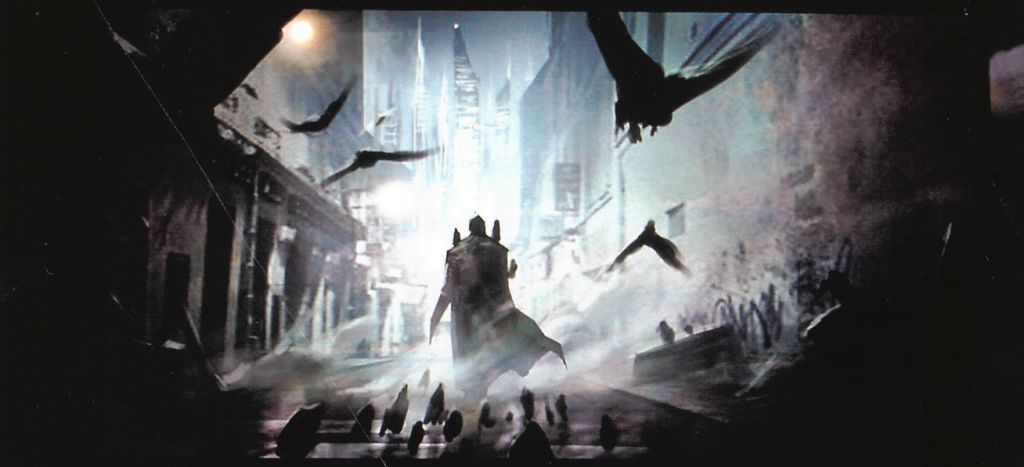 The Citizen Siege IP was already conceived before the release of Oddworld: Stranger's Wrath, as told by Lorne Lanning (co-founder of Oddworld Inhabitants) to CVG in December 2004:
"But with the atmosphere of the world today we were inspired to birth another universe. This one's Earth in the future – and not too far in the future. It's a very intense gaming experience, and it's about martial law and the diminishment of civil liberties. It hits far closer to home than Oddworld does. I expect that if we're blessed enough to see it through that there'll be quite a few senators and congressmen who'll be really pissed off. And I hope they are, because we're really pissed off at their behaviour.

As the climate changes and the technology allows us to create something more realistic, we want to match that with something that's contextually relevant and culturally relevant to where our society is today. We're not afraid to show the darkside of what's going on.

It would be built at Oddworld Inhabitants, but it wouldn't be called Oddworld any more – it's another brand. Our working title for the universe is Citizen Siege, and then we'd have multiple characters birthed within that universe – a place where a state becomes privatised and America becomes Americo."
Some more details about this early concept of the game were revealed by EDGE magazine in 2013:
"Citizen Siege was based in a near future where the policies of recent White House administrations continued onward unabated; ultimately landing us in a dark totalitarian landscape where people have been reduced to pure commodity. In this world, your healthy tissue is used as collateral against financial debt, and if you sink low enough, you can be 're-possessed' piece by piece.

The hero had been re-possessed, and was now encased in a cheap life support system as he traverses the economic divides of a dystopian city in a mad search to reclaim his body, and bring down the system that stole it. The powers your character employed were of an unworldly nature brought about by an alternative and illegal energy source. This device fuses to his mechanical body after you attempts to smuggle across an economic border. These powers were intended to play out much as we see the central character in InFamous Second Son demonstrates – we called our version 'Z-powers'.

We designed it and visualized it with a few hundred production paintings, but never entered a full on pre-production phase. The project was verbally green-lit, but we ultimately chose not to pursue any relationship with the publisher. From that point, we instead chose to shop it as a CG animated feature instead of working with a game publisher."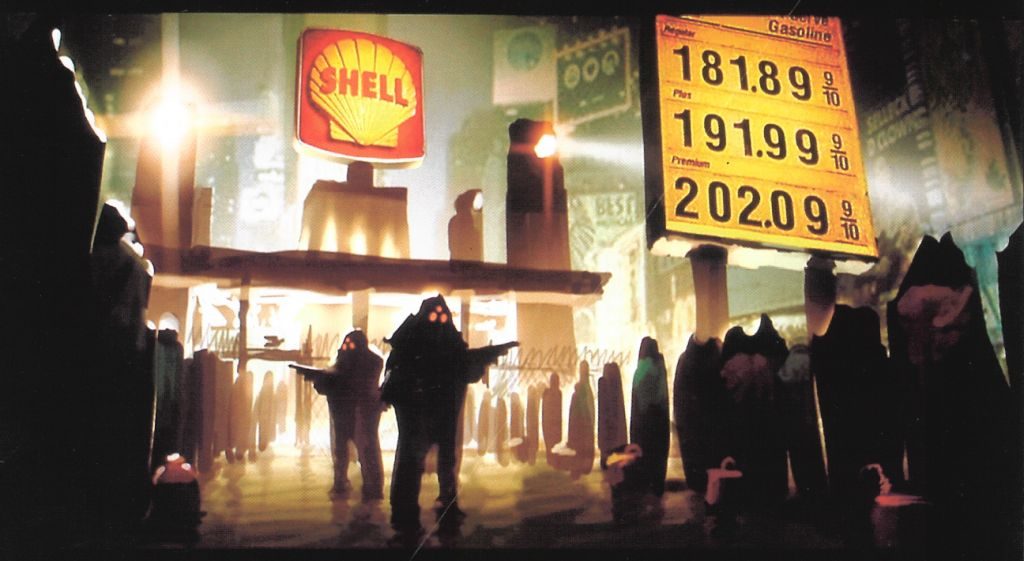 After the release of Oddworld: Stranger's Wrath in 2005 Oddworld Inhabitants fell into financial problems because the game sold less than expected (possible due to EA not promoting it enough) and they decided to retire from traditional games development. As told by Lorne to Spong at the time:
"We closed the studio because of what the realities of the marketplace are. There is currently only one financing model in the games industry, and that is that the publisher pays for the entire game; it handles the manufacturing, the marketing, the distribution, the advertising, practically everything, much the way it used to be in Hollywood pre-United Artists. […] And so, as a developer, you have limited options in terms of how many parties are actually willing to finance your games, what types of games they are willing to finance, and what are the terms you face as a third-party developer to get that financing. That's not a very exciting climate"
At that time Oddworld Inhabitants were already working on a few other games, such as "Oddworld: The Brutal Ballad of Fangus Klot", all of which got canned. A year later, during his speech at GameCity 2006 in Nottingham, Lorne officially announced that they were working again on Citizen Siege as a multimedia project, with the animated movie to be produced by Vanguard Films, the studio founded by John H. Williams (Shrek) and Neil Braun:
"In CITIZEN SIEGE, Lanning and McKenna are creating a new universe where current global conditions are extrapolated into a frightening near future where democracy has all but disintegrated under the rule of global corporatism. Well‐known for their heartfelt characters and socially relevant storylines, Oddworld intends to raise the intensity level as their latest hero, an ex‐patriot, finds himself ensnared in a nightmarish credit racket that leaves him 'repossessed.'

Williams added, 'Abe's Oddysee was a genre busting original game and was the first one I fell in love with. CITIZEN SIEGE promises to be an action thriller that, like other great science fiction stories, also has incredible poignancy to the universal issues of our time. Lorne and Sherry are highly revered as founding masters of CG animation and we think CITIZEN SIEGE is perfectly suited to be a breakout action adventure.

CITIZEN SIEGE will mark Lanning's first directing foray into feature animation. His announcement comes after a year of silence from Oddworld, when it last announced the company would be redirecting energies away from internal video game development and would henceforth be focused on a broader palette of digital storytelling that would include animated feature films."
By using the CG movie to secure funds away from traditional gaming publishers, Lorne hoped to develop their new IP into a multimedia success, with Citizen Siege: Wage Wars being the first video game tie-in. A second, untitled game was also announced but without any details.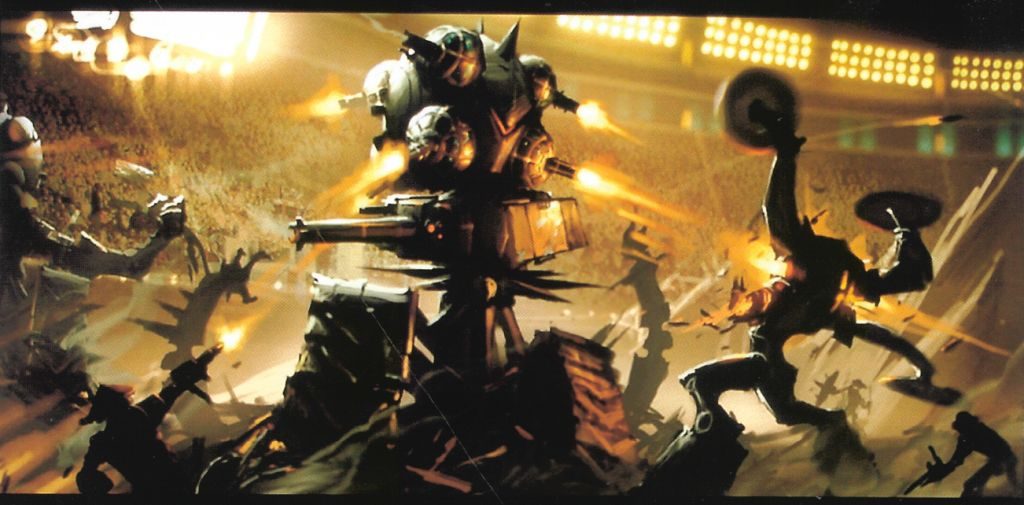 In 2007 finally Lorne confirmed to CG Society they started working on the Wage Wars game, revealing that it would have been an online multiplayer game. By looking at some of the released concept art made for Citizen Siege, we can see that Wage Wars was meant to be a combat arena in which players would fight against each other. As we can read at the Oddworld Library:
"For Players, the War is Real! Perhaps they really believe they are in the midst of a genuine war, and not in a spectator arena being watched by millions as a form of mass entertainment. Let's hope they never break free from the Wage Wars arena and spread the battle onto the streets. Hopefully the same removal from reality will not affect gamers who play Wage Wars online."
In 2008 it was announced that Oddworld cut their collaboration with Vanguard and the CG movie would have been finished with another studio:
"Oddworld Inhabitants' ambitious movie and videogame project Citizen Siege is still in development, despite the studio no longer working with original partner Vanguard. The project was announced back on 2006, with Oddworld's Sherry McKenna telling GamesIndustry.biz that the company still intends to develop games as part of its 'Oddworld 2.0' business plan. "Citizen Siege is a project near and dear to our hearts so while we are no longer developing it with Vanguard due to the famous 'creative differences', it is still in development," confirmed McKenna, co-founder of Oddworld. "We still care about creating games although perhaps not in the way we did in the past. We are just in the process of finalizing our new Oddworld 2.0 plan."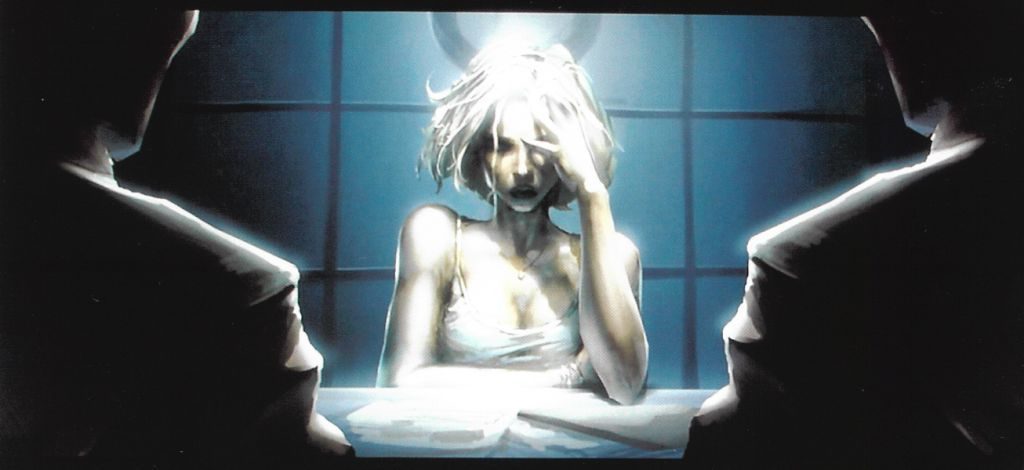 At the time it seems Wage Wars was also still in development, as Maxis co-founder Jeff Braun announced his involvement with a new Oddworld Inhabitant game during a talk given to students of Wilfrid Laurier University:
"According to Wilfrid Laurier student newspaper The Cord, Braun told the audience the game would feature a "revolutionary new 3-D animation system" that would feature "cinematic quality on a '1 to 1 scale' to that of computer-generated motion pictures," and would utilize the same assets as a CG film version."
Unfortunately in the end the whole Citizen Siege project was cancelled following the financial crisis of 2008 / 2009. As told by Lorne to Wired in 2014:
"We got a movie deal for Citizen Siege, which EA greenlit as a game but we decided to take to a movie. What happened was the 2008 financial crisis put the writing on the wall for our CGI animated movie with a $50-60m budget. It just wasn't going to work. Everything got dinged and it went back on the shelf — it was no-one's specific fault."
What do you think about this unseen game? Give your vote!
Would you like to add more info, screens or videos to this page? Add a comment below!
(your first comment will be moderated before to be published)