The Island of Dr. Moreau is a cancelled adventure game that was in development by Haiku Studios, to be published by Psygnosis for the original Playstation and PC in 1997. The game seems to have been based off an 1896 science fiction novel by H. G. Wells and maybe even related to the 1996 movie starring Marlon Brando and Val Kilmer.
"The text of the novel is the narration of Edward Prendick, a shipwrecked man rescued by a passing boat who is left on the island home of Doctor Moreau, who creates human-like hybrid beings from animals via vivisection. The novel deals with a number of philosophical themes, including pain and cruelty, moral responsibility, human identity, and human interference with nature."
During their short existence Haiku Studios released only two games, The Koshan Conspiracy in 1994 and Down in the Dumps (probably their most popular title) in 1996. The Island of Dr. Moreau would have been their third project and by looking at the screenshots published in a few magazines at the time (such as Spanish Micromanía Issue 29) it looked like a promising game for fans of sci-fi adventures.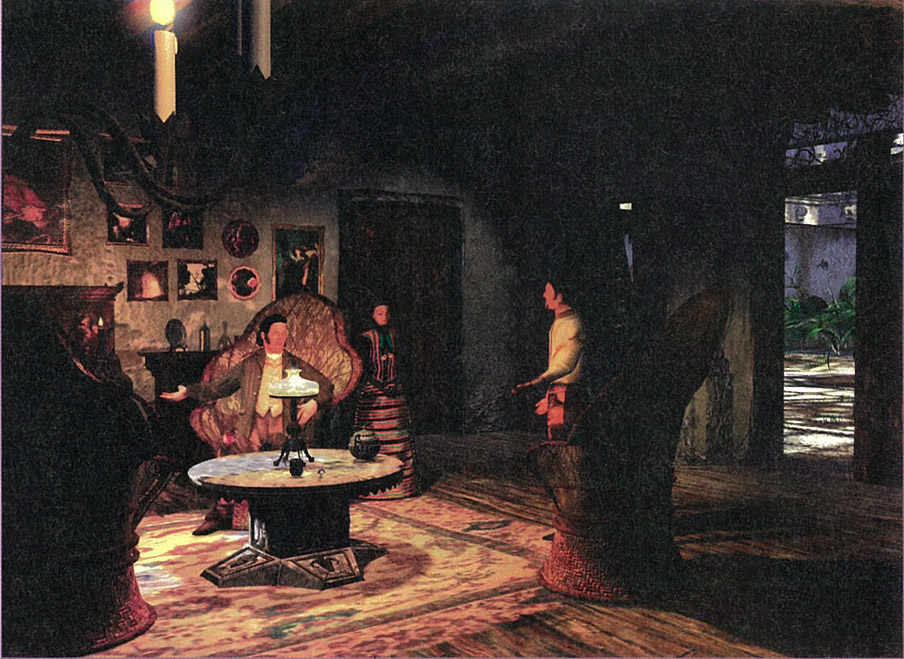 During those years Psygnosis was publishing many games for the original Playstation, as in 1993 they become part of Sony Computer Entertainment Worldwide Studios, but a few of them such as The Island of Dr. Moreau were planned for PC too. The game used real time 3D characters over pre-rendered backgrounds, similar to Resident Evil or Parasite Eve, also using Full Motion Videos and footage with real actors, filling up 3 CDs.
It seems the game would have been divided into three parts, probably one per CD-ROM: the whole Dr. Moreau's mansion, exploration of the island (estimated area of 13 hectares) and finally an epilogue in an ancient Mayan temple. Gameplay would have been a mix between a classic point and click adventure (Myst) and a real time action game (Resident Evil, Tomb Raider). Haiku Studios were able to develop a complex timetable system to move 60 NPCs around the island, each one with their own activities following the game's internal clock.
Unfortunately something went wrong near the end of development, Psygnosis abandoned the project and soon Haiku Studios closed down. The team was also working on two other cancelled games, Elric and Demon Driver.
Images:
Videos:
What do you think about this unseen game? Give your vote!
Would you like to add more info, screens or videos to this page? Add a comment below!
(your first comment will be moderated before to be published)