Ocean Warrior is a cancelled action game that was in development by a small team known as "Stardust Interactive Media" between 2001 and 2004, planned to be released for Xbox 360 and Playstation 3. The game was initially conceived as some kind of mix between "Tony Hawk's Pro Skater" and "Waterworld", an extreme-sport video game titled "Extreme Outer Reef" about big-wave surfing in flooded cities.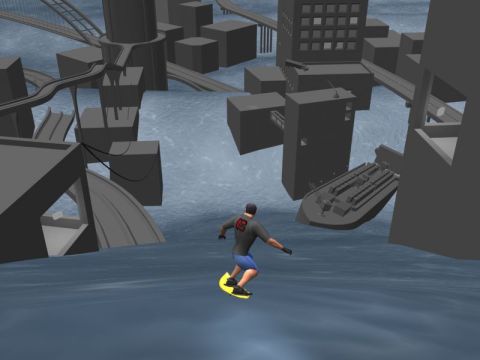 As we can read from an old press-release published in 2002:
"If things go according to plan for Stardust Interactive Media, the startup will soon be making waves – monster waves – in the video-game market. Big waves are the name of the game for Stardust, creators of a sports-action surfing video title, "Extreme Outer Reef." The game is based on one of the most dangerous sports in the world, "extreme big-wave surfing"–surfing waves 75 feet and taller with the aid of high-powered jet-skis.

"Extreme Outer Reef" capitalizes on the recent success of other extreme board-sports videos, such as snowboard and skateboarding. "People love board sports and we've created a game in a way that's never been done before," said Markland Fountain, chief operating officer for Stardust Interactive, one of 10 finalist companies in The Business Journal's Business Plan Competition. "Surfing is just a sexy, interesting sport and you can't get any crazier than this," Fountain said.

The game is the brainchild of Chief Executive Dan Meyers, a native Oregonian who has surfed the Oregon Coast for the past 23 years. He and Fountain–also a surfer dude–are heading up the company. And they're backed by a solid team of video-game bigwigs and world-class giant-wave surfers.

Scott Orr, whose video titles have sold nearly $2 billion in the past 20 years, signed on as executive producer for "Extreme Outer Reef." Chief technical consultant is Stewart Apelzin, creator of best-sellers "Myst" and "Where in the World is Carmen Sandiego?"

Other surfing videos exist, but Stardust insists its game will be unique. For one thing, the game thrills players with monster waves up to 200 feet, but Stardust also has developed a "dynamic waves physics engine" — a software application that generates waves that behave the way real waves work in the ocean.

"No other surf game makes waves with a real-time physics model," said Meyers. Picture "giant liquid avalanches," say the business partners. "You have endless variability, and it becomes this crazy surface where you can pull tons of tricky maneuvers," Fountain said. "It gives the game replay value," as opposed to existing surfing videos, which can quickly become boring."
During development the project evolved into Ocean Warrior, a more cinematic action game featuring speed-boats equipped with machine-guns in a post-apocalyptic flooded world, similar to Waterworld.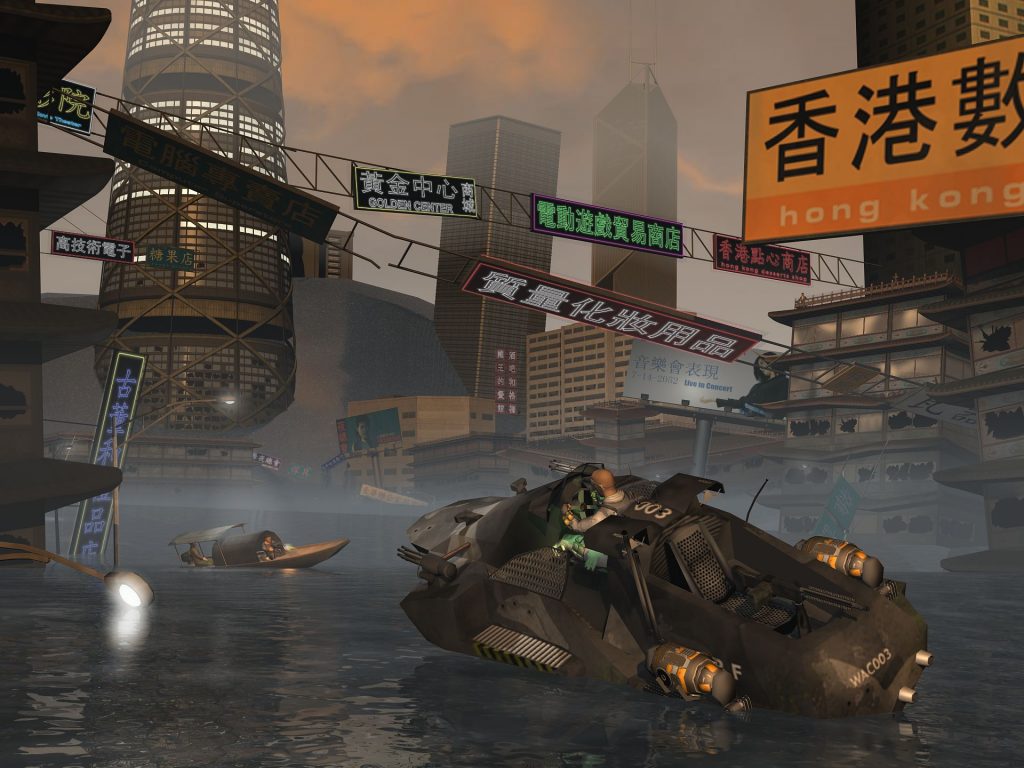 As we can read from the description added to the box mock up (made using the original Xbox games' template as the Xbox 360 was not released yet):
"The Earth's major cities are under water! The world's ocean levels had been rising for years, but a nuclear blast set off by the evil NERVA organization has caused the sudden flooding of coastal cities worldwide. As an elite Ocean Warrior, you take to the waves to rescue the innocent and to bring NERVA to justice.

Waterborne combat is back with a vengeance! Pilot a variety of heavily armed watercraft through unbelievable apocalyptic ocean environments!

Drive the boat, or man its turret, bail out and swim at any time. Commandeer any craft you can find! Disable an enemy crew, climb aboard, and take their boat for yourself!

Protect your floating base at all costs. Your base supplies all of your new weapons and repairs, and holds items and personnel captured or rescued in the field!

Monster surf like you've never seen! Ride 100-foot tidal waves through modern cities and ancient canyons!

Exciting story of global destruction takes you to disaster zones around the world, your AI teammates will have your back!

Tons of multiplayer modes! Play deathmatch, CTF, Destruction, King of the Kill and more on a split screen, with system link or over xbox live!"
Stardust Interactive tried to pitch the game to different publishers, but in the end Ocean Warrior was never released, only a few screenshots and footage from the early prototype are preserved below, to remember this lost project.
Images:
Videos:
What do you think about this unseen game? Give your vote!
Would you like to add more info, screens or videos to this page? Add a comment below!
(your first comment will be moderated before to be published)