Chase is a cancelled action adventure with RPG and racing elements that was in development around 2010 for Xbox 360 and Playstation 3, possibly to be published by Evolved Games. While we received some details about the game's story and gameplay, we don't know the name of the studio that was working on this project and it seems that only an early tech demo was developed before its cancellation, probably because the pitch was not fully green-lighted by the publisher.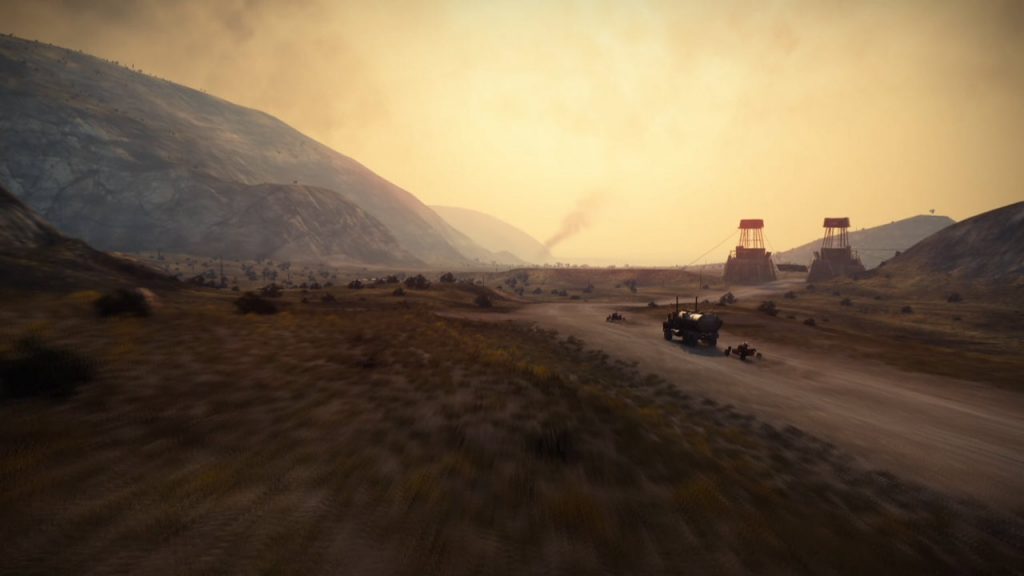 Described as a "cinematic and emotional action RPG and Driving game", Chase could have mixed some interesting gameplay mechanics from different game genres, within modern day real world settings. Some of the areas planned for the game included California (Los Angeles), Nevada (Vegas), California (San Francisco), Utah (Salt Lake City),  Arizona (Grand Canyon), Texas (Baytown Refinery, largest oil refinery in the United States), New York (New York City),  Michigan (Detroit),  Illinois (Chicago) and Louisiana (New Orleans).
Such games as Burnout Paradise, GTA, Twisted Metal and Midnight Club: Los Angeles were quoted as inspirations for the game's feel and gameplay, and in Chase players would be able to explore 12 different areas in North America, driving around with many upgradable vehicles (cars, trucks, motorcycles, jet skis and airboats) while trying to escape from enemies or chasing down a target, for example a truck with a gas tank that has to be destroyed. Each vehicle would have had many weapons at its disposal, you could customize your car as you please to became a powerful road warrior. By looking at the early tech demo footage, we can say it kinda looks a bit like the Mad Max game tie-in developed by Avalanche Studios and published in 2015.
Two playable characters were available, Logan and Gina chase, each with their own skills and strengths. We can assume the final game would have included many cinematic cut-scenes with a feel similar to high-speed action movies, with reckless driving, chases, car combat and crashes. Levels would have had destructible environments, dynamic night and day cycles as well as weather that would influence gameplay.
Here are some details from the beginning of the story planned for the game:
"Logan Chase has only scratched the surface of the plot from the secret group called The Hand of the Patriots. The clock is ticking and it's up to Logan and his wife Gina to stop the chain of events that will cause the United States to fall into chaos.

Logan Chase has lost everything and is now an inmate of a maximum security prison awaiting his execution date. This former agent has been labeled an enemy of the state, locked up and all that he cared for has been taken away from him.

The victim of a major cover-up he has been betrayed and lied to by everyone he trusted even his own lawyer. There is a long list of dirty cops, rogue agents and other dark forces standing between him and freedom. Believing his own life is over Logan's only concern is for his wife. Before his imprisonment he was able to secure her escape. Gina Chase is probably the only person that knows his innocence and is also a target on the run.

HAND OF THE PATRIOTS: From America's social elite to generations of political dynasties and hard core religious zealots . The Hand moves in shadows and has pull in it's many political, religious and charity organizations. They are the one's who are pulling the strings.

After receiving the final verdict of guilty Logan is being transported back to the prison along with other prisoners. He is told by the warden that they finally have word on where his wife is and she will soon be taken. Handcuffed and bound he fights but can't get free. But then the prisoners attack the guards and grab the keys. A fight between the prisoners and guards begins on the bus.

The prisoners have the bus and the cops are chasing them. A firefight between them begins. (This includes cars and helicopters). Logan shoots down the helicopter and takes out most of the pursuing cop cars but the bus is on fire and can't go on much longer. He spots a transport filled with new cars. He decides to jump for it from the roof of the bus. Logan makes the jump and begins to hotwire one of the new cars. The cops are closing in as he starts the car and floors it off the carrier."
It seems that while Chase was set in real-world settings, there would have been some sci-fi or near-future elements, such as chemical compound used by Hand of the Patriots to render the masses passive and release their free will, and the high-tech combat cars you can see in the footage below.
Multiplayer was also planned for Chase, we can assume it could have been some kind of car combat online mode similar to Twisted Metal.
If you know someone who worked on this game please let us know! We'd love to save even more details about it, before it could be forgotten.
Images:
Videos:
What do you think about this unseen game? Give your vote!
Would you like to add more info, screens or videos to this page? Add a comment below!
(your first comment will be moderated before to be published)