High Heat Major League Baseball was a series of baseball games published by the 3DO company. The game made its debut in 1999 and featuring the official licensed team and player names from all 30 MLB teams each year a new game was up for release. High Heat Baseball was acclaimed to be one of the best baseball games around; the game always had its focus more on genuine and realistic gameplay than on the quality of its graphics.
The 2004 edition however promised improved graphics and a new graphics engine, a new animation system and renewed motion captured player movements. The Gameboy Advance version was under development by Mobius Entertainment (later renamed Rockstar Leeds) and this edition would be the third version of the series on the handheld. For the Gamecube the game would make its first appearance and development was done by 3DO itself. 3DO announced the new installment of the game in December 2002 as they released the first images of the game and a release date was set for spring 2003, around the same date as the release of the Playstation 2, the Xbox and PC versions.
Both versions were finished and ready for release as things went wrong for 3DO in May 2003, the company faced big financial problems for quite a while now, mainly due to bad title sales, and the company now even had to file for bankruptcy and made the announcement that the team and it's games were for sale and were finally acquired by Rockstar Games.
The Playstation 2, Xbox and PC versions just had had their release dates in March and would shortly after have been followed by the Gameboy Advance and Gamecube versions but with 3DO in serious trouble both titles were shelved for the time being and thus finally resulting into a non release for both platforms. At the 3DO bankruptcy auction in August of that year Microsoft bought all rights for the High Heat series from 3DO for an undisclosed sum. Microsoft however hasn't developed a new title in the series so far and for now it's even more questionable if they ever will with a baseball franchise of their own on the Xbox.
Below some screenshots of both titles; I could retrieve no promotional or gameplay footage of the cancelled versions.
-Lesur-
Screenshots and Box cover Gameboy Advance – 12-2002:
Screenshots and Box cover Gamecube – 12-2002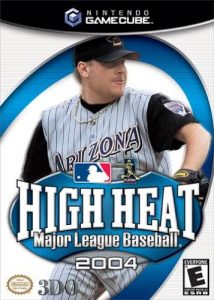 What do you think about this unseen game? Give your vote!
Would you like to add more info, screens or videos to this page? Add a comment below!
(your first comment will be moderated before to be published)