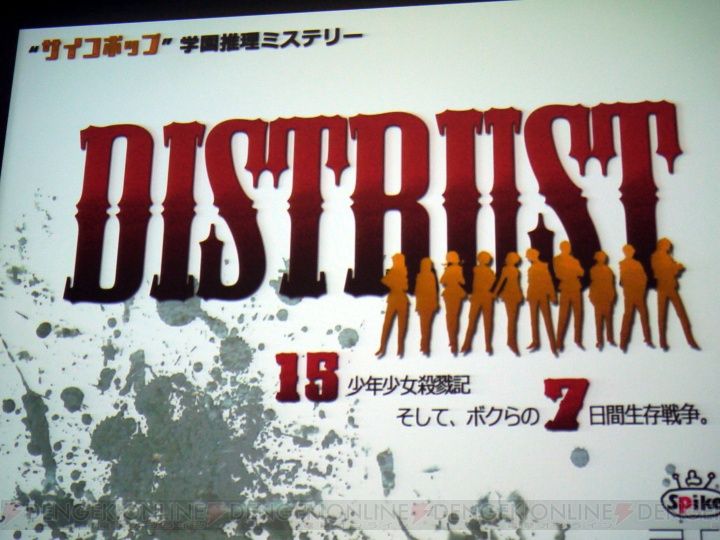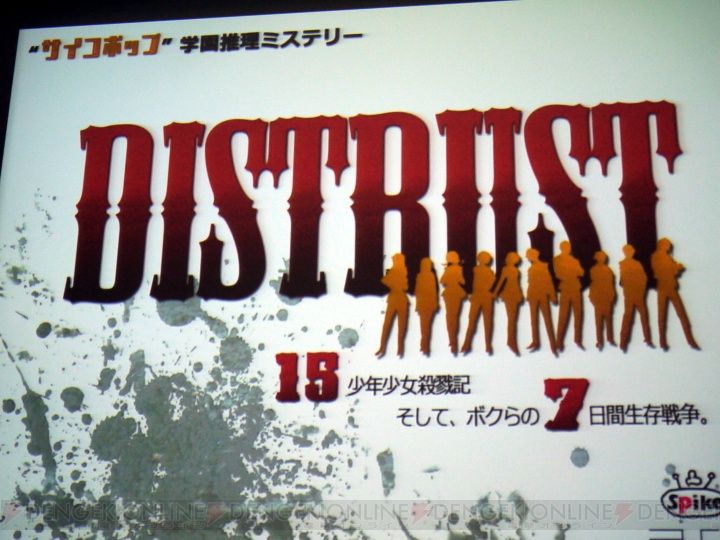 Danganronpa is among the best hidden gaming gems for the PS Vita. Originally released exclusively in Japan as two PSP games in 2010 (Danganronpa: Trigger Happy Havoc) and 2012 (Danganronpa 2: Goodbye Despair), it was thanks to the release of the PS Vita collection with both episodes in USA and Europe, that western gamers were finally able to enjoy this bizarre visual novel. However, before it gained its final name that we know today, "Danganronpa", the project was first in development for the PSP under another title; Distrust.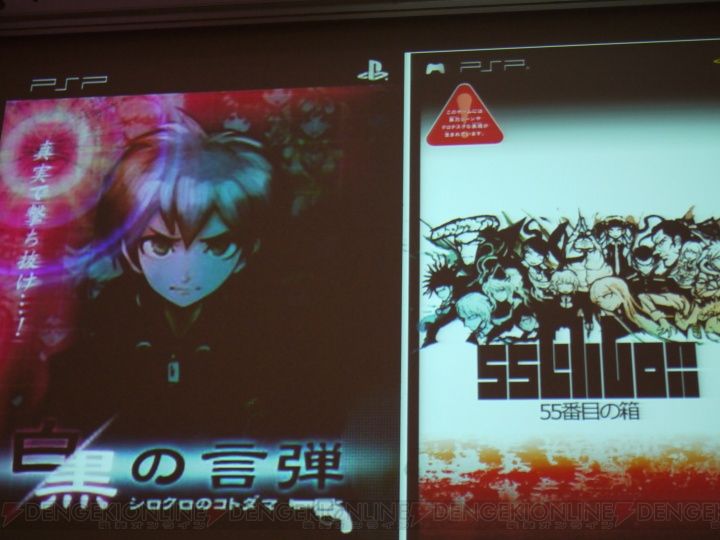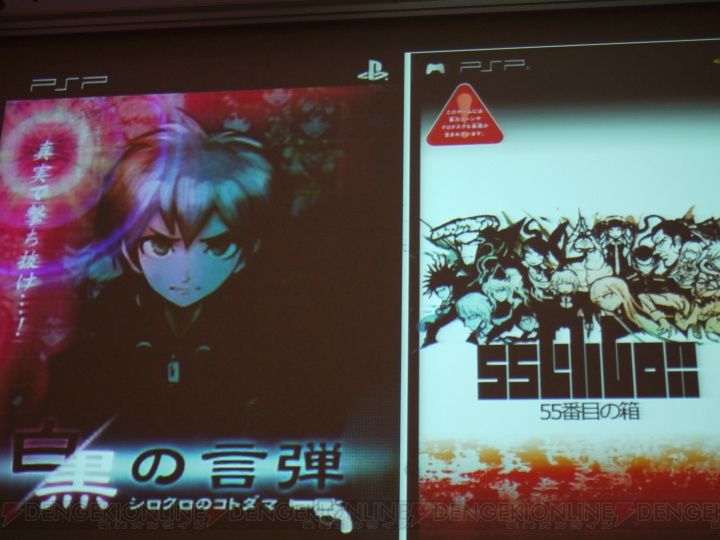 The story behind the development of Distrust is more complex than you might think. Despite Spike Chunsoft releasing many images from the beta version of the game, they did not explain why the project was so heavily changed. Nor did they elaborate on why some features from the original Distrust project were reused not only for Danganronpa, but also for another popular visual novel.
Danganronpa was originally published in late 2010 by Spike, just a year after they released 999: Nine Hours, Nine Persons, Nine Doors for the Nintendo DS, developed by Chunsoft. 999 was released in English in 2010, where it soon became a cult hit among american visual novel fans, thanks to its gloomy and mysterious plot. Unfortunately, in Japan, it was not quite as well received. When it was first shown, Distrust received better feedback from Japanese gamers; but it seems that in its early days of development, the game shared many more similarities with 999.
It is difficult to determine the extent to which Danganronpa follows the original story of Distrust, but at least we know from these beta screens that the game already had both Class Trials and the resulting executions; as well as an ensemble of 15 characters. Both the drawings and the darker atmosphere of Distrust contrast with the more "colourful" Danganronpa. The colours in Distrust were much dirtier and the over the top executions that can be seen in Danganronpa had yet to be implemented. Distrust had much more bloody deaths for the characters, such as the execution of a female protagonist through use of a guillotine; something that doesn't happen at all in the final game. We can speculate that the poor girl here, killed by the guillotine, could have been a beta version of Kyoko Kirigiri or Junko Enoshima from Danganronpa.
It seems that Spike and Chunsoft had some disagreements about the style of the game. After a while, the design of the characters and the colour of the blood were altered.
According to the developers, they have changed the color of the blood to pink in Danganronpa in order to keep the age-ratings down, but in the end, it was a stylistic choice that perfectly matched the final visuals of Danganronpa. Even with pink blood, CERO (the Japanese entertainment rating organization) gave a D rating to the first Danganronpa, so the game could only be sold to buyers of 17+ years old. The second episode was classified with a C rating, limiting it to 15+ years old gamers. The ratings of CERO are commonly criticised as being somewhat erratic.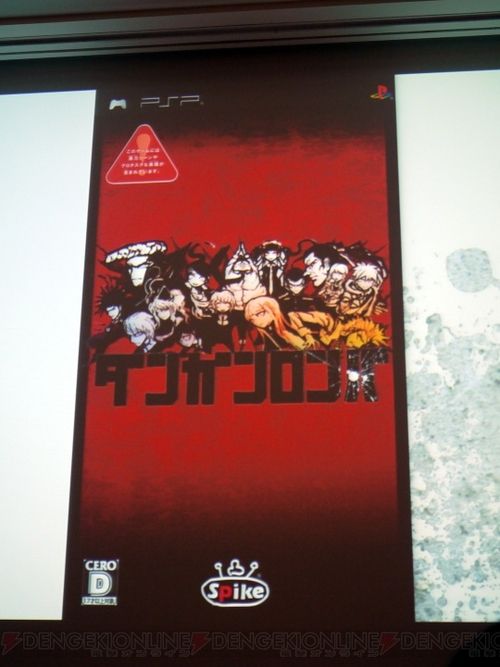 Looking at the beta cover for Distrust, it seems that the title initially was given a D rating by CERO. This suggest that blood and violence may not have been the only reasons for the drastic changes that caused the game to evolve into Danganronpa.
A feature that was changed during development was the "Trust / Distrust" system. While Dangonronpa includes the Hope / Despair mechanic, Distrust was all about trust and distrust. These game mechanics were much more complex than the ones seen in Danganronpa.
Another element missing from Danganronpa, which is also relatively unusual for Visual Novels, are tough decisions that change the course of the story and lead to many different routes and endings. Only once, at the end of the game, are you able to make such a call in Danganronpa, although it has little effect on the plot. On the other hand, the Trust / Distrust  would have allowed players to gain the trust or the resentment of other characters. Under this system, different murders and routes would have happened in the game. If one managed to win the trust of a character, they would act as allies in the following investigation. It's interesting to notice that the Trust / Distrust system was reused in Zero Escape: Virtue's Last Reward, the sequel to 999.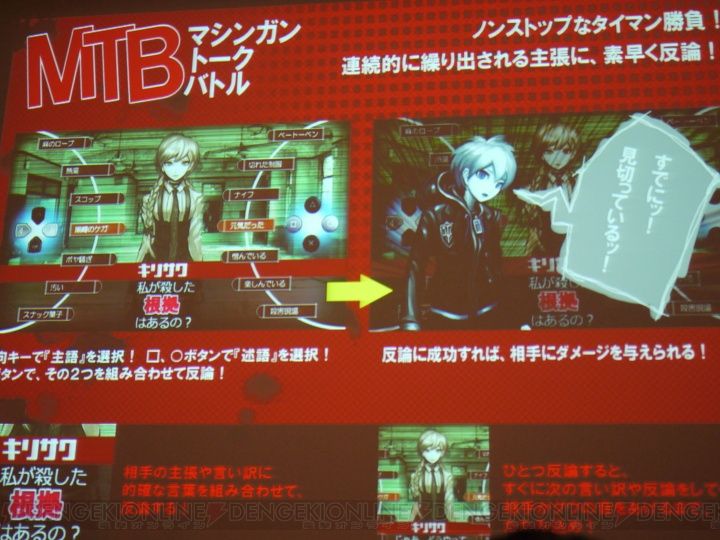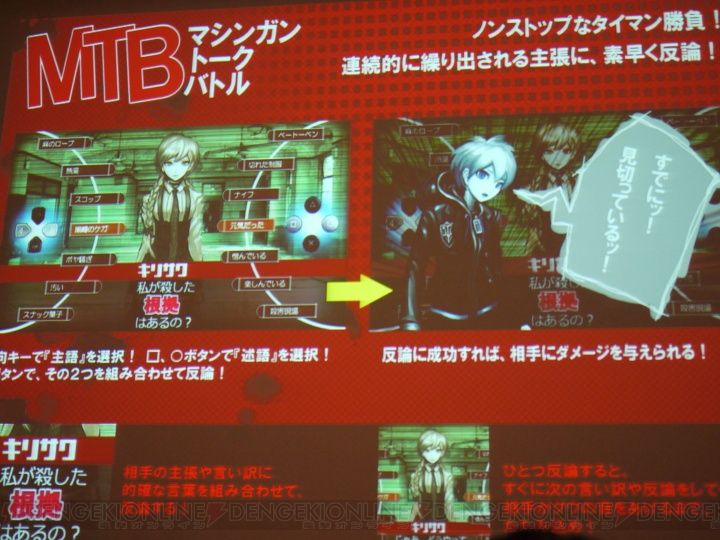 The Rhythm Minigame that can be found during Trials parts in Danganronpa was previously implemented in Distrust, as we can see in the left Screenshot.

Design of the characters in beta versions are often changed to more popular ones among staff, but in their final appearances, Distrust characters bear a decent resemblance to their appearances in Danganronpa. Character designer Rui Komatsuzaki stated in the official artbook (in which we can find many interesting unused artworks) how difficult it was to find the designs of the main characters. The first characters that were designed for Danganronpa were Sayaka Maizono and Leon Kuwata, from which he then created all the other designs. These two characters seem to have already been finalised in Distrust and in these beta screens, Sayaka and Leon are the only ones that are almost identical in the final game.
Other characters like Byakuya Togami, Hifumi Yamada and Toko Fukawa have since been drastically changed. Even the main "antogonist" of the game, Monokuma, was much, much different in his beta version, as you can see below.
Final characters: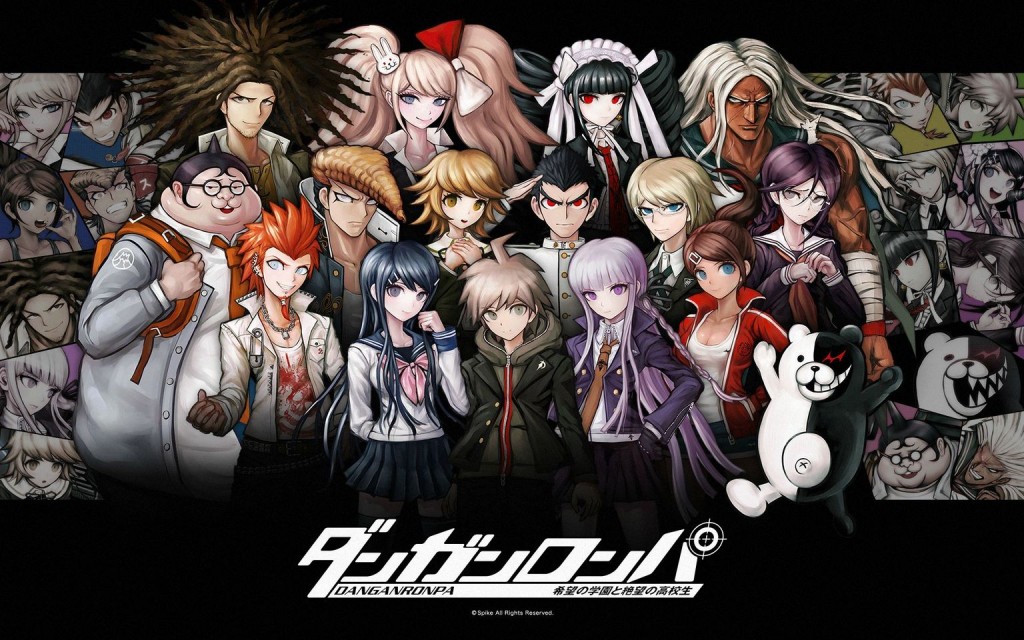 Beta Characters: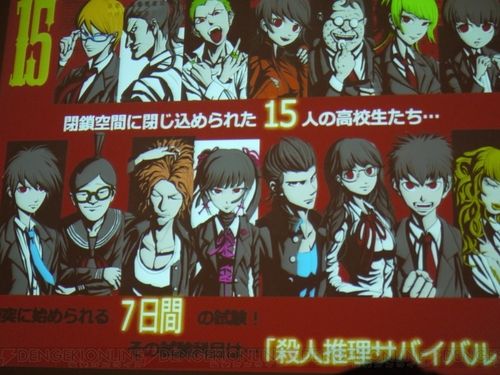 Final Monokuma: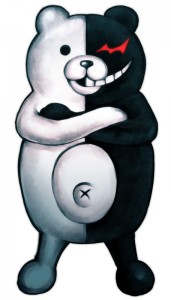 Beta Monokuma: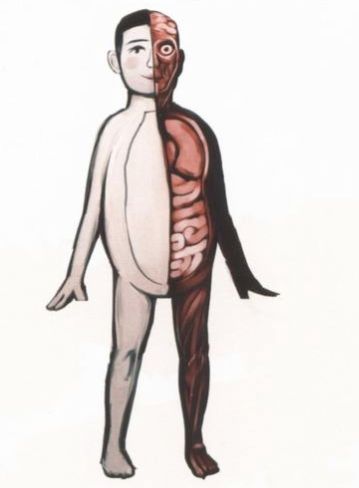 The esign of Hope's Peak Academy was quite different, as well, and in Distrust, it looked more like a dirty warehouse.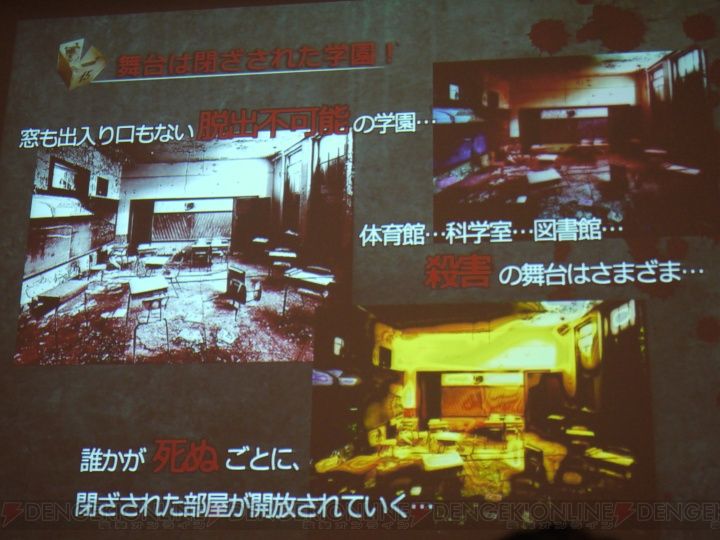 We are unsure of the official reasons behind all these changes over the beta version (Distrust) to the final one (Danganronpa), but we can speculate that Spike Chunsoft decided to make these shifts to differentiate the game from "999: Nine Hours, Nine Persons, Nine Doors", that was not sufficiently popular in Japan. We wonder how Distrust would have been played, with its alternative characters, grittier environment, more bloody executions and different gameplay mechanics, not to mention with other plot lines and endings.
Another huge change over the beta version was the 7 days time limit. Unfortunately, we don't know a lot about how this could have been used in the game.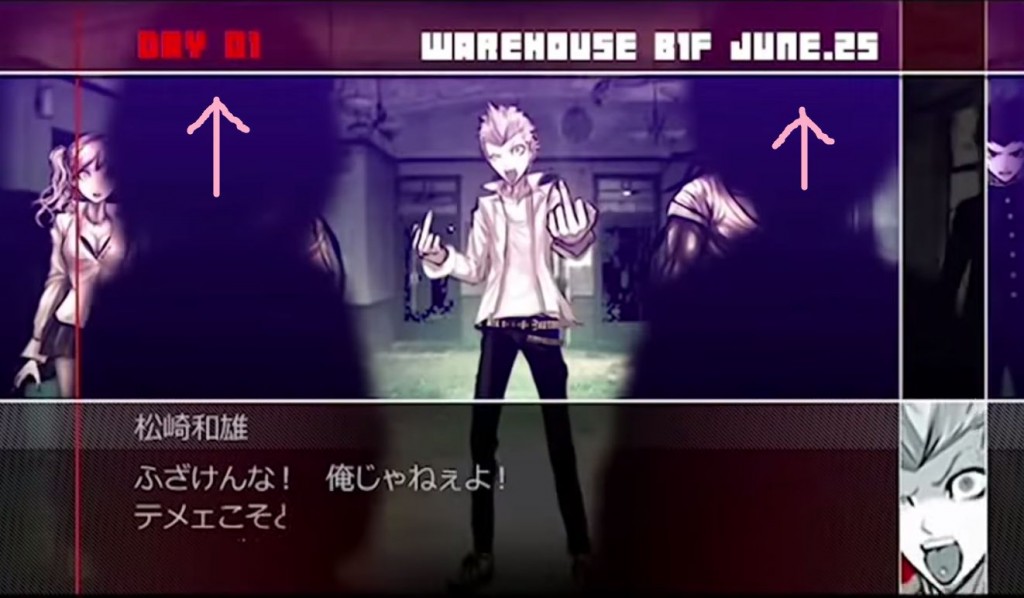 A few easter eggs remained from this early version of the game, such as a well-known music track from Danganronpa that inherited its title from the original project.
Only a single video from Distrust still exists, showing all its little details and distinctions. Even if the characters shown in this beta video were different as the ones in Danganronpa, we recommend you steer clear of watching it if you haven't finished the game, as to avoid spoilers.
Original article written by Aufziehvogel in german, english translation and updates by Monokoma and Tamaki. Thanks to Dengeki Playstation for the screenshots, GameFAQs users &  Jeuxvideo. If you notice more differences, or if you own the Danganronpa artbook and can find some other interesting beta designs, let us know in the comments below!
Images:
What do you think about this unseen game? Give your vote!
Would you like to add more info, screens or videos to this page? Add a comment below!
(your first comment will be moderated before to be published)

Editor in Chief, UX & SE Optimization
at
Unseen64
I'm an
Italian gamer
with
not enough free time
to play as much as i'd like to and
sadly not enough time
to write about cancelled and beta games.
Founder of Unseen64 in 2001
, i'd like to sleep more than 5 hours a day, but i have to pay the bills. I'm currently working for various italian & international websites for a better
User Experience & Search Engine Optimization
, you can add me on
Twitter
,
Last FM
or contact me by
email
.