The Elder Scrolls Travels: Oblivion is a cancelled action RPG in The Elder Scrolls series that was planned to be released for PSP, based on the main Oblivion game released for PC, Playstation 3 and Xbox 360 in 2006. The game was in development at Climax Group London (former Syrox Developments, from Kingston upon Thames, UK) with some help from Climax Group Los Angeles  in 2005 / 2006, with new characters, inventory system, combat system, levels and more features exclusive for this PSP version.
"The game was originally being created using an 'inhouse' game engine that was  being developed alongside the Oblivion PSP game. The engine used a BSP based renderer and early levels were prototyped using GTK Radiant. Eventually development moved over to use Renderware Studio following successes found through the engine's use in Ghost Rider PSP and Silent Hill PSP (both in different stages of development at other Climax studios at the time)."
Because of the Playstation Portable hardware limitations, Elder Scrolls Travels: Oblivion was going to be a more linear game than the original Bethesda Game Studios version. There was a hub world which contained various vendors, NPCs and story characters, and player would have used a teleportation crystal to go to each of the explorable areas of the game. The hub world would change and react to the events that went on in each area, for example going on a side mission in a level and rescue an NPC, that NPC may show up in the HUB world as a special vendor or quest giver.
"One of the problems faced with Renderware was the use of navigation meshes that lead to NPCs not being able to physically being located above the player in 3D space. I'm not sure if this was limited to just the Oblivion PSP version of Renderware, however this limitation led to the levels that were implemented having no overlapping tiers or level layers (e.g. floors above floors) because the NPCs wouldn't 'find' their way up overlapping paths. This problem wasn't successfully resolved in time to have a positive effect on the designed levels. If the project progressed it's possible that this would have been resolved leading to more complex multi-tiered environments. In the tech demo, this is why the Oblivion towers had no lifts, or vertical stairwells, and relied on the player walking through doors to load in the next level segment with a separate AI navmesh."
Each area had multiple paths to be explored that were open or closed depending on which quest was active. Oblivion PSP was designed in a way that would maximize the console limitations, but there was a lot of levels planned and at one point Climax even thought it might have to be split on to two UMDs.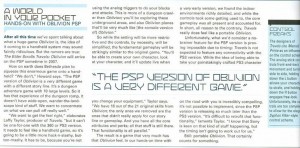 The team at Climax had access to early builds of Oblivion and played it heavily to be able to better get the feel of the main game. Even Todd Howard was really impressed with the design that the team was able to create for the portable version, that included all of Oblivion's main core mechanics, plot, characters and playable areas related to TES4: Oblivion's storyline. The game took place at the same time as Oblivion, but wanted to express that the Oblivion Crisis was happening all over Tamriel, not just in Cyrodiil, so it was set in and around High Rock. Some of the levels were set in Moonguard, Anticlere, Glenpoint and even Daggerfall, each with their own explorable world areas and plane of Oblivion that was a unique reflection of the level location.
"The story was planned to take the player across the northern regions of Tamriel, mainly focusing on High Rock, and be timed to take place as a second storyline during the main story in the main Oblivion game. The idea was that Oblivion gates were opening all across Tamriel, not just limited to Cyrodiil.

The main antagonist was going to be called Zhurl. The story was the player basically tracking and following Zhurl through the zones and Oblivion gates with him always being 1 step ahead until the end of the game.

Originally there was due to be 10 levels across 5 regions that would each have its own counterpart Oblivion gate. The idea was that, because of being linear rather than open world, progression would go from Tamriel to Oblivion for each leg of the game."
Rhalta: the starting location of the game, with the player starting in a prison cell to mirror what happened in the main Oblivion game. The idea was that the player was experiencing an adventure that was equally as important and the story would be intertwined with references to the events of the main Oblivion game.
Anticlere: This was a walled city – the player would traverse through house interiors and streets, winding their way upwards towards Anticlere castle. The Oblivion plain level was to be a winding maze of underground caverns that would cross paths on multiple levels.
MoonGuard: a village in the province of High Rock. It is one of several possible locations that the Eternal Champion may discover in The Elder Scrolls: Arena.
Glenpoint: Intended to have the player to start in an underground cavern system, walk their way down a mountainside to then travel across open green spaces, ending at a church and graveyard.
Daggerfall: This was planned to be a return to Daggerfall, but completely destroyed. The idea was that the whole city would have been torn apart with lava and some aspects of the Oblivion plain would have started to merge with Tamriel. Destruction was to be done partially by huge worms (think the sand worms from Tremors) that ate through the ground and destroyed the city streets. The player would spend time walking in the tunnels left behind by these worms that would lead the player underneath buildings and up and out to resurface on the other side.
The hub city was planned to have several small quests to help you navigate and familiarize the player with where key vendor NPCs were (e.g. there was a planned burglar quest within the main city for the armourer with a reward for 50% discount on repair for armour and weapon damage).
In The Elder Scrolls Travels players would have helped a Mage to try to stop the Oblivion Crisis, and each plane of Oblivion featured it's own unique boss.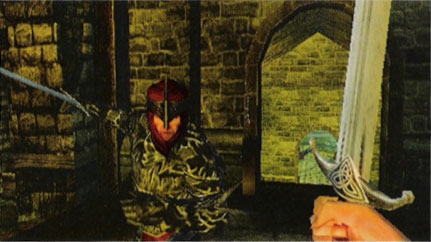 The designers had planned more than 180 quests, which took on a variety of things from the main quest line to a huge variety of side quests, including quests for the various guilds. The plotline (and side quests) on PSP referenced the Oblivion game and plot line at several points to tie the two products together, and even explained / foretold some of the events of Oblivion – for example, the Dark Brotherhood quest line heavily featured Lucien Lachance (before his demise in the main Oblivion game).
Monsters / NPCs were to include:
Rat
Prison Guard
Scamp
Rhalta Mage
Rhalta Guard Captain
Mythic Dawn
The skill system was closely aligned with Oblivion, and was planned to include:
18 unique skills
Player had to choose 7 skills as 'major' while the rest became 'minor'
Increasing abilities in major skills was the only way to level up
Major skills to start with 25 attribute points
Minor skills to start with 5 attribute points
The team developed a few playable levels using Renderware Studio and most of the core gameplay systems was already working or planned, as the combat mechanics (which allowed the player to sub-select parts of an enemy when targeting them, due to only having one analogue stick on the PSP), inventory system, TES character statistics system using Oblivion's own attributes / skills formula and the conversation system.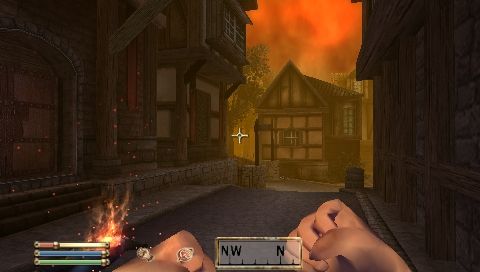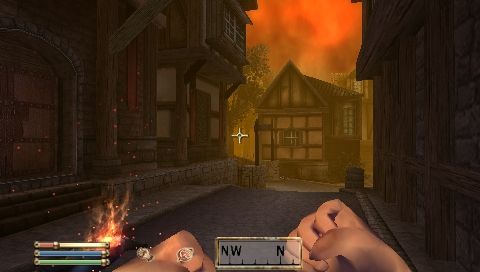 Unfortunately we'll never be able to play a final version of this unique version of Oblivion. A playable prototype was leaked online in June 2016, you can search the ISO on Google.. check the videos in this page for more info! Although the PSP game was announced for release in spring 2007 and the team had already created some great content, The Elder Scrolls Travels was soon cancelled and it vanished forever without any official comment from Climax or Bethesda.
Eventually, with the changes in game engine and technical challenges faced, each environment was reduced from being fully unique levels – the scope of the game was reduced to meet project milestones. This meant that the game changed to use a modular approach to level design instead of fully unique regions and the scope was reduced to reuse Oblivion plain levels. Each level 'module' was then used like jigsaw puzzle pieces to create the levels – artists would then take these piecemeal levels and complete a pass to make them correctly lit and integrated stylistically. The leaked tech demo mainly includes the standalone levels (I.E. those that were not created in a modular fashion).
The original deal was signed with too little time and too little money to actually make it. In early development Climax were going to use their own internal 3D engine for PSP, but when that didn't move quick enough they switched over to using Renderware Studio (which was already been used on other games) for an easier and faster development. Sadly this was too late to save the project and Oblivion PSP was cancelled.
Images:

Videos:
What do you think about this unseen game? Give your vote!
Would you like to add more info, screens or videos to this page? Add a comment below!
(your first comment will be moderated before to be published)