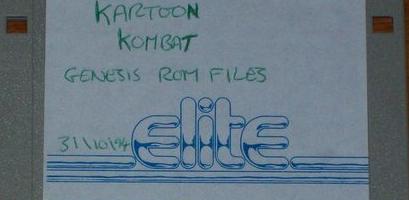 As we read in his Unseen Interview, Mr. Mark has recently acquired a copy (the last and only one?) of Kartoon Kombat, a cancelled fighting game that was in development for the Genesis. Sadly the ROM was damaged in such a way that it will most likely never be playable, but a friend of Mark (known as ZZap! on most forums) was able to extract some interesting text. This is what he was able to uncover:
SEGA MEGA DRIVE (C)WAVE 1994.XXXToon Fighters Toon Fighters GM XXXXXXXX-XX

(C)1994 WAVE SOFTWARE LTD.. BETA RELEASE

ONE PLAYER GAME.. TWO PLAYER GAME.. PRACTICE MODE.. (C)1994 WAVE SOFTWARE LTD.. A TECHNOS PRESENTATION

PLEASE CHOOSE FIGHT LOCATION.
FOREST
AIRPORT
MOUSE HOLE
JUNGLE
RUSSIA
WILD WEST
THE ALPS
THE GRAVEYARD

Demo Released to Elite Systems – 16/5/1994

NAME: CLIVE

CLIVE IS A WELL ROUNDED FIGHTER. HIS FELINITY GIVES HIM ADDED AGILITY. HIS PUNCHES AND KICKS ARE NOT STRONG, BUT HIS EXTRA SPEED MEANS HE CAN UNLEASH A STREAM OF ASSULTS VERY QUICKLY.

NAME: SCOTT

SCOTT IS ONE OF THE LARGEST TOONS IN THE GAME AND HAS LONG ARMS BUT SHORT LEGS. SLOW BUT POWERFUL. HE'S A FORMIDABLE OPPONENT!

NAME: DOUG

DOUG IS A SHERIFF FROM THE WILD WEST. HIS FORTE IS GOOD OLD FASHIONED FISTICUFFS. MAKE SURE YOU WATCH OUT FOR HIS GUN!

NAME: KEV

KEV IS A HARD NOSED RUSSIAN CHICKEN FROM KIEV. AN EX PARATROOPER. HE IS THE TOUGHEST TOON OF THE BUNCH, BUT HE DOES HAVE A WEAKNESS. HIS POWERFULL PECK CAN BE TROUBLE, SO WATCH IT.

NAME: FRANK

FRANK IS A BASHFULL CHARACTER, BEING A SQUIRREL. HIS ARMS ARE NOT HIS STRONG POINT, BUT THIS IS MORE THAN MADE UP WITH HIS STRONG LEGS & BIG FEET. HE HAS A SUPPLY OF NUTS SECRETED ABOUT HIS PERSON, WHICH CAN PROVE VALUABLE WHEN FACING A FORMIDABLE FOE.

NAME: MONTY

MONTY IS THE SMALLEST TOON AROUND. HIS SIZE CAN BE USEFUL FOR AVOIDING BEING HIT. HE HAS AN AMAZING SPECIAL WEAPON WHICH MAKES UP FOR HIS SMALL SIZE. HE ALSO HEADBUTTS HIS FOE IN THE NUTS
Thanks a lot to Mark for these informations!
What do you think about this unseen game? Give your vote!
Would you like to add more info, screens or videos to this page? Add a comment below!
(your first comment will be moderated before to be published)