Michelle is Niko's first girlfriend in GTA 4. In the beta version, her face looks totally different from the final. [Thanks a lot to Gerror for this image!]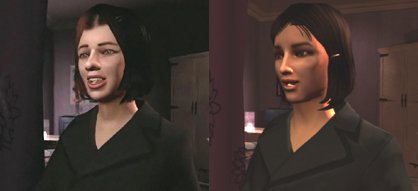 Various users from the GTA Forums have found a lot of differences in the early GTA4 screens, were we can see:
A removed Black Taxis
Missing License Plates
Beta Gloves
Beta Haircut
Transparent White Blinkers for Police/Taxi
Beta clothes
Little Jacob without glasses
Beta MP5
Removed Silenced Glock
.375 Colt Python Revolver
Beta MP10 – Done (by BWARazor)
Yankee had white rims
NOOSE Van was an blue Boxville Truck
Vincent looks different
Vlad with a long haircut
RESTAUTANT were miss-spelled on the sign
Sales sign were removed in Chinatown
Leenies Fireproof were called in the beta "STANLEY Fireproof Door Co."
Pogo the Space Monkey Arcade game from GTA SA in bars
In the Beta the Rotterdam Tower blue,purple and white lights intstead of red,white and blue lights in the final
The Beta has two 2 stores weren't in the final game: JR.RAY'S and JIM
The Sex Shop had different wall textures
It's interesting to notice that at the GTA Forum they are even working on a Mod for the PC version of the game, to restore some of the beta content removed from the final version! You can check the topic in here:  Grand Theft Auto IV Beta Mod.
Images:
Videos:
What do you think about this unseen game? Give your vote!
Would you like to add more info, screens or videos to this page? Add a comment below!
(your first comment will be moderated before to be published)

Latest posts by U64 Staff & Contributors
(see all)