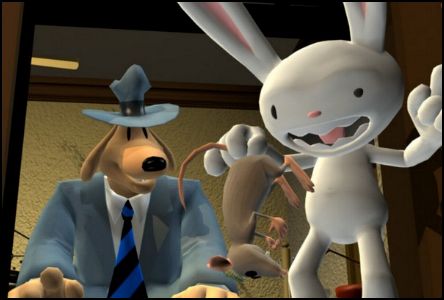 Articolo originale su Lucasdelirium
A sette mesi dalla cancellazione di Full Throttle : Hell On Wheels (l'8 agosto del 2003), Sam & Max Freelance Police è stato cancellato dalla Lucas il 3 marzo del 2004. In questo secondo caso, però, il gioco procedeva sicuramente meglio del precedente, ma la crisi finanziaria della Lucasarts era ormai in pieno corso.
[A cura di Domenico "Diduz" Misciagna]
Sam & Max Freelance Police era il seguito di Sam & Max Hit The Road. Della trama non si sapeva nulla di specifico: Stemmle aveva parlato di sei missioni, tenute insieme da una trama generale "misteriosa". Quattro le storie delle quali eravamo riusciti a venire a conoscenza tramite varie fonti: una si ambientava in una stazione spaziale abbandonata di quarta categoria, un'altra in un "baccanale neopagano" nel bel mezzo del deserto, un'altra ancora in una gara di ballo con baby-gang (che farà il verso a "West Side Story") ed infine ce n'era una che si svolgeva durante un "destruction derby" tra i ghiacci. Che bello. :-(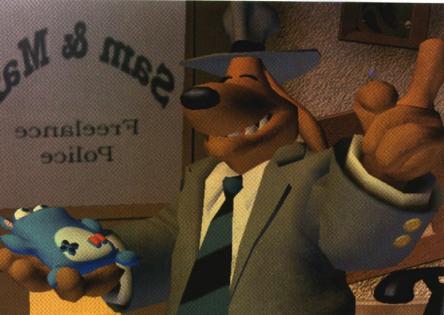 SOGGETTO/PROGETTAZIONE:
Al suo annuncio nel 2002, questo progetto doveva fare il paio con il defunto Full Throttle : Hell On Wheels, cioè rappresentare un' "evoluzione dell'avventura grafica" in direzione action-adventure. A dir il vero, nonostante nella press-release si parlasse molto vagamente di "azione", all'E3 del 2003 il gioco fu a sorpresa definito nelle "Game Info" un "Adventure", punto e basta. Simon Jeffery, l'ex-presidente della Lucas, confermò che saremmo stati di fronte ad un adventure PURO, mentre Stemmle parlò -udite,udite- di un'interfaccia punta & clicca! Un (gradito) ritorno al passato? Jeffery aveva anche aggiunto che il gioco era previsto per il solo PC, "perché le avventure grafiche classiche vivono essenzialmente su quella piattaforma"…quasi ci commuovemmo, ma si sa che i sogni muoiono all'alba. Non sarebbero mancati una dozzina di minigiochi arcade, sullo stile del "Ratto-Sfatto" del primo gioco: tiri a freccette con le vespe, autoscontri al Luna Park e via delirando. Il teaser trailer ci aveva stupiti per atmosfera e qualità dell'umorismo, fresco ed efficace come se dieci anni non fossero mai passati. Questo era forse riconducibile al fatto che Sam & Max Freelance Police portava la firma di due dei tre principali artefici di Sam & Max Hit The Road: il designer/capo progetto Mike Stemmle (anche coautore di Fuga da Monkey Island e responsabile dello strategico-gestionale demenziale Afterlife) e il mitico, insossidabile, fantasmagorico Steve Purcell, co-autore della grafica di tutte le avventure Lucas da Indy 3 a Sam & Max Hit The Road. Mancava solo Sean Clark, che del precedente episodio era capo-progetto insieme a Stemmle: all'avvio del progetto, Sean era infatti impegnato con Full Throttle : Hell On Wheels. La sfortuna ha accomunato le sorti dei due amici.
Nel momento in cui la Lucasarts prospettò al team la cancellazione del progetto, Dan Connors (il producer) ribadì la possibilità che si potesse distribuire il titolo solo via internet, episodio per episodio. Nonostante infatti la maggior parte della grafica e del sonoro fossero pronti, l'assemblaggio del gioco era largamente incompleto e in qualche mese si sarebbe arrivati sicuramente a confezionarne le prime due parti. Travolti dal panico da quasi bancarotta, i dirigenti provvisori della Lucas decisero di staccare la spina del tutto. Connors, irritato, ha fondato la TellTale Games proprio allo scopo di dimostrare la bontà di quell'idea.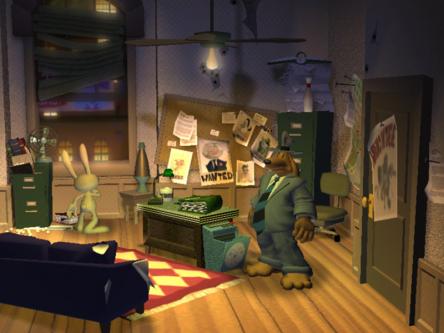 La nuova società di Connors annunciò lo sviluppo di una nuova serie di avventure grafiche basate sui personaggio di Sam & Max, realizzate e distribuite digitalmente come episodi a sè stanti. Il primo episodio, conosciuto come Sam & Max: Season One venne rilasciato nell'ottobre del 2006. Nel luglio 2007 dopo la fine dei sei episodi di Sam & Max: Season One la società annunciò lo sviluppo della Season Two, prevista per la metà del 2008. (Informazioni da Wikipedia)
GRAFICA:
A dispetto dell'impressione che ci avevano lasciato i primi due screenshot di preproduzione, la conversione in 3D di Sam & Max si prospettava come la più riuscita della storia Lucas: più di quelle (comunque sottovalutate) di Monkey 4 e del cancellato Full Throttle : Hell On Wheels. Come si evince dai due recenti screenshot qui sopra, gentilmente concessi da una rivista tedesca alla comunità (li avevano avuti dall'Activision), l'uso raffinato delle ombre e delle texture, specialmente nel caso dell'ufficio, non lasciano molti dubbi sulla qualità del lavoro svolto dal team grafico. La grafica 3D interamente in tempo reale (per la prima volta in un'avventura Lucas), avrebbe permesso il ritorno dei movimenti di macchina, penalizzati nei motori ibridi di Monkey 4 e Grim Fandango.
Il reparto grafico era affidato a Derek Sakai, già animatore in The Curse Of Monkey Island e a Graham Annable, veterano Lucas, direttore delle animazioni anche del recente RTX : Red Rock. Fra le immagini del gioco potete anche vedere un bozzetto di Steve Purcell in persona: non male come chicca, eh? ;-) Peccato che ormai….
Se volete spararvi qualche stralcio di sequenza, consiglio il sito dell'animatore Joe White.
MUSICHE E SONORO:
Se la musica fosse stata della stessa qualità di quella, varia ed esilarante, che accompagnava il trailer, potevamo aspettarci grandi cose da questo titolo: l'autore dei brani era il nuovo arrivato Mark Griskey, che aveva già mostrato il proprio valore in Gladius. A doppiare i personaggi nella versione originale erano tornati, in sessioni di preproduzione, Bill Farmer (Sam) e Nick Jameson (Max).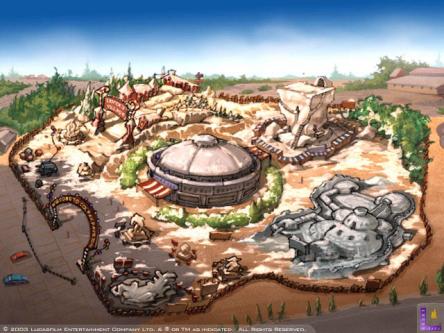 PROGRAMMAZIONE:
Interfaccia punta & clicca. Da uno screenshot sfocato pubblicato su una rivista, sembra che il puntatore fosse concepito per richiamare dei menu contestuali relativi ad ogni specifica zona interattiva, in maniera non molto dissimile dal doblone di Monkey 3 e dal tatuaggio di Full Throttle: da notare, in questi menu, la finezza dei caratteri, in puro stile "lettering da fumetto". La cancellazione del gioco, con questa premessa, non fa che rigirare il coltello nella piaga di noi appassionati feriti.
[Articolo a cura di Domenico "Diduz" Misciagna]
Ringraziamo vivamente www.lucasdelirium.it per la collaborazione!
What do you think about this unseen game? Give your vote!
Would you like to add more info, screens or videos to this page? Add a comment below!
(your first comment will be moderated before to be published)

Latest posts by U64 Staff & Contributors
(see all)