Perchè eliminare lo Stop 'n' Swop?
Perché lo Stop 'n' Swop è stato eliminato? Generalmente, Nintendo dava tutto il tempo necessario alla Rareware, per rifinire i suoi giochi, in modo che fossero completi sotto tutti gli aspetti. Eppure lo S'n'S non è stato mai completato, perché? Non possiamo purtroppo avere una risposta precisa, ma molte sono le opinioni che girano in rete. L'enorme complessità di sviluppo della tecnica S'n'S, potrebbe aver decretato la sua fine. Il sistema infatti, sarebbe risultato troppo difficile da programmare e quindi da gestire. La scelta migliore, sarebbe stata quella di abbandonare il progetto. Chi può dirlo con certezza? forse qualche programmatore della Rareware, che ha partecipato all'idea. Ne conoscete qualcuno?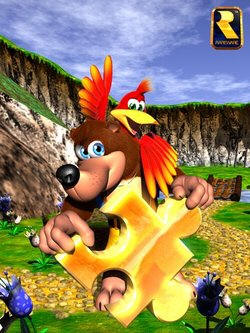 Allo stesso tempo, da alcuni anni su internet gira un rumor particolare. Nintendo stessa, avrebbe influenzato l'eliminazione dello Stop 'n' Swop. Il metodo Hot Swapping infatti, poteva dare numerosi problemi tecnici. Un videogiocatore poco pratico, avrebbe potuto collegare fra loro anche altri giochi, non solo i due Banjo, finendo così per danneggiare il N64. L'Hot Swapping, se usato in modo errato, si tratta di un metodo molto rischioso, che può causare dei problemi sia alla console, che ai giochi.
Perchè non eliminare lo Stop 'n' Swop?
Questa sezione potrebbe sembrare fine a se stessa, ma non è assolutamente cosi. Quando dei programmatori, decidono di cancellare parte di un loro gioco, perché farlo solo parzialmente? Se hanno deciso di eliminare la possibilità di collegare Banjo-Kazooie e Banjo-Tooie, perché RARE ha mantenuto così tanti riferimenti allo Stop 'n' Swop in questi due giochi? Rareware non ha mai dato una spiegazione su come funzionasse, cosa fosse e perché lo Stop 'n' Swop fosse stato eliminato. E' stata forse una questione di pubblicità?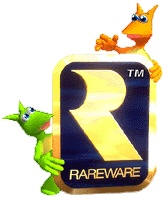 Gli appassionati infatti, non riescono a darsi pace per questo mistero. Continuano a cercare le zone nascoste, esplorano i due Banjo anche dopo averli terminato al 100%, solamente per recuperare i tre oggetti segreti annunciati da Munbo Jumbo. Ne parlano agli amici e cercano notizie su internet, provano nuovi codici e diffondo la curiosità. L'interesse persiste.
L'attenzione verso RARE sarebbe minore, senza il mistero dello stop 'n' swop. La software house, inserisce infatti degli indizi nei suoi giochi, spesso criptati e quasi insensati. Gli appassionati della serie, avranno così un motivo in più per comprare il prossimo Banjo-Kazooie. La verità è che non dobbiamo stupirci di tutti questi misteri; dopotutto siamo noi uomini stessi, a generare leggende e fantasie, per appagare i desideri più profondi del nostro essere.
Tutta una questione di pubblicità?
Fin ora abbiamo analizzato tantissime possibilità e teorie, riguardanti lo Stop 'n' Swop. Arrivati a questo punto, voglio provare a ragionare per assurdo. Dimenticate tutto ciò che vi ho detto: toglietevi dalla testa Hot Swapping e le varie somiglianze tra BK, BT e DK64. Quello che sto per dirvi è una soluzione semplice, ma allo stesso tempo interessante: lo Stop 'n' Swop in realtà non esiste! è tutta una trovata pubblicitaria.
Rincominciamo dall'inizio: nel 1998 la Rareware, prima di ultimare i lavori su BK, decide di inserirvi all'interno sette oggetti segreti. La loro presenza è solo un trucco, per dare delle anticipazioni su BT. Questi items non sono mai stati concepiti per essere trasferiti da un gioco all' altro! Infatti nel filmato finale di BK, quando Mumbo Jumbo ci mostra la chiave e le uova, afferma che in BT potremo appropriarci di questi oggetti.. e così è! In BT possiamo effettivamente recuperare questi oggetti.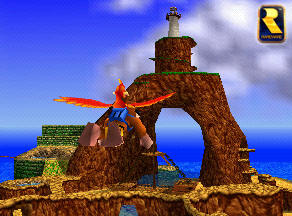 E' quindi tutta una messa in scena, per fare in modo che la gente comprasse Banjo-Tooie? La Rareware inserì una piccola pubblicità, attraverso il messaggio finale di Mumbo Jumbo. La curiosità riguardo queste zone segrete, induce un motivo in più, per comprare il gioco quando sarà disponibile nei negozi.
Io stesso, per fare un esempio, ho avuto interesse per Banjo-Tooie quando ho visto il filmato alla fine di Banjo-Kazooie. Rimane il problema, che in BK sia possibile ottenere i sette oggetti segreti, attraverso dei trucchi. Forse la Rareware sperava che qualcuno sarebbe riuscito a scoprirli, creando cosi ancora più pubblicità. L'interessamento che è nato attorno allo Stop 'n' Swop, ha portato alla nascita di una leggenda e la sua perpetuazione nel corso del tempo. E' da notare inoltre, come Rareware non ha mai parlato di scambiare le cartucce tra di loro. L'idea è nata dalla scoperta del menù Stop 'n' Swop, che appunto significa "ferma e scambia".
Thanks to Eric for the informations!
Continua >> Riferimenti vari allo Stop 'n' Swop
Sezioni:
Perché si? Perchè no? Pubblicità?
Avete commenti, contributi, correzioni o domande su questo articolo? La nostra email ed il nostro Forum sono a disposizione per ogni evenienza!
What do you think about this unseen game? Give your vote!
Would you like to add more info, screens or videos to this page? Add a comment below!
(your first comment will be moderated before to be published)