La Rareware, per mantenere acceso l'interesse riguardo lo Stop 'n' Swop, ha lasciato alcuni particolari riferimenti ad esso, nei suoi giochi successivi. Banjo Pilot per GBA, presenta alcuni lontani riferimenti, niente di particolare comunque. Stranamente nessuna citazione allo S'n'S in Banjo-Kazooie: Grunty's Revenge sempre per GBA.Il gioco attraverso il quale la Rareware ha speculato di più, rimane indubbiamente Grabbed by the Ghoulies. Nel primo titolo della compagnia per Xbox, datato 2003, troviamo tantissime auto citazioni! da alcuni loro vecchi giochi anni '80 fino ai due Banjo. In particolare, vi è un riferimento interessante allo Stop 'n' Swop, che ha creato molta agitazione e curiosità, occupando pagine di discussioni in diversi forum online.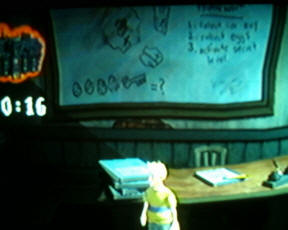 All'interno di un'aula, su una lavagna, vediamo disegnato:
"Quattro uova + una chiave = ?"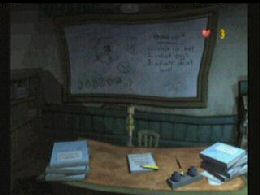 Sulla destra invece, troviamo alcune scritte:
1. collect ice key
2. collect secret eggs
3. activate secret level
Questi elementi, hanno portato molti a pensare che in realtà, per risolvere il mistero dello Stop 'n' Swop, siano necessarie oltre alla chiave di ghiaccio, solo quattro uova! Due delle sei quindi sarebbero dei falsi. Collezionando i giusti elementi, sarà possibile sbloccare il tanto discusso livello segreto, di cui ho parlato nel paragrafo "Quali livelli beta & segreti?". Altri elementi interessanti sono presenti in Grabbed by the Ghoulies; per maggiori informazioni vi segnalo questi due links:
Continua >>  Conclusione & Links Utili
Sezioni:
Riferimenti vari allo Stop 'n' Swop
Avete commenti, contributi, correzioni o domande su questo articolo? La nostra email ed il nostro Forum sono a disposizione per ogni evenienza!
What do you think about this unseen game? Give your vote!
Would you like to add more info, screens or videos to this page? Add a comment below!
(your first comment will be moderated before to be published)