Conclusione
Siamo arrivati alla conclusione di questo lunghissimo speciale. Spero di non essere stato troppo complicato in alcuni punti. Lo Stop 'n' Swop, con molta probabilità, rimarrà un mistero ancora per diverso tempo. Anche se la Rareware decidesse di spiegarne la verità, sarà probabilmente impossibile riuscire a collegare direttamente Banjo-Kazooie e Banjo-Tooie.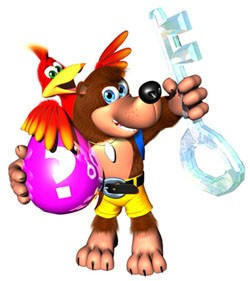 I tentativi nel risolvere questo rompicapo, hanno portato ad una speculazione davvero immensa, i forums di internet sono pieni di teorie assurde, qualunque minimo indizio può causare il caos generale. La mia esperienza probabilmente è stata simile a quella di molti altri; dopo aver visto che in BK c' era qualcosa che non andava, ho ritrovato su internet quei famosi codici per sbloccare i 7 oggetti segreti. In seguito, ho continuato ad interessarmi, ricercando notizie e creandomi una mia opinione al riguardo, senza mai formulare ipotesi troppo assurde, come invece molti altri continuano a fare.
Non vi consiglio assolutamente di perdere troppo tempo con lo S'n'S, riuscire a capire veramente come avrebbe potuto funzionare, è probabilmente un'utopia. Nel caso siate ancora insoddisfatti, munitevi di gameshark, piuttosto di immaginare soluzioni alternative. Se c'è una cosa di cui non avete bisogno, per risolvere questo mistero, è la pura fantasia.
The End.
 [Articolo a cura di Santo Reska]
Links Utili
Due links al sito ufficiale di RareWitchProject, il primo è uno speciale sullo Stop 'n' Swop, il secondo invece i codici per sbloccare i sette oggetti segreti:
Un altro sito molto interessante sulla Rareware:
Altro ottimo sito sulla Rareware, con degli speciali molto interessanti:
Informazioni varie sulla versione beta di Banjo-Kazooie:
Links di wikipedia:
Sezioni:
Avete commenti, contributi, correzioni o domande su questo articolo? La nostra email ed il nostro Forum sono a disposizione per ogni evenienza!
What do you think about this unseen game? Give your vote!
Would you like to add more info, screens or videos to this page? Add a comment below!
(your first comment will be moderated before to be published)