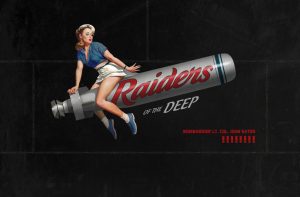 Raiders of the Deep (codenamed Project Submarine) is a canceled futuristic military Free-To-Play multiplayer First-Person Shooter developed around 2013-2014 by Spark Unlimited for the Xbox One.
Information about this game are pretty scarce as it was never announced. Following information about the story, game design concepts and features were shared in a PDF file by former Spark's developer Sam Wey:
I was given the responsibility to compose a game design pitch document and PowerPoint presentation for a triple A title to be pitched to Microsoft. I managed the support of two artists and was able to bounce ideas off of the veteran designers around me. Now that Spark doesn't exist anymore, I think it's safe to show this.

In the near future ice caps have melted and most of the earth is covered in water. National governments have been rendered powerless in the face mega corporations that violently battle for power. These corporations store and transport valuable data caches in offshore submarines piloted by bands of "deep sea raiders". Corporate espionage has taken the form of violent confrontations between these underwater pirates. They plunder each other for these valuable data caches, risking life and limb for wealth, power and prestige. The aesthetic of this near future is sleek but grounded in a gritty realism of believable, familiar technology.

Raiders of the Deep is a free-to-play, competitive multiplayer, first-person-shooter that utilizes ship customization, level orientation changes and free flowing water simulation to dynamically change map layout and combat strategy. This will be a uniquely next gen experience only made possible by the next generation console technology, the incredible FX capabilities of Unreal 4 Engine and Phys-X GPU water simulations. It is a game about assembling your level from pre-made rooms, customizing them with items bought and earned, and then squaring off your ship against your opponent's – creating an online arena that's always half familiar, half unknown. It's a game about assuming the role of a mercenary on a submarine of your own design or fellow clan member's vessel – giving orders or executing orders while leveling up distinct character classes. It's a game tailor made for league play, one that allows for true leadership and teamwork, raiding-like rewards, side "bets" before matches, taunting and bribing – it's perfect for eSports or competitive gamers of all skill levels. Most of all, it's a game that will start small, focused and fun, and can expand – based on player feedback – in a variety of exciting directions.

Key Features

Your Ship, Your Way: Submarine customization – Choose from predesigned ship layouts or swap and rotate rooms, then add decorations and themes. Tons of customization options to buy or earn to make your level truly reflect your personality and strategic approach.
Truly Dynamic and Interactive Backgrounds – As your submarine sinks, damaged rooms will flood and the whole environment will turn on its side and even flip upside down. This will instantly change map layout and as a result map strategy changes. Destroy ship systems to cut lights or overtake the command center to gain control of auto-turrets. Use the level itself as a tool and a weapon to overcome the odds.
Free Flowing Water Simulation Gameplay – This will define the next generation gaming experience with water simulations only possible on the Xbox One with the help of Unreal 4, Phys-X, and Thunderhead cloud computing. Flood compartments to change the playing field. Force opponents to surface for air to setup a headshot. Lurk under the water surface and take the enemy by surprise. As the submarine tilts, water will flow from one compartment to the next.
The Madden of Shooters: Playbook System – Play like a well practiced clan even with complete strangers. Setup custom or use pre-loaded context-sensitive "plays" before breaches and give on-the-fly orders or follow the orders of your teammates for bonus XP. Plan your own sequences on Smart Glass and share them with friends. Use teamwork, fake-outs, traps and advanced tactics to outsmart and outgun the other clan.
Free to Play / Free to Win – A fully featured shooter with no entrance fee. In-App-Purchases for extra in-game currency or specialized costumes / items are available, but everything is based on Pay to Enhance (and show off), not pay to Win.
Knowing is Half the Battle – Each time you play, one half of the multiplayer online battle arena will be yours (or your clan's), the other half will be a mystery until you board your enemy's sub. Bazillions of possible combinations.
Clan Classes – Cloak yourself as a Saboteur and map out the enemy's ship for your team, quickly hack equipment or find shortcuts as an Engineer, go guns blazing and lay traps as a Raider or stomp through corridors slowly as an armored Deep Diver. As the game grows so will the number of Classes…
Level Up and Collect – Advance in four different classes, unlock tons of weapons andabilities, and personalize your character's look to a staggering degree.
A True Team Sport – Fully supports Tournament Play and eSports with optional clan rooms, specialized leaderboards, pre-set play times, uniform elements, league web pages, and recording and uploading match videos to brag and review replays to sharpen tactics.

At its core, Raiders of the Deep is a version of capture the flag enhanced with point control. Before a game begins, players will enter a lobby where each team will vote on a map layout for their respective team as well as what room to place the data cache (flag) in. When the conflict begins, the two teams' ships dock with one another. The ships will be connected through airlocks. The goal is to board the enemy's ship through these airlocks, find "data caches", hack them, and return to the command room of your ship with the data. These data caches could be anywhere the opposing team voted to place them, so no two games will ever be the same. The control points will enable or disable defense systems; easing access to the rooms that contain the data caches. This will be the main gameplay mode but it will only be one of many types of gameplay offered.

Breach or Be Breached:

Battles will begin with you either assaulting the enemy's ship or defending your own, but the gameplay then stretches between the two sides.
Set up Breach Plans as the Attack – Select where to enter. Set up fake outs. Try to bribe members of the opposing ship.
Set up Traps as the Defender – Determine where the opposing team will breach. Place traps. Take cover.

Attack and Defend:

The heart of the gameplay is the gathering of data caches from the opponent's ship.
Combat – Battle opposing team crew members.
Find Data Caches – Various rooms have different amounts of data, hack the systems or defend hackers while they collect the data.
Return Enemy Data to Your Command Room – Take the data back yourself or guard the data carrier.
Complete Side Objectives – Some rooms are connected with ship systems, hack these for various bonuses (cut out lights, turn off / take control of auto defenses, etc).
Defend Data Caches – Try to keep the opposing team from hacking your ship's systems by laying traps and taking defensive positions in key rooms.
Eliminate Data Carriers – Take out the enemy carrying your data before he is able to upload it in their Command Room.

Collect Winnings:

Overcoming the other team isn't just for bragging rights…
Earn XP and Cash – These are used to level up your character class and buy new character and ship items.
Roll for Rare Goods – When you win your team will get a variety of rare items, which can be "rolled" to see who gets them.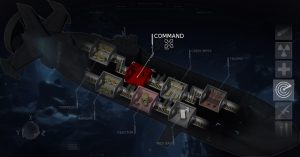 Ship Customization

The player will be able to build his ship in an offline mode on the XBox One or by using their Smart Glass app on a phone or tablet. The player will be able to move each of the ships rooms where he feels is strategically the best. He will then hide his Data Cache in a safe in one of these rooms. The player will be able to save out different ship load outs that he can then access during online play. This customization will enable each match to be different depending on how the Clan would like to defend or attack.

Point Control

While the core of the gameplay is capture the flag with data caches, it is the Point Control mechanic that will keep map strategy dynamic and interesting. The Point Control element will have different strategic effects on gameplay. The defending team will have many defensive features on their ship which will be countered by the difficulty of defending so many vital systems rooms. Attacking teams will have the benefit of quickly changing targeted rooms. Attacking rooms in a strategic sequence will cause a cascade of chaos that will win the match.

For example, taking out an opponent's reactor will take out command center functionality which weakens the defense turret systems. The weakened defensive systems will give the attacking team access to assault the medical bay which slows reinforcements which in turn, buys them time to find and decrypt the data caches.

Water Core Game Mechanic

Water will be the wild card in every firefight. It can be your savior in one battle only to suffocate you in an icy death in the next. Water will dynamically change level layout and strategy through both changes in orientation of the whole submarine and water levels of each compartment.

Example Gameplay Beats of Action:

When the firefight began, the pump room was dry. As the gun battle rages, the hull is damaged and water begins flooding into the room. A thousand pounds of pressure forces water through the hull of your submarine and is altering the layout of the arena. Soldiers on the low ground begin wading slowly in the waist deep water and being picked off by the enemy in the high ground. As water overtakes the high ground, troops resort to diving deep and sneaking up on the enemy with combat knives. Water fills the compartment to the ceiling and the few survivors are now clustered at and gasping for air in the few air pockets where they can keep their heads above water. Reinforcements breach a blast door and water flows into and floods the other compartments while drones seal the damaged hull.

Water mechanics:

Water's effect on players

○ Knee high water slows down players

○ Waist deep water slows players more; crouching allows you to hide under water.

○ Fully flooded compartments will only have a few air pockets above water and most combat will take place under water.

 Water's effect on the environment

o Damaged rooms start flooding, flooded areas of the ship will start sinking and the whole ship will start to tilt effectively changing the layout and strategy of a given arena.

Natural Water Simulation Behavior

○ The flow of water from one compartment to the next will cause players to slide.

○ The volume of water is maintained when water flows from one compartment to the next.

○ If both compartments have the same level of water:

■ then no water level change will occur.

○ If one compartment is filled to the ceiling and then the hatch is blown open to an empty compartment:

■ then players in the empty compartment will get knocked off their feet from the flooding water and the players in the full compartment will be pulled into the empty compartment.

■ active stand up minigame- after being thrown off their feet, players will scramble to get up again to continue combat. Skillfully using the two analogue sticks to rebalance and orient yourself quickly will allow you to shoot or find cover first. It's the difference between a quick jump up on to your feet (best) and a hobbled slow stand up(suboptimal).

 Different character classes and loadouts will favor dry room fighting versus wet room fighting.

○ wet suit

○ rebreather

○ gas powered harpoon

■ most ballistic weapons will not fire underwater. the harpoon gun provides superior underwater ranged combat. It impales players and pulls them in for a brutal melee kill.

○ heavy armor

○ thermal vision

○ freeze grenade

■ a well aimed and timed freeze grenade will freeze your opponent in the water, float them to the top, making them vulnerable for execution.
Playbook System

We all wish we could be as coordinated as a clan but most players never have the opportunity to have this experience because most just jump into public matches. The playbook system will come with proven "plays" that will automatically delegate responsibilities to team members. Instructions and timings will appear on their HUD and waypoints will appear in the world. The following are example plays:

○ Breach and Clear

■ Player A begins torching the airlock hatch to breach it.

■ Players B and C gets in position to cover angles on airlock hatch.

■ Player D primes flash grenade to be tossed in the second hatch is breached.

■ Players E, F, and G prepare to rush in.

■ 3, 2, 1… BREACH!

■ Player D tosses in flash grenade which promptly explodes.

■ Players B and C provide cover fire while Players E, F, and G move in and clear the room.

○ Ambush

■ Players A, B, and C hide behind columns

■ Players D, E, and F hide behind supply boxes.

■ Player E provides sniper cover from above.

■ Wait for breach and wait for all players to commit to entering the room.

■ Fire!

In other competitive multiplayer games this level of teamwork and coordination is out of reach for 99% of players. This system of automated delegation and timing system will give players a sense of cohesion even on public matches. The XP and in-game currency rewards for good execution will incentivize teamwork. Any team member can call plays but players of higher level will overrule lower level players.

Secondary Game Mechanics

Classes

The player will choose to play as one of the following classes. Each will have distinct weapons and abilities to suit different play styles and counter enemy tactics. Some classes will be inherently better at wet or dry combat. The wet and dry loadouts will modify these characteristics so players can adapt to the current state of the battlefield.

Saboteur – This light class will be a master of speed, stealth and reconnaissance. When cloaked, enemies will only see a faint distortion at regular intervals. Saboteurs will provide vital information to fellow teammates by removing the "fog of war" from the minimap for their teammates. While too weak to stage an offensive alone, by employing the cloak and infiltrating rooms before breaches they will provide spotting of enemy locations for their teammates.

Raider – This heavy class will be the bread and butter of combat providing both defensive and offensive firepower. If a lighter class opponent does not use the environment to their advantage, the Raider will dominate in a head to head firefight.

Engineer– This medium class is vital in his support of the team through his mastery of structural, electrical and software engineering. The engineer can hack enemy turret systems, decrypt enemy data caches faster and find shortcuts for the saboteur. When divers damage the hull and compartments start flooding, the engineer deploys drones to repair it.

Diver– As the most adept swimmer and demolitions expert, this medium class is vital to any boarding party. The diver can set charges to destroy a ship's hull and vital systems. Destroying a ship's hull causes flooding which alters the environment in the diver's favor. The diver is also fastest at breaching but requires the support of other divers and raiders to survive a firefight.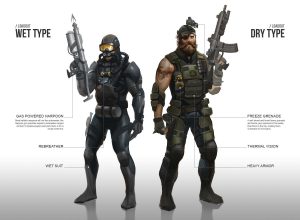 According to his LinkedIn profile, Sam Wey left Spark Unlimited in July 2013, just after the release of Lost Planet 3. He is credited in the 'special thanks' section of Yaiba: Ninja Gaiden Z, the last game released by Spark, in March 2014.
In May 2015, Spark Unlimited ceased any activities in game development. As we can read on Polygon, it seems Raiders of the Deep might have been canceled in the process:
Los Angeles-based Spark Unlimited, the developer behind Lost Planet 3, Legendary and Yaiba: Ninja Gaiden Z, is no longer making games and has laid off all of its employees, a former employee of the company told Polygon today.

John Butrovich, Chief Technical Officer at Spark Unlimited, confirmed to Polygon that "it's the end of Spark as a game developer." Principal members of the studio "have decided to move on to other things," Butrovich said, and confirmed that Spark Unlimited co-founder Craig Allen resigned as president and CEO from the company late last year "to pursue other ventures and interests."

Butrovich said that Spark's in-development free-to-play game was canceled, as were other projects at the studio, leading to the company shutting down game development.
If you know someone else who worked on Raiders of the Deep and could help us preserve more screenshots, footage or details, please let us know!
Images:
Some pages from the PDF file: