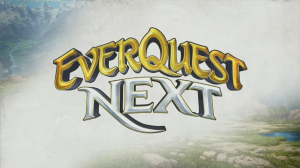 EverQuest Next is a canceled Free-To-Play sandbox fantasy Massively Multiplayer Online Role-Playing Game developed and published by Sony Online Entertainment for the PC and the Playstation 4 from 2009 to 2016. It was based on the EverQuest franchise.
First indications of the development of a new installment of EverQuest were revealed in April 2009, when Rich Waters, creative director of the franchise, wrote a dedicated chapter on the future of the series titled EverQuest Next, in the book EverQuest: The 10th Anniversary:
Recently, we got our hands on a copy of the 10th Anniversary EverQuest Book. The last chapter of this book is intriguingly titled "EverQuest Next" and was individually written by EverQuest Creative Director, Rich Waters: "So you can see there's a lot to wrestle with as we begin laying the foundation for EverQuest 'Next.' As I write this, we have concept artists and game designers working hard in our studio-taking the lessons of the past, the best parts of the present and the most promising ideas for the future-to bring the world of Norrath to a new generation of players, as well as the dedicated legions of fans who made the EverQuest franchise timeless. I hope we'll see you there."
This new EverQuest project was officially announced in August 2010, during the SOE Fan Faire Event, as we can read on Engadget:
The third edition in the EverQuest franchise was teased by Sony Online Entertainment prez John Smedley this weekend at SOE's annual Fan Faire event. The publisher also held an extended panel on it — tentatively titled EverQuest Next — where Smedley revealed that the game will have "less classes" and be "more like EverQuest 1" in that regard. He also said it has been "built from the ground up to be scaleable" and that it'll be playable on anything from "a laptop" to "a powerful PC."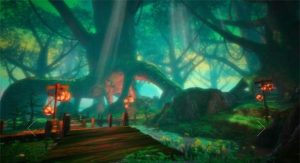 The following years, the game was still shown annually with information shared here and there: in July 2011, during the SOE Fan Faire, Smedley announced the use of ForgeLight as graphics engine:
John Smedley, CEO of Sony Online Entertainment, his tech team and the team behind Planetside 2 are building a new core engine called Forge Light which will have all of the tech bells and whistles needed to bring SOE's new MMOs into the next generation. Partnering with Nvidia to build in use of the PhysX API has allowed some amazing complexity to everything from the physics of vehicle movement in Planetside 2 to the expression of a characters face in the next EverQuest title.

"Think about this, EverQuest players, think about a physics engine that is built into every single aspect of your gameplay. We've partnered with Nvidia and their amazing PhysX platform. It means that we can bring you the most amazing characters and environments ever seen before in an MMO, or a single player game."
During SOE Live in October 2012, Smedley revealed that the project had been reworked and showed new ambitions:
"I have to be honest with you. We have completely blown up the design of EverQuest Next. For the last year and a half we have been working on something we are not ready to show. Why did we blow up the design? The design was evolutionary. It was EverQuest III. It was something that was slightly better that what had come before it. It was slightly better. What we are building is something that we will be very proud to call EverQuest. It will be the largest sandbox style MMO ever designed. The same exciting content delivered in a new way. Something you've never seen before. The MMO world has never seen before. We didn't want more Kill 10 Rats quests. We didn't want more of the same. If you look at the MMOs out there, they're delivering the same content over and over again. So are we. We need to change that. When we released EverQuest, we changed the world. We want to do that again with a different type of game.

What I will commit to is, at the next Fan Faire, not only will you get to see it but you will get to touch it. Most of the EverQuest Next devs are in this room. If you get them drunk enough they might tell you. They're led by Dave Georgeson. Terry Michaels. Vets from EverQuest and EverQuest 2. We are remaking Norrath unlike anything you've ever seen, but you'll recognize it. I'm sorry we don't have anything to show for it, but I wanted to be honest with you and tell you a little bit about it. Keep the faith."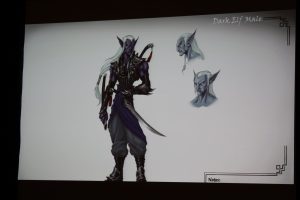 Finally, the game was officially shown in August 2013 during SOE Live. For the occasion, Engadget wrote an article explaining several new features:
EverQuest Next is set in the realm of Norrath, but this is a rebooted version of those lands. Veteran players will find familiar places and names in the lore and setting, but they won't have a monopoly on the knowledge of this world; players new to the franchise can be equally comfortable because everyone is discovering this new world at the same time.

There are two main aspects of this world that really take things to a new level in gaming, and both involve composition, just in different ways.

First, everything in EverQuest Next is made of voxels,  it means everything in the world can be destroyed! If you wanted a way to affect the world, just envision actually blowing up a bridge to keep mobs from getting to you or collapsing a tunnel so no one else happening by for a while can find the cavern and quests underneath. Although these changes aren't totally permanent, they will be around for a while; after a time the world itself will respawn, thereby preventing players from completely destroying the world — and therefore the game — forever.

Of course, just because everything can be destroyed doesn't mean the devs will let you! As Georgeson explained to me, if some areas weren't restricted, Qeynos would become a parking lot in no time. Keep in mind, though, such restrictions are only on players, not mobs.

The second compositional aspect is the fact that the world of EQ Next is not restricted to its surface. I am not talking about a few scattered underground caverns, either; I am talking about a completely designed world from crust to core. Since you can start digging pretty much anywhere, you will actually find content as you go deeper and deeper and deeper still. This layered content isn't necessarily static, either. Lower levels are procedurally generated and can be closed off by dev-induced earthquakes or crop up elsewhere.

While players will still come across typical MMO tasks to complete, the whole process will be more organic. If you see a need, you fill a need. There are no glowy icons floating overhead.

Consider this scenario: You come upon a band of orcs attacking a small settlement. You can continue on your merry way, or you can jump in and aid one side. But which one? Do you protect the humans, or do you assist the orcs? Helping the humans can open up opportunities for you to work with them in the future because they will remember your deeds and react accordingly. On the other hand, helping the orcs can be advantageous as well; it might just be that they offer you training in a class you couldn't access otherwise.

Next up is the big world-wide public quest. Dubbed Rallying Calls, these public quests are a bit different from what you are used to. For one, they aren't quick. These quests will develop over a few months' time. And again, choices matter here; what players do during that time will affect what happens at the next stage. Let me illustrate: A Rallying Call to build Halas starts. First, you might make a little tent settlement. But what if gnolls start attacking? Do you go hunt the gnolls, build up a wall for protection, or pick a new spot? Every action will have consequences, even if not immediate. This whole thing will develop based on what players do. When one Rallying Call finally concludes, another will roll out. Once one is done, it won't start up again with the next batch of players. In other words, when Halas is built, it stays permanently built.

NPCs will retain memories about your choices and will react accordingly as the game goes on. Think of the orc scenario above: The orcs may become your allies, but townsfolks and guards sure won't be liking you very much, so chances are you will not be privy to quests they could have offered.

The mobs will also be more intelligent in EverQuest Next. The AI will be programmed with a set of likes and dislikes, so NPCs and mobs will move around and live in the world according to that set of ideas. You won't find a static spawn in the same place indefinitely. Those orcs from earlier? They like to live along quiet roads, not near guarded cities. They also don't like being beaten to a pulp by adventurers. So if a city starts encroaching on their habitat or adventurers keep handing their butts to them, the orcs are going to literally pick up stakes and move to a more hospitable environment.

As you can see, the world is not going to be the same over time; it's going to evolve. If you leave the game and come back later, things aren't going to be just how you left them. Your choices combined with the evolving world mean that you will have a personally unique experience in the game. And not only that, but because conditions and choices cannot be mimicked, even your own alts will have a unique experience!

Combat will consist of four skills and four weapon moves at a time. The weapon moves depend on what weapon you have equipped, and what skills you have at your disposal depends on what classes you have discovered and learned. That's classes plural: You can multi-class indefinitely. And you get to mix and match the skills from the various classes to make a build you like.

There are also no levels or in this game, although your character does still progress. And in a really neat twist, all players can play together regardless of how long they have been in the game, even if one friend is a three-year veteran and the other is brand-new. Instead of mentoring or sidekicking, the older player can just choose to work on a set of skills that s/he hasn't developed yet.

As for movement in the game — do you like Parkour? If so, then you are in luck! Avatars no longer have just three movements of walk, run, or awkward jump; now they can move along the terrain in a more natural way.
Many other details can be read here.
On the left: In 2011, EverQuest III art direction was more realistic. On the right: In 2013, EverQuest Next art direction took a more cartoony approach.
Alongside this title, Sony Online Entertainment also announced the development of Landmark, formerly EverQuest Next Landmark, a content creation tool using the same Voxel-based technology as EverQuest Next. Over time, Landmark would have had features similar to those of EverQuest Next, in particular a Player Versus Player mode:
What will be the differences between Landmark and EverQuest Next, will you tell me? Dave Georgeson replies:

"EverQuest Next focuses more on the story and the various narrative axes. Instead, Landmark emphasizes exploration, creativity and sharing. But in the end, many of the features of EverQuest Next will be present in Landmark."

EverQuest Landmark will offer an experience worthy of a complete MMO. According to the same man, a PvP mode will be added.
After its big announcement, EverQuest Next became more discreet over the months. New details regarding some playable classes were shared during SOE Live 2014, but it was mostly Landmark that was highlighted during this time.
The year 2015 was a turning point for Sony Online Entertainment: in February, the studio was acquired from Sony by Columbus Nova and rebranded as Daybreak Game Company. Shortly after, several employees and managers were fired, in an attempt to make the company more profitable, among them was project manager David Georgeson:
Last week, Sony and investment firm Columbus Nova announced that Sony Online Entertainment had been sold. The studio has been renamed. Now it seems, staffing changes are underway that reported see significant departure of talent.

Michele Cagle, senior director of global communications at Daybreak, confirmed the staffing changes in an email to us. "As part of a strategic decision to rationalize the business, Daybreak Game Company announced today that it will eliminate positions in both its San Diego and Austin studios," she says. "This alignment of resources better positions the newly independent studio for future growth opportunities and developments, including delivering on its legacy of making top online games and establishing a solid foundation for future multi-platform success. These reductions will not affect the operation of current games and the company will continue on its mission to partner with its player community to drive the future and push the boundaries of online gaming."

Dave Georgeson, who has led the EverQuest franchise for over five years, has confirmed he is no longer with the company. In a response to an inquiry, he also confirms that his departure was unplanned.
In June, the team behind Landmark at Daybreak Game Company shifted its focus on the development of EverQuest Next, and the following month, John Smedley stepped down as CEO, and was replaced by Russell Shanks.
During this long period, no mention was made of EverQuest Next, and it was not until March 2016 that the game was officially canceled as we can read on The Verge:
Games studio Daybreak Game Company has canceled EverQuest Next, an upcoming free-to-play MMO that was supposed to be a successor to numerous EverQuest titles. In a statement posted on the studio's website, Daybreak Game Company's president, Russell Shanks, said the title just simply didn't live up the franchise's standards.

"As we put together the pieces, we found that it wasn't fun," writes Shanks. "In final review, we had to face the fact that EverQuest Next would not meet the expectations we — and all of you — have for the worlds of Norrath."
Three months after the cancellation of the game, Landmark was officially launched from Early Access. The servers were shutdown in February 2017, less than a year after its launch. To date, the EverQuest franchise has never returned to the limelight, although EverQuest II is still supported 18 years after its release, as its last expansion was released in November 2022.
Some explanations behind concept arts were taken from Giantbomb.
Videos:
EverQuest III images:
EverQuest Next images: