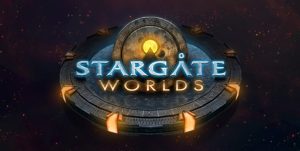 Stargate Worlds is a canceled futuristic sci-fi Massively Multiplayer Online Role-Playing Game developed from 2006 to 2009 by Cheyenne Mountain Entertainment and published by FireSky, exclusively for PC. It was based on the television series Stargate SG-1.
Stargate Worlds was officially announced in January 2006 by the Metro-Goldwyn-Mayer, rights holder of the Stargate franchise:
MGM and Cheyenne Mountain Entertainment today announced that work has begun on Stargate Worlds, a massively multi-player online role-playing game ("MMORPG" to those in the know) based on the hit TV franchise.

"Stargate Worlds is an MMO that provides players with a form of exploration, adventure and ranged combat set in worlds of historical human time periods, alien environments, and outer space locations," according to the announcement. "Players will travel through the Stargate as a team of soldiers and scientists where they can forge alliances, establish trade, investigate ancient mysteries, and defend Earth from such hostile forces as the Goa'uld and the Ori in an immense multiplayer universe."

The developer's official Web site offers more on the game:

Stargate Worlds provides players with a form of ranged combat unique to MMORPG that will take full advantage of modern and science fiction weaponry, cover, and terrain. Players will be able to form squads with their friends or use bots for players who want to go solo. Squad leaders will control maneuvers and objectives through an innovative combat control interface. Players may choose to create characters that are members of either the SGC (the Good Guys) or the System Lords (the Bad Guys). Characters are equipped with varied and mixed skills, with the choice to form such classes as Research, Combat Marine, Medical, Scientific, Diplomatic, Engineering, Archeological, and Exploration. PVP will be possible between the two alliances on many contested worlds, actually swaying the balance of power on those planets, and unlocking hidden content. Cooperative play will also be possible, and players will be encouraged to forge temporary alliances to deal with greater threats, such as the Ori.

The universe evolves as players inhabit and vie for control over alien worlds. Local populations will shift their allegiance between the two alliances. Outside threats, such as the Ori, will conspire to further change the face of these worlds. Players will be able to tip the balance of power on these worlds, beating back the Ori invasion, and swaying the local populations to their side through quests, combat and trade. Whether you are a solitary explorer, master tradesman, or commander of a massive armed force — your every action will alter the worlds of the Stargate universe.
The game was using the Unreal Engine 3 and screenwriters Brad Wright and Robert C. Cooper were hired as creative consultant. During its first two years, Stargate Worlds development progressed smoothly, and some details regarding the story and playable classes were shared:
What sorts of characters and character classes will you be able to play? Will you only be able to play as members of the Stargate team, or can you play as members of other factions?

RN: We want the players to be the stars of their own show. This means we can't keep retelling the story of SG-1. We're going to let players choose from seven archetypes–Jaffa, Goa'uld, Asgard, and human soldier, scientist, archeologist, and commando–when they create a character. Players will be able to specialize their characters using a skill tree, allowing them to further refine their role. There will be two factions in the game at launch. One side will feature the Asgard, Free Jaffa, and humans; the other side has the Goa'uld, Loyal Jaffa, and humans.

GS: We understand that exploration will play a key role in the game. Will this mainly be done on foot? Will there be any vehicle or starship travel, or vehicular combat?

RN: At launch, Stargate Worlds will focus on the original Stargate experience. It's not a game of vehicle combat, and there won't be player-controlled starships. Players will be able to use starships for transport, but the primary method for getting around the galaxy is the Stargate.

GS: We learned at GDC that the game will be set during seasons three, four, five, six, seven, and eight of the TV show's run. Why the latter years and not the early ones, and what kind of story possibilities emerge due to this decision?

RN: The most important thing to remember about the timeline is that we're not retelling the story of Stargate SG-1. Our story will be happening roughly concurrently with the events you saw during those seasons, like the Replicator War, the Apophis War, the Tok'ra war with the Goa'uld, and the Jaffa Civil War. These events form a dramatic backdrop for our story to play out against.

GS: We understand that the game was intended to draw upon content from both Stargate SG-1 and Atlantis. Will it draw upon both series evenly, or will it favor one universe or time frame over another?

RN: The action in Stargate Worlds at launch takes place in our galaxy, so you can say that it draws more from SG-1 than Atlantis, although you can see from some of our screenshots that an Atlantis-like city is one of the sites characters will visit. Atlantis is a good candidate for our first expansion pack, and we're looking at a variety of options.
Regarding playable classes, named 'archetypes', everything was saved from the Wiki Fandom dedicated to the game. As it was canceled before being finished, some archetypes could have been changed during development:
Archaeologists would specialize in ancient cultures and languages. They would be able to 'blend in with the locals' to gather intelligence or ambush the enemy. This 'blending in' uses Asgard holographic technology to assume the appearance of others. Archaeologists could also be quite adept in aggro management, perhaps by being superb negotiators or good at hiding, making them good solo characters, in addition to their ability to solve puzzles.
Asgard would be physically frail, but would be masters of technology and would have a strong science ability. They depend on clone technology to survive and thrive. By calling upon different types of drones to attack, defend, heal, or analyze, the Asgard would be a true jack-of-all-trades. When faced with dire circumstances, the Asgard could also bring in their mighty starships to devastate the enemy with orbital bombardments in the form of a special attack.
Goa'uld would gain much of their power from their servants. With the ability to command several different types of minions, the Goa'uld could become almost as versatile as the Asgard. These minions would include Jaffa. In addition to their minions, Goa'ulds also have access to poisons that can be used to cripple enemies. They can also specialize in Ashrak technologies, such as phase cloaking, becoming masters of stealthy attacks. As the evil counterparts to the Asgard, the Goa'uld may be able to call in their Ha'tak bombers to bombard the enemy as a special attack. The Goa'uld character would be the symbiote and would at times and at a "cost" be able to choose to enter a new host. However player Goa'uld would not be able to take over other players' hosts.
Jaffa in the game were much like the Jaffa in the show. In addition to its devastating ranged attack, the Jaffa staff weapon could also be used in melee combat. Displaying solidarity and teamwork, Jaffa could use their oaths to strengthen their allies, especially other Jaffa.
Scientists would be a combination of pure scientist and engineer. They could specialize in analyzing, repairing, and using technologies. They could also use new technologies to craft personal upgrades. Their battlefield utility came from the ability to construct devices such as gun turrets, shields, and target inhibitors. They could also specialize in healing and resurrection technology. Like the archaeologist, the scientist could also solve puzzles, but of a technological nature. These puzzles would be in the form of minigames.
Soldiers is valuable for protection when stepping through the stargate. With the ability to specialize in a variety of weapons, including grenades, automatic weapons, machine guns, mortars, and rocket launchers, their job was to unleash firepower on enemies. With additional training, they could also learn basic healing, how to use alien weaponry, and lead teams.
Commando class would give up access to the variety of weapons a soldier class uses, a commando class gaining access to stealth, demolitions, and the sniper rifle. The commando could disrupt, confuse, and neutralize enemies. In addition to ability with stealth, commandos would also have technology to detect stealthed enemies. The commando would be at least one of the archetypes able to deploy and detect traps.
According to an interview from Warcry, a strong emphasis for teamwork was designed by Cheyenne Mountain Entertainment concerning the specificities of each archetype:
Not much is known at present about the exact implementation of the game's systems, but there are plans to offer both combat classes for the die-hard combatant as well as more tactical and strategic classes like archaeologist or medic. Each class is planned to hold a specific strategic advantage to promote teamwork in the field, and it is proposed that there will be enough classes to provide appeal for a wide array of gameplay styles. Also, in the works are plans to allow players to build structures at offworld locations. From small individual shelters to large-scale corporate headquarters, an entire tech tree is planned to make exploration and gaining footholds on offworlds that much more exciting.
In April 2008, Cheyenne Mountain Entertainment created FireSky, a publishing subsidiary, in order to help the funding and publishing of Stargate Worlds:
FireSky, a new video game publisher, and a subsidiary of Cheyenne Mountain Entertainment, dedicated to improving how gamers play and interact online, announced today that it would publish Stargate Worlds, a massively multiplayer online role playing game (MMORPG) based on MGM's award-winning Stargate franchise.
However, after the game was launched into closed-beta, troubles occured in December 2008, when various media discovered that company's developers suffered from payments issues:
Cheyenne Mountain Entertainment, developer for Stargate Worlds MMO, has issued a statement confirming that they do have some "cash-flow issues".

A website went live counting the number of days since their last pay check, and it currently stands at "25 days". They're currently seeking "additional sources of funding" right now.

"At Cheyenne Mountain Entertainment, we have always been upfront with the media and our fans that we are a start up," reads the response from the company.

"Like many start ups, we face the same cash-flow issues that all pre-revenue companies face. We have maintained a core of dedicated investors, but the new economic realities are forcing us to seek out additional sources of funding and that's what we're doing."

The website days-since-cheyenne-mountain-employees-have-been-paid.com is still running and presumably will continue to run until the team get their earned dosh.
The entire 2009 year was a grueling one for Cheyenne Mountain Entertainment as the company was sued over unpaid bills, which forced its marketing manager, Kevin Ballentine, to issue a statement in April of the same year:
"We are currently negotiating several deals that will cover our financial responsibilities and fund the remainder of development. When we sign those deals, you'll hear about it. Until then, we'll keep building Stargate Worlds, because right now, that's the only thing that matters to us."
After the departure of its Executive Producer, Cheyenne Mountain Entertainment put the project on-hold and announced Stargate Resistance, an online Third-Person Shooter, in December 2009:
Firesky and Cheyenne Mountain Entertainment, the studio behind the financially troubled but still-in-production MMO role-playing game Stargate Worlds, is working on a second video game title, they announced today.  Stargate Resistance is an online, third-person shooter currently in the final stages of development.

"Resistance brings to our fans the kind of gameplay SGW never planned to deliver," said Chris Klug, the game's creative consultant and the creative director for Stargate Worlds.  "Resistance delivers the combat, weapons and tactics seen so often on the show that many of you have been asking for.  I know this game will excite fans who have longed to go toe-to-toe with a Jaffa as well as those who always wanted to dominate the galaxy in ways the MMO could only hint at."

In the full letter, Klug also speaks to the difficult last year faced by the studio, its decision to remain silent, and its recognition that it needs to rebuild its relationship with fans.

"As well as building this new exciting product, paramount to Firesky's long-term future is restoring your confidence and trust in us," he said.
In February 2010, Cheyenne Mountain Entertainment filed for bankruptcy:
Cheyenne Mountain's corporate structure has undergone some dramatic changes in the last few weeks, and that has resulted in various actions such as the filing for Chapter 11. Certain parties believed that was the right thing to do, other parties do not and this is still being evaluated and may be rescinded. Even if the bankruptcy should go through, however, Chapter 11 simply allows a company to restructure its debt to a manageable plan approved by the courts. It does not absolve a company of debt, and it does not shut it down or otherwise affect its daily operations. This will all be sorted out in the legal and proper manner, and all of us on the development side of things hope it's done as quickly as possible.
The studio, heavily downsized, nevertheless, maintained an activity until January 2011, under the name of Dark Comet Games, before being forced to close the Stargate Resistance servers and disappeared.
Stargate can be seen as a kind of cursed license in the gaming world: a few years ago, Stargate SG-1: The Alliance was canceled after weeks of legal battle. In July 2021, as we can read on The Companion, Steve Garvin, who was lead content designer until June 2009, shared his whole experience during the development of Stargate Worlds:
"The main story was that Ra was coming back and the dark side was trying to leverage it while the light side was trying to stop it. So the two stories were very disparate, a vastly different experience."

The "dark side" is OP-CORE, a group of humans who are aligned with the Goa'uld.

Some 16 different planets were in development for the game's initial launch. Among them was Lucia, the yellow-skied homeworld of the Lucian Alliance — never seen on screen in the television series.

The game was eager to expand upon the legend of the Furlings — and the show's producers were gracious to allow them to do so. "We had this whole idea for the Furling being a single entity that stretches across time, able to see the past and the future."

"It was mostly a lovely experience. It was a friendly team, we were close and it was a great learning environment with empowering leadership. But it also sucked. We had the great pieces for a good game – never enough to look you in the eye and say it was great – but we were getting there. But what was most disappointing was not getting some of the world-building and Furling stuff out. It would have filled in a lot of gaps in SG-1 lore, and the showrunners agreed that what we had was pretty cool. The fans would have loved it – it was fan service."
Videos:
Other videos containing various information about the game can be found here.
Images:
What do you think about this unseen game? Give your vote!
Would you like to add more info, screens or videos to this page? Add a comment below!
(your first comment will be moderated before to be published)
Latest posts by Daniel Nicaise
(see all)