Serengeti is a cancelled adventure / simulation game originally in development for PC and Xbox in 2001 by Masa Group, a small French company focused on AI-based modeling & simulation software for defense, public safety and games-related markets.
This was an ambitious game that would have been played somehow like Afrika for Playstation 3, but conceived 7 years before Rhino Studios' own project. You would play as a photographer and wildlife specialist, working in an African natural reserve set in the plains of Serengeti.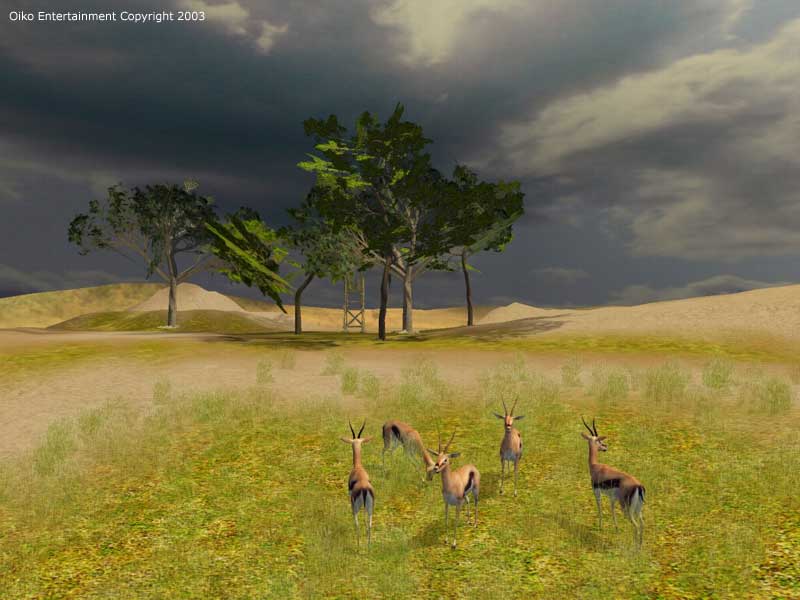 Serengeti was about exploring the African savanna, discovering its wildlife and preserving it from dangers (such as illegal poachers). The animal simulation was groundbreaking for its time, using an innovative AI engine that would fully simulate a complete ecosystem, with animals having up to 7 "motivations" (hunger, thirst, territory, mating, etc.). You could sneak on a cheetah and see it start chasing a gazelle, then resting and heading back to the shade. Every time the animals would move and react in a different way, following their "motivations" and creating a living environment to explore.
After a while Masa Group moved its gaming development team into a subsidiary named "Oiko Entertainment", to expand their video game projects while the main company would continue working on simulation softwares.
More details about Serengeti were found in an old press-release by NatFX, a dynamic 3D plant modeling software that would have been used by the team to generate the game's savanna with realistic african trees and plants:
"Serengeti's numerous missions intertwine the player with the life of the park, from capturing sick animals, to recuperating the park'  tourism industry, to tracking rare animals and neutralizing poachers, mercenaries and even kidnappers.

Serengeti's gameplay is essentially founded on the near-perfect representation of the natural world. The ability to hide behind bushes, tall grass, to take cover in groves and behind tall trees demonstrates the vital importance and direct implication vegetation plays in Serengeti. The vegetation is more than just scenery,  it's really something that serves a purpose in terms of gameplay.

Set to release in the beginning of 2004 on PC and Xbox, Serengeti will certainly be a first of its kind. Set in Africa, it is an opportunity to use an original universe, different from the usual ultra-realistic war games  which typically occur in similar settings."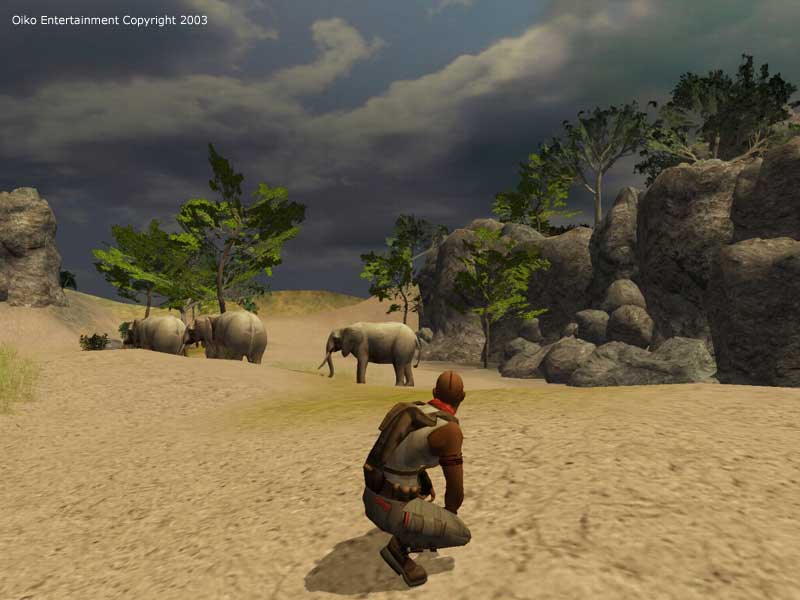 Serengeti's gameplay and AI-simulated wildlife was way ahead of its time on many aspects, and today it would probably be recognized for its interesting mechanics. Unfortunately in the early '00s it was hard to find a publisher for the game.
In the end Serengeti only reached an alpha stage before the team had to stop working on it. It seems Masa Group later closed Oiko Entertainment and Serengeti's concept could have been sold to Atari / Infogrames, but nothing ever come out of it. The only released game by Masa / Oiko was Conflict Zone, a war-themed RTS published by Ubisoft for Dreamcast, PlayStation 2, and PC.
Images: