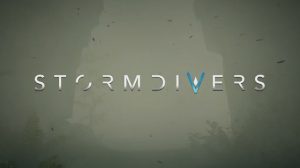 STORMDIVERS is a canceled futuristic multiplayer Third-Person Shooter battle royale developed from 2016 until 2020 by Housemarque, exclusively for the PC.
For years, most Housemarque's games included gamestyle coming from the arcade genre, however, on August 21st, 2017, the company announced stepping away from that type of game, and decided to explore different and new gaming experiences:
(…) Despite critical success and numerous awards, our games just haven't sold in significant numbers. While some of them have reached a massive audience due to free game offerings across various digital sales channels, this unfortunately doesn't help pay for development, which gets costly for high production quality. (…)

But now it's time to move on to new genres. Lackluster sales of Nex Machina have led us to the thinking that it is time to bring our longstanding commitment to the arcade genre to an end. While this genre will always hold a special place in our hearts, the industry is moving more toward multiplayer experiences with strong, robust communities, and it's time for Housemarque to move forward with the industry. Hence Nex Machina and Matterfall will be the last of their kind coming out of our studio. Our purpose as a company remains the same, however – to create enjoyable and memorable gaming experiences for players while simultaneously creating a great workplace that allows people to flourish both professionally and personally.

Looking ahead to our next projects, we are exploring something totally different than what you might expect of us, but we believe this will lead to the creation of even more engaging gaming experiences. Our core values remain the same – gameplay first with first class execution. We are really excited about our new projects and look forward to unveiling our first game from the new era of Housemarque.
Exactly 8 months after this announcement, the studio teased its new game as a 'high flying and heavy hitting multiplayer experience'.
Finally, during Gamescom 2018, Housemarque revealed what STORMDIVERS was going to be:
The small team is detailing its next project for the first time this week at the Gamescom convention in Germany. Called Stormdivers, it's an attempt at an Unreal-powered battle royale game.

Stormdivers is a 3rd person multiplayer centric shooter game, featuring chaotic battles and volatile explosions amidst a recurring nano-storm that swallows the beautiful and lush island surroundings to explore.

Daring teams and solo operators who are brave enough to dive into the eye of the recurring nano storm are trying not only to survive the competition but also the island itself, with endless threats looming around every corner. Only the strongest will make it out alive, with riches and rewards the island has to offer.

"In February 2015 we saw this crazy pitch about a third-person shooter where there's a lot of crazy chaos happening.It was described in a way like a cross between a Smash Bros. game and The Hunger Games."

The game will have a near-future, high-tech theme that emphasizes a powerful suit that players will wear into battle. As they scavenge in the environment, players will add augmentations to that suit. As an example, one proposed module will allow players to see the footsteps left behind by their competitors. While the final player count isn't set in stone, it will likely be around 50 or 60 players jumping in together on a roughly three square kilometer island-themed map.

"It's very skilled-based. What we're emphasizing is a lot of in-game events, things like tornadoes and volcanoes popping up. The game will not allow you sit still. … We're making Stormdivers a lot faster [than other battle royale games], adding a lot of verticality with jet packs and jump pads and stuff that lets you get up in the air a bunch."

In the future, Housemarque intends to add team-based missions and other kinds of player-versus-environment gameplay.

Stormdivers will initially launch into early access on PC this winter, either late 2018 or early 2019.
Launched into beta in January 2019, it seems that the more the development progressed, the more Housemarque seemed less and less confident about the game's success. In April 2019, VG24/7 detailed Ilari Kuittinen's comments on the matter:
(…) Housemarque has admitted Stormdivers isn't likely to be a hit. (…) Chief Executing Officer Ilari Kuittinen said competition from games like Apex Legends, as well as being slower to market than rival titles and a lack of funding means the title isn't in a strong position to succeed.

"The problem is with us wel have always to change our idea. We originally thought that the game would be a premium game but now it should be Free to Play. And do we have enough content to do that? I don't know," he admitted. "We're kind of a bit short of money to fully realise what we want to do as a launch edition of the game. We'll see.

"It is tough. Whether we're going to succeed, it's unlikely because of the tough competition."

The wind has been punched out of Stormdivers sails though, especially after Epic Games and Respawn Entertainment have had such success in transforming battle royale from scrappy mod to legitimate new genre.

"Apex did something that we had there. The Maneuverability, and we have a class-based thing. In a way, Apex has taken that a bit away from us. Our game is third person so it's a bit different gameplay wise. We always had this idea that there are effects that push you forward. So there's tornadoes or bombardments, so there are Player versus Environment elements. The ide ais that's it's a fast-paced thing. You can't really sit tight somewhere in a toilet with a shotgun. That is still the thing we're trying to accomplish there."

Kuittinen is hoepful that Stormdivers has at least taught Housemarque some valuable lessons in terms of running a game as a service and working in the multiplayer market. But after 24 years in the industry, there's still the situation that games can take too long to make, especially when other developers are chasing the same audience.

"It's quite brutal, this industry. Quite brutal. It's something that happens like, 'oh shit'. The race is on and we just couldn't make it.

But while Stormdivers has a small team of around 15 developers, Housemarque has a secret second project with around 60 staff that Kuittinen is pinning his hopes on as the studio's big success.

"Maybe early next year the game will be announced. This is the biggest game we've ever made". Housemarque has been working on it for at least two years and is using Unreal Engine and it's own tools to help the game stand apart from competition.
Unsurprisingly, in January 2020, Housemarque took the decision to put on-hold the development of STORMDIVERS, as we can read on Polygon:
Super Stardust and Resogun developer Housemarque is putting its in-development battle royale game, Stormdivers, on hold as it focuses all of its efforts on an unannounced project.

"[N]ow we are focused on delivering our most ambitious and biggest game to date, putting every other project on hold, including the development of Stormdivers," Kuittinen said. "It is great that the whole company can come together to deliver this game, which will define the next evolution of Housemarque."
That mysterious project turned to be Returnal, which gained favorable reviews from the press. In June 2021, the company was acquired by Sony Interactive Entertainment.
Images:
Videos: