Severity is a cancelled eSport-focused FPS that was in development around 2007 by Escalation Studios (later renamed to Bethesda Game Studios Dallas) in cooperation with John Romero and funded by the Cyberathlete Professional League. It was planned to be released on Playstation 3, Xbox 360 and PC.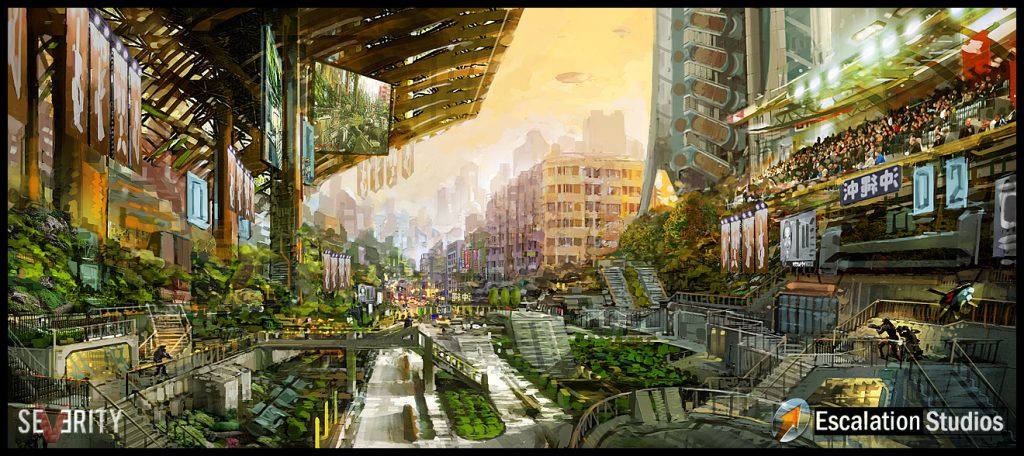 As we can read in an old article published on FiringSquad:
"Mustaine told us that he already has a group of about 10 team members working on Severity and plans to expand that team to about 20 members in total.

Mustaine isn't revealing much about the game itself at this stage but he did tell us that the game will be a mix of modern day and futuristic themes in terms of weapons and level settings. While the game will not have a lengthy single player experience except maybe for tutorial levels, he did say they did plan for AI bot play for people to practice offline.

Of course, creating a game for pro gaming tournaments means adding more features that will make the game better not just for the players but also for the spectators. In addition to support for tournament ladders and detailed stats for players, Mustaine told us that Severity has plans to expand its options for spectators, including in-game cameras that can be controlled by commentators and finding ways to display important stats to the spectators in order to get them more fully involved in the matches. Mustaine compared what they wanted to do to how professional poker matches became a huge draw among the general public thanks in part to how TV had commentators and stats for the poker matches. As far as Severity's game modes, Mustaine told us that they are planning to have modes with different player speeds, different game physics and different weapon loadouts."
Some more details can be found in an interview published by PSU:
"PSU: There have been beliefs floating around that the game will play exactly the same as Quake III Arena. If there's a game with a similar gameplay style to Severity what game would it be?

Angel: It will not play identical to Quake 3 or any other game, but Quake 3 is definitely one of the major inspirations for the development team. Severity will have very unique characteristics and a rich visual environment, but it will also be a faced-paced game.

PSU: Will there be the ability to have cross-platform gaming? i.e. PlayStation 3 vs. Xbox 360 vs. PC gamers?

Angel: That is absolutely the plan!"
It seems Severity's development was already canned or slowed down in 2008, as told by John Romero to That Gaming Site. Later Escalation Studios denied the game's cancellation, but in the end it was never released anyway. After working on small projects such as Samba de Amigo on Wii and Doom Resurrection for iOS, in 2012 the team was acquired by 6waves Lolapps and then sold to ZeniMax Media in 2017 after they helped with the development of Rage and Doom reboot.
Thanks to Daniel Nicaise for the contribution!
Images:
Videos: