Clown Combat is a cancelled parody FPS planned for Playstation 3 and Xbox 360 that was conceived by Eagle Claw Studios around 2002 – 2003, after William Bill Anderson finished working on Maximo Ghost to Glory and opened his new team. The project was quietly announced as being in development and The Playstation 3 Bible even published the title on their "confirmed games for PS3" list, but in the end not much was ever revealed and it was soon forgotten by everyone.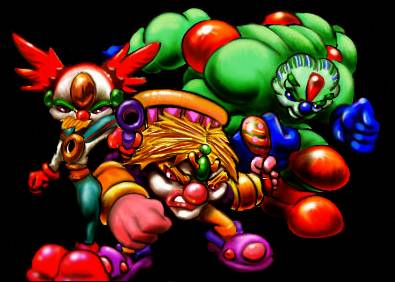 In 2016 during an interview we published in our book "Video Games You Will Never Play" Bill shared some more details on his unseen game:
"Clown Combat is still on my wish list for the future, fingers crossed and I'm still working on the design. The idea behind Clown Combat was to make a mainstream FPS game that was family friendly, where the clown characters were made of morphing plastic and therefore could do things way beyond realistic shooter games of today.  It's a parody game that pokes fun at a lot of science fiction movies along the way, from Logan's Run to Star Wars and more. Currently I'm still working on game play designs and level designs for the game and with any luck we'll get it made still."
Concept art and models created for the game can be found on Bill's Clown Combat website, also preserved in the gallery below to remember the existence of this interesting project never released on Xbox 360 and PS3. Maybe one day we'll be able to play it on PC or next-gen consoles.
Images: