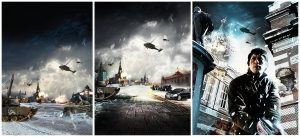 Moscow Rhapsody is a canceled First-Person Shooter published by D3 Publisher and developed by Illusion Softworks, between 2006 and 2008, for Playstation 3 and Xbox 360 consoles.
For several years, little information was available regarding Moscow Rhapsody, until August 2019, when the Czech website Visiongame.cz interviewed Marek Rabas, who was lead programmer on the game, in order to learn more about its concept and the origin of its cancellation:
VG: So you mentioned that you left after the unannounced Illusion Softworks project was canceled. We have it in the archive, it's Moscow Rhapsody. Could you tell us more about this game? Apart from a few pictures, not much can be found about it. So was it's cancellation a reason for you to leave?

Marek Rabas: "Moscow Rhapsody was a First-Person Shooter that had some interesting inspirations. The first was Rainbow Six : Vegas, which combined 1st person and 3rd person cameras. So it was the FPS where you used the covers, and when you were in the cover, the camera just switched to 3rd person. The story took place in Russia and was inspired by the book Icon, which dealt with the coup. When some people go crazy and shoot the president, creating total chaos in the country. The player then had to move in this situation and try to solve it. It had a very interesting concept. I think that the game had hope of success and we worked on it for two years, helping to make the engine on which Mafia runs. Unfortunately Moscow Rhapsody was made for publisher D3 and not for 2K Games. So when 2K bought us, they canceled the project and moved people out of it to complete Mafia II. So it was an impulse for us to leave. They took our project and the relationship between the Mafia II team and the Moscow Rhapsody team was not entirely good."
After the release of Mafia II, Illusion Softworks (then renamed 2K Czech) was merged with another internal studio at 2K Games, Hangar 13, to continue developing other games based on the Mafia license.
Article updated by Daniel Nicaise
Videos:
Images:
What do you think about this unseen game? Give your vote!
Would you like to add more info, screens or videos to this page? Add a comment below!
(your first comment will be moderated before to be published)