Hinter Wars: The Aterian Invasion is a cancelled online RPG that was in development around 2005 / 2006 by Activate Interactive, planned to be published by Nokia for N-Gage and PC. As in other MMORPG players would choose between different characters, each one with their own skills and appearances, then log online to explore the game world, fight enemies and chat with their friends.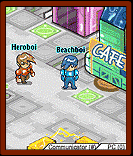 A playable beta was available for free on their official website, and people could help the team testing their server for online multiplayer. Players could then play on their PC while at home, then continue their adventure outside using the same profile on N-Gage. Some more details on Hinter Wars' settings and gameplay were also shared at the time:
"HinterWars: The Aterian Invasion' was derived from an original storyline that revolves around a group of space-faring races that face the possibility of being invaded by the Aterians. The game features four broad character types – the Humans, Firans, Brucians and Taikuus – whose costumes, appearances and armour can be customized according to each player's specifications. The game also allows interaction between players such as broadcast and private chat, trading of items and teaming up for conquests. Successes are rewarded by new downloads, rare items, additional power and experience, virtual cash rewards – and ultimately, fame within the HinterWars gaming community."
Possibly because of the N-Gage failure on the market, Nokia and Activate canned the project and Hinter Wars was never completed.
Images:
Videos:
What do you think about this unseen game? Give your vote!
Would you like to add more info, screens or videos to this page? Add a comment below!
(your first comment will be moderated before to be published)