Federation is a cancelled sci-fi action RPG / space exploration adventure that was in development by Dimension Creative Designs (Synthetic Dimensions) around 1996 / 1997, planned to be released on PC. We cannot find information about this project anywhere online, but thanks to Alex we saved a short preview that was published at the time in a Spanish magazine.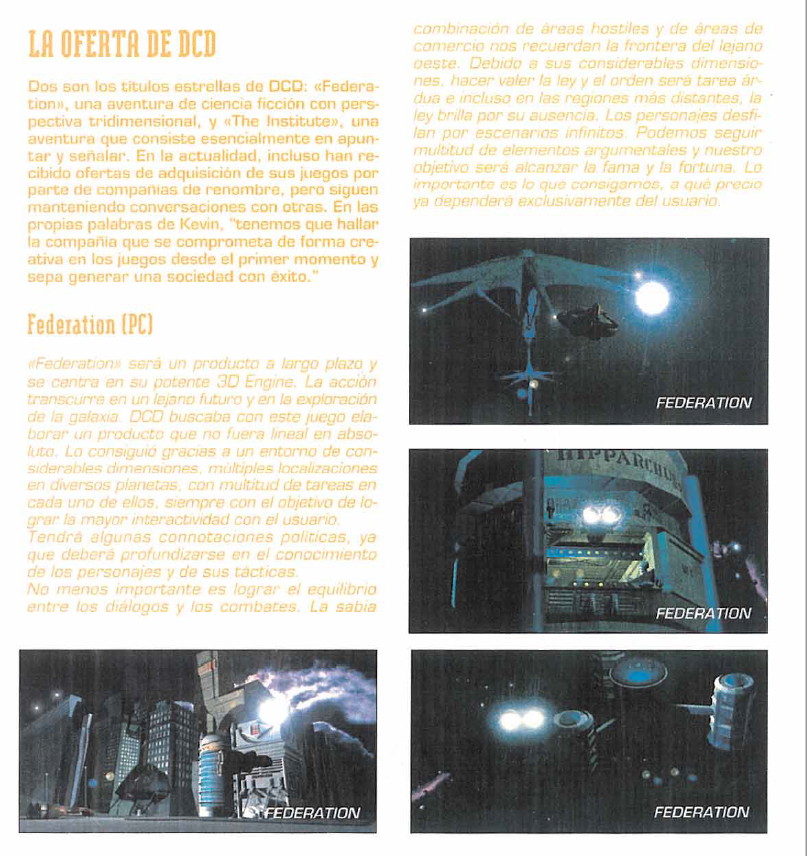 As many other canned space-adventures of the '90s the team conceived Federation as an overly ambitious 3D galaxy full of planets you could freely explore. We could imagine it as a mix between Mass Effect, Elite and Star Citizen: players would have been able to fly between planets, explore their continents, trade with their inhabitants and resolve various space-missions.
Dimension Creative Designs is mostly known for working on such titles as Corporation, Druid: Daemons of the Mind, Ed Hunter but as far as we know they never released anything similar to Federation and it's unclear what happened to this lost game. If you know someone who worked at DCD please let us know!
Thanks to Alex for the contribution!
What do you think about this unseen game? Give your vote!
Would you like to add more info, screens or videos to this page? Add a comment below!
(your first comment will be moderated before to be published)