The Institute is a cancelled horror adventure with comical elements that was in development by Dimension Creative Designs (Synthetic Dimensions) around 1996 / 1997, planned to be released on PC. As with their other canned project "Federation" we cannot find any information about The Institute anywhere online, but thanks to Alex we saved a short preview that was published at the time in a Spanish magazine.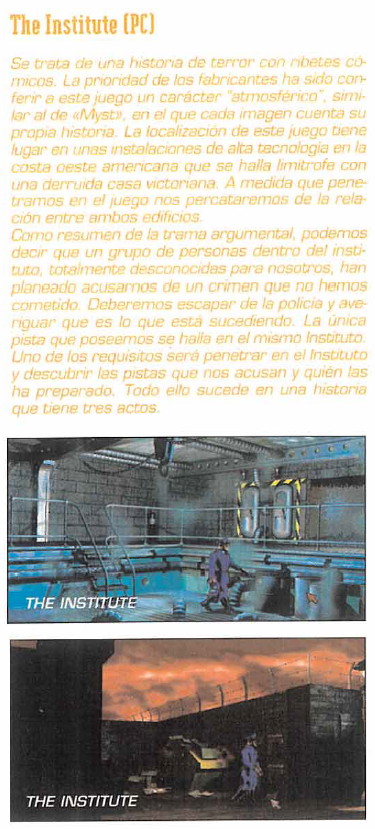 It seems gameplay would have been similar to Myst, with a story inspired by Kafka's The Trial: a mysterious group of people within the establishment have planned to accuse the protagonist of a crime that he did not have committed. Players must escape from the police, finding a way to enter The Institute, searching for clues about what is happening and why they want to persecute the protagonist.
Dimension Creative Designs are mostly known for working on such titles as Corporation, Druid: Daemons of the Mind, Ed Hunter but as far as we know they never released anything similar to The Institute and it's unclear what happened to this lost game. If you know someone who worked at DCD please let us know!
Thanks to Alex for the contribution!